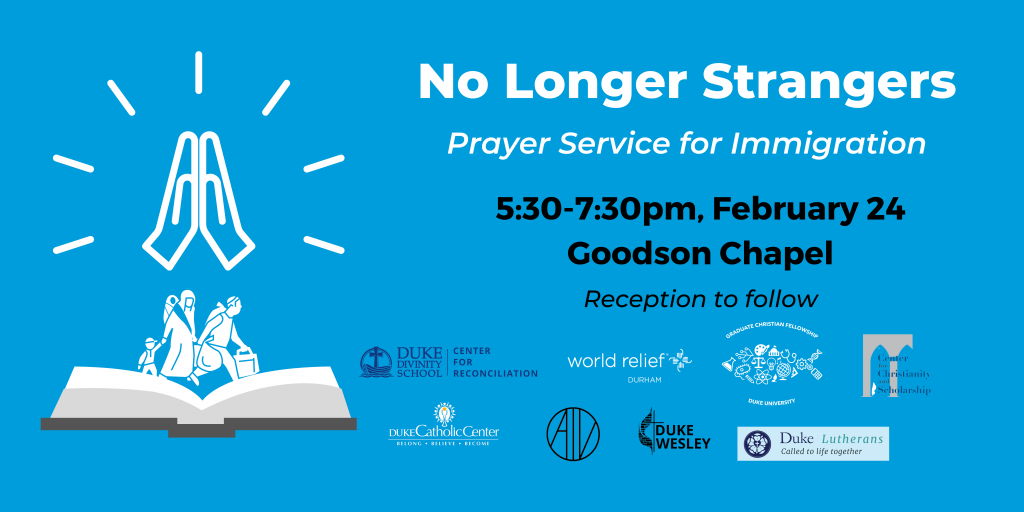 We will spend time worshipping God, reading Scripture, and praying together as we reflect on God's call throughout the Bible to care for the stranger. In this context, we will hear testimony about how the body of Christ can stand with immigrants in vulnerable situations. Matthew Soerens, World Relief's U.S. Director of Church Mobilization, will give remarks. The service will conclude with an opportunity to respond by contacting elected leaders to encourage them to support immigrants.
Cosponsors include the Duke Catholic Center, the Center for Reconciliation at Duke Divinity School, the Center for Christianity and Scholarship, Duke Wesley Fellowship, Duke Lutherans, and Duke Asian Intervarsity Christian Fellowship.
*** Face masks are required to be worn inside of Duke Divinity School. Learn more about the university's public health measures: https://returnto.duke.edu/public-health-measures/. ***
Paid parking is available on a first-come-first-served basis in the Bryan Center garage at 125 Science Drive. ADA parking is available in the Bryan Center Surface Lot at the same address. For more parking options, visit https://divinity.duke.edu/about/directions.