SONOMA COUNTY, SATURDAY, SEPTEMBER 18
Ride for Refugees
This September, we'll be cycling across Northern California to support refugees as they re-establish their lives in Sacramento.
Cyclists have the opportunity to build a welcoming community in Sacramento for refugees and asylees by participating in the World Relief Pedal to Resettle on September 18th, 2021. The funds you raise will support refugees and asylees served by World Relief in Sacramento, California.
Why Ride for Refugees?
Refugees and asylees are forced to flee their home due to persecution for who they are or what they believe. They arrive in California State with great hopes for finding a new home in safety. World Relief works to support refugees and other immigrants in vulnerable situations as they bravely start a new life. We invite you to ride 25, 50 or 100 miles in a demonstration of welcome to our newest neighbors and raise funds to support their integration into our community. The funds you raise will provide:
Airport reception
Transportation
Finding safe & affordable housing
English classes
Youth mentorship & tutoring
Job skills training
Interview & resume preparation
Connection to community
and more!
Registration Rates & Info
Join us for a spectacular one day cycling challenge with different mileage options! Cycle by redwoods, and soak in the amazing Northern California ocean scenery. This year we are offering two registration options
Option 1: $35 (Includes training jersey)
Option 2: $125 (Includes training jersey + PTR jersey)
There are no fundraising minimums or requirements; however, the more you raise, the more prizes/incentives you will receive! When you register you will receive a training jersey and fundraising packet. The day of the event, the rider will receive all applicable fundraising incentives (Non-Refundable).
Registration closes July 30th.
Choose a Route
28.8M | 50M | 100K (63M) | Century Ride
Fundraise
Although there is no minimum fundraising goal, we hope that if you set an ambitious cycling goal, you will also set an ambitious fundraising goal to match your effort — a hundred miles is a lot of miles! Also, if you reach $500, $1,000 or $2,000, you will qualify for some sweet fundraising prizes/incentives.
When you register you can join or create a fundraising team with any number of people - such as your spouse or kids, a couple of buddies, or a group from your church or workplace. And if you decide to join or create a team after you register, just email jreyesscafani@wr.org and we can sort it out for you.
Your team page is a good place to work toward a shared fundraising goal and compile updates if you wish to keep your friends posted on your training progress. Fundraising prizes will be based on individual funds raised, unless otherwise agreed upon.
Fundraising Resources
We will be regularly updating this section with stories, social media tools, videos and examples from other riders that we hope will inspire you as you share with friends and family why you are part of this year's ride for refugee empowerment.
---
We have included some content ideas for you to share. Tell your networks WHY you are riding for refugees and immigrants!​
---
Share On Social Media
Post one of these squares after you save it to your device and a photo of yourself, even better if you are on a bike! Be sure to tag us, @worldreliefsacramento, so we can also share!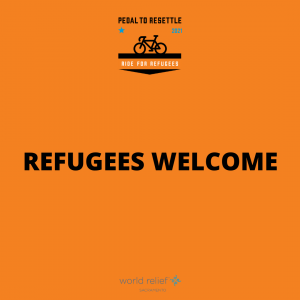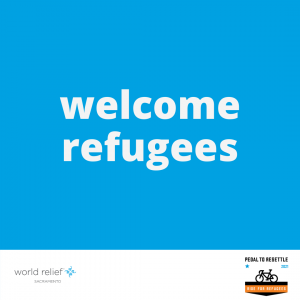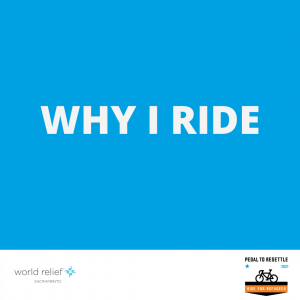 ---
Share Impact Stories
Watch Zaki's story to learn about his family's journey toward rebuilding their lives in Sacramento.
TRAIN
When you register you will be invited to regular online meetups to get to know other cyclists and explore topics like Immigration 101, Route Planning, Fundraising Workshop, and How to Trick Your Family into Driving Your Support Vehicle and Buying You Lunch.
Ready to register?
In order to do so, you'll need to have the following ready:
T-shirt/Jersey & Cycling Shorts size (size guide here)
Dietary restrictions
Once you complete the registration process, you will be emailed special instructions on how to set up your personalized fundraising page and start collecting donations for the cause.