SONOMA COUNTY, SATURDAY, JUNE 18
Ride for Refugees
This June in honor of World Refugee Day, we'll be cycling across Northern California to support refugees as they re-establish their lives in Sacramento.
Cyclists have the opportunity to build a welcoming community in Sacramento for refugees and immigrants by participating in the World Relief Pedal to Resettle on June 18th, 2022.  Help us build a more just and welcoming community for new neighbors in Sacramento!
Why Ride for World Refugee Day?
Communities around the globe come together to commemorate World Refugee Day and celebrate the strength and resilience of refugees who were forced to flee their home and start a new life in a new country.
Last year, thousands of Afghan mothers, fathers, grandparents, and children became refugees and asylees when Kabul fell; they traveled to Sacramento with the hope of building a new community. World Relief Sacramento walks alongside refugees and immigrants from the moment they arrive to the airport - we are so excited to welcome 2,000 new friends who are bravely starting new lives in Northern California in 2022! We invite you to ride 25 miles, 100k, or 100 miles in a demonstration of welcome to our newest neighbors and raise funds to support their integration into our community. The funds you raise will provide:
Airport reception
Transportation
Finding safe & affordable housing
English classes
Youth mentorship & tutoring
Job skills training
Interview & resume preparation
Connection to community
and more!
Registration Rates & Info
Join us for a spectacular one day cycling challenge with different mileage options! Cycle by redwoods, and soak in the amazing Northern California ocean scenery. This year we are offering two registration options
Option 1 - Individual Resilience Rider: $35 (Includes training t shirt)
Option 2 - Team Registration: Minimum of 2, maximum 25 riders. Receive 25% off when you register with the code "PTRTEAM"
Option 3 - Century Team Registration: $100, complete the Century Ride with three other team members (25 miles per rider)!
There are no fundraising minimums or requirements; however, the more you raise, the more prizes/incentives you will receive! When you register you will receive a training t shirt and fundraising packet. The day of the event, the rider will receive all applicable fundraising incentives (Non-Refundable).
Registration officially closes on June 17, 2022. Register by May 1, 2022 to ensure you will have your jersey before you ride and register by May 11 to ensure you will have your t shirt!
*note: you may not receive all fundraising incentives before/on June 18 if you did not meet the fundraising threshold by May 1*
Choose a Route
25M | 100k | Century Ride
Build a team or ride solo! Cyclists commit to the challenge and open a fundraising page using our super simple online platform. Each cyclist will choose whether they want to ride 25 miles, 100K (63 miles), or a Century Ride (100 miles). Click the links below to review and download the routes.
All routes will start and finish at Bayside Santa Rosa (3175 Sebastopol Rd, Santa Rosa, CA 95407); every route except the 25 mile ride will have rest stops with water and supplies.
We are thrilled to announce the 2022 Routes! Check them out below:
100k Ride - with a 10 Mile Kicker!
Install the free Ride with GPS App to download the routes onto your phone.
Fundraise
Although there is no minimum fundraising goal, we hope that if you set an ambitious cycling goal, you will also set an ambitious fundraising goal to match your effort — a hundred miles is a lot! Also, if you reach $500, $1,000 or $2,000, you will qualify for some sweet fundraising prizes/incentives.
When you register you can join or create a fundraising team with any number of people - such as your spouse or kids, a couple of buddies, or a group from your church or workplace. If you run into any registration issues, email shenson@wr.org and we can sort it out for you.
Your team page is a good place to work toward a shared fundraising goal and compile updates if you wish to keep your friends posted on your training progress. Fundraising prizes will be based on individual funds raised, unless otherwise agreed upon.
Fundraising Resources
We will be regularly updating this section with stories, social media tools, videos and examples from other riders that we hope will inspire you as you share with friends and family why you are part of this year's ride for refugee empowerment!
---
We have included some content ideas for you to share. Tell your networks WHY you are riding for refugees and immigrants!​
---
Share On Social Media
Post one of these squares after you save it to your device and a photo of yourself, even better if you are on a bike! Be sure to tag us, @worldreliefsacramento, so we can also share!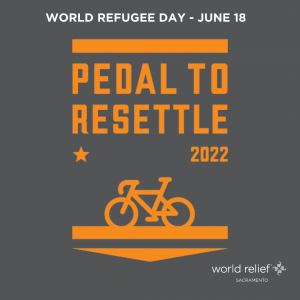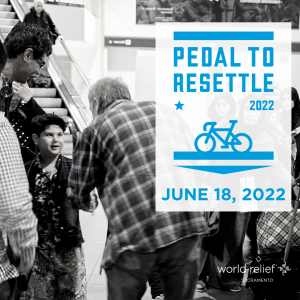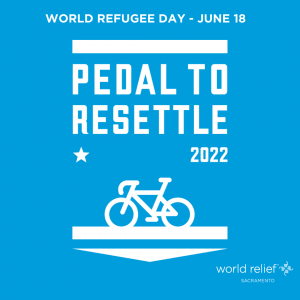 ---
Share Impact Stories
Watch Zaki's story to learn about his family's journey toward rebuilding their lives in Sacramento.
TRAIN
When you register you will be invited to regular online meetups to get to know other cyclists and explore topics like Immigration 101, Route Planning, Fundraising Workshop, and How to Trick Your Family into Driving Your Support Vehicle and Buying You Lunch.
Ready to register?
We'll be sharing additional training resources soon, stay tuned for meet ups and ride details!