Reinaldo has only been involved with World Relief Tri-Cities for 5 months but is already paying it forward by sharing the knowledge he has gained with other refugees! He "loves helping people…all the time" and brings hope (and a contagious smile) to everyone who works with him.
Fleeing From Home
Reinaldo grew up in Cuba but when his home became "too much" — filled with violence, fear, and instability — he fled to Trinidad and Tobago. He describes the 6.5 years he lived on the island as "hard to survive". Reinaldo spent those years waiting to be permanently resettled as a refugee and trying to support his family while facing language barriers, limited employment, food scarcity, and discrimination. He was excited but also nervous when he heard the news that he would be sent to the U.S. as a sponsored refugee. Due to his past experiences, he worried about how he would be treated in America.
A New Start in America
Upon arriving at the Pasco Airport, Reinaldo was greeted by his caseworker from World Relief. She helped guide him through his first 3 months in America by assisting with necessary paperwork, medical appointments, transportation, housing, and other necessities. This crucial support gave him hope for his future.
Soon after his arrival, Reinaldo began World Relief's employment program and faithfully attended our Job Readiness Workshops. From the beginning, Reinaldo exemplified a motivated spirit and eagerness to start working. He came to America with 20 years worth of skills in carpentry, plumbing, electrical work, and construction. The employment team helped Reinaldo apply to several jobs over the course of 2 months. Although he was willing to accept any job offer, he hoped to find one that used his carpentry skills and passion.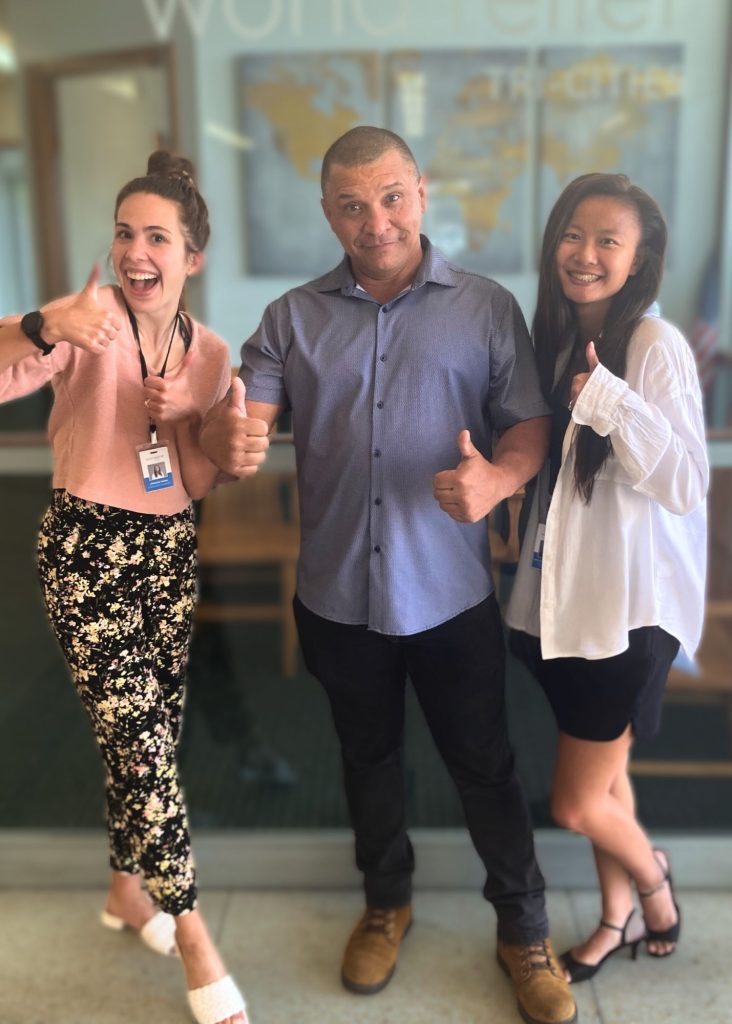 As some of his benefits were coming to an end, Reinaldo began feeling pressure to accept the first job he was offered. Despite interviewing with Tradesmen International for a carpentry position, he also interviewed at another local business where he was offered a job that did not utilize his expertise.
Just as he was going to accept the offer, Reinaldo received confirmation from Tradesmen International that he had been accepted for the carpentry job. Reinaldo will begin working with Tradesmen International soon and is grateful and excited to be given this opportunity! The Employment Team has enjoyed Reinaldo's cheerful disposition and is honored to be a part of his journey.
An Impact on Others
Not only has Reinaldo left an impression on the Employment team but he has also recently inspired our PRIME team with his drive and generosity. They walked him through the process of obtaining a state ID, driver's lessons, and bank account. Recently, he received his driver's license unassisted and was found helping other refugees obtain their own bank accounts. Reinaldo's story of resiliency, success and generosity are inspiring to all of us at World Relief Tri-Cities.
We hope his story inspires you, too!
---
Like Reinaldo, we all want to make a difference in the world. It's part of how we are designed. At World Relief, we believe making a difference is a two-way street. You can bring your gifts, abilities and interests, and World Relief will help you connect and walk alongside families and individuals as they rebuild their lives in the Tri Cities area. Will you join us in sharing what you have to offer?