In the midst of human brokenness, God still moves through the local church, and you're invited to be a part of it. Reserve an hour, climb in your car, follow the map, listen in, and pray.
Before you start, take a look at our suggested route.
Start at our home base, the World Relief Memphis office, follow each stop, and end at Inspire Community Café.
You will find map links below for each location.
Now follow the map, listen in, and pray.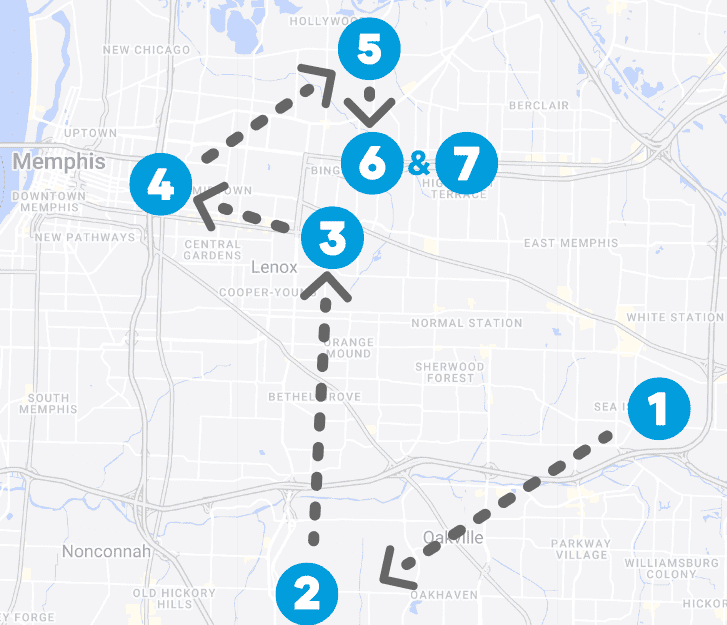 Location: World Relief Memphis 
Address: 5340 Quince Rd suite a, Memphis, TN 38119  |  Map Link
Scripture: "Contribute to the needs of the saints; extend hospitality to strangers." -- Romans 12:13 (Read by Skarleth Tyler - Spanish) 
Description: World Relief exists to equip the local church to serve the most vulnerable. We strive to be the connection point between the new arrivals we serve and the community we serve in. Our vision is to see newcomers in Memphis thriving in every way while engaging in mutually transformative relationships with local churches. We hope you will continue to pray with us and join us in building welcome in the place we call home. 
Location: Memphis Int'l Airport (Cell Lot) 
Address: 2491 Winchester Rd, Memphis, TN 38116  |  Map Link
Scripture: "Therefore welcome one another as Christ has welcomed you, for the glory of God." -- Romans 15:7 (Read by Basuze Madogo - Portuguese) 
Description: The resettlement journey begins for each of our refugee neighbors here at the Memphis International Airport. Arriving in a new city and country, knowing few—if any—people in your new community, can be a lonely and vulnerable reality. World Relief staff and volunteers can provide a friendly face as well as immediate care and support for new arrivals.  
Location: Memphis-Shelby County School District Office
Address: 160 S Hollywood St, Memphis, TN 38112  |  Map Link
Scripture: "An intelligent heart acquires knowledge, and the ear of the wise seeks knowledge." -- Proverbs 18:15 (Read by Alice Innocent - Kirundi) 
Description: For newly arrived families, connecting their children with educational opportunities is a top priority . Children who are resettling can experience a wide range of challenges in our school system, including educational gaps, English language deficiency, and social isolation. This is why at World Relief Memphis, we have a service line dedicated to refugee and immigrant youth support. Our staff members work with families, students, teachers and administrators to set up incoming students for success in the classroom. We also offer continued support via check-in's and our Youth Mentoring Program, "Shine," for 15-18-year-olds.
Location: Social Security Administration 
Address: 1330 Monroe Ave, Memphis, TN 38104  |  Map Link
Scripture: "The alien who resides with you shall be to you as the citizen among you; you shall love the alien as yourself, for you were aliens in the land of Egypt: I am the Lord your God." -- Leviticus 19:34 (Read by Yusri Kunda - Arabic)
Description: The resettlement journey requires interaction with a wide range of government services and processes, from obtaining work authorization and social security number upon arrival, to green card applications a year later, and eventually application for citizenship. This is a daunting process for anyone but especially those who are unfamiliar with the system. World Relief staff and volunteers can help newcomers navigate these processes and access the beneficial ways that our government systems can contribute to establishing a new home in Memphis. 
Location: Hollywood Feed HQ 
Address: 1341 Warford St, Memphis, TN 38108  |  Map Link
Scripture: "Let the favor of the Lord our God be on us; establish for us the work of our hands -- establish the work of our hands!" -- Psalms 90:17 (Read by Busime Costa - Swahili)  
Description: Newcomers are often very eager to find employment upon their arrival in Memphis. Obstacles like English language deficiency and lack of reliable transportation make this a difficult task for many. Employment partners like Hollywood Feed are committed to not only providing newly arrived refugees with good jobs but also helping them with the barriers they need to overcome to thrive in their work. World Relief Staff and volunteers play a crucial role in supporting this process 
Location: Christ Community Health Services 
Address: 2953 Broad Ave, Memphis, TN 38112   |   Map Link
Scripture: "Beloved, I pray that all may go well with you and that you may be in good health, as it goes well with your soul." -- 3 John 1:2 (Read by Iryna Ushkolenko - Ukrainian)  
Description: Each newly arrived refugee has likely had a unique history of health as well as access to healthcare. As they rebuild their lives in Memphis, having consistent, accessible, and compassionate healthcare can be a make-or-break factor for individuals and families. Partners like CCHS and many others have committed to providing this kind of care. World Relief staff and volunteers who help newcomers navigate the healthcare system are likewise invaluable. 
Location: Inspire Community Café  
Address: 510 Tillman St #110, Memphis, TN 38112  |  Map Link
Scripture: "Beloved, if God so loved us, we also ought to love one another." -- 1 John 4:10 & 11 (Read by Edith Carson - French) 
Description: Building a just and welcoming community in Memphis requires more than just logistics and physical stability. Welcome is also about a sense of belonging and connection with the people around you. Cultural & linguistic divides can be intimidating barriers to social connection for newcomers. Churches, community partners, and volunteers who intentionally build relationships with their newly arrived neighbors can provide something that World Relief, by ourselves, simply cannot provide—community. 
You did it!
Let us know you finished the prayer tour and get 2 FREE courses from the World Relief Workshop as well as 10% off your next order from our partner and last stop, Inspire Community Cafe!