Many American Christians have good intentions, working hard to welcome immigrants with hospitality and solidarity. But how can we do that in a way that puts our immigrant neighbors first rather than pushing them to the fringes of white dominant culture and keeping them as outsiders? That's exactly the question Karen González explores in Beyond Welcome: Centering Immigrants in Our Christian Response to Immigration, a new book coming out this fall.
Today, we're excited to share an excerpt adapted from Beyond Welcome and hope you feel challenged to move beyond welcome as you get to know new immigrants in your community.
---
In many Latin American countries, hospitality is expressed in the familiar proverb "Mi casa es su casa." It is notable that the saying includes the pronoun "su," which stands for the formal "usted" used when talking to strangers or older people.
The phrase means "My home is your home, stranger." How does that phrase reimagine the way we think about hospitality to strangers and immigrants? How does it move us beyond the host and guest dichotomy and into a hospitality that moves in both directions, a reciprocal hospitality?
I remember being awed when I learned that in his lifetime Jesus received and accepted hospitality and financial support from many people found on the margins of the first-century Near East: women, sex workers, tax collectors who were known for cheating people, and other sinners.
What is perhaps less known is that he also reciprocated this hospitality—though he was a man without a home as he himself says, "Foxes have holes, and birds of the air have nests; but the Son of Man has nowhere to lay his head" (Luke 9:58), he not only shared meals with people but also saw them, listened to them, accepted them and identified fully with them. He embraced them with a hospitable generosity of heart — listening, learning and engaging over and over again in his encounters with those in and outside his immediate circle:
the Samaritan woman at the well in John 4
his disciples on the road to Emmaus in Luke 24
in conversation with the Syrophoenician woman in Mark 7
This reciprocity is exactly what is often missing in modern rhetoric around hospitality to refugees and other immigrants—that hospitality only moves in one direction: from the native citizen with rights to the immigrant in need. I am not referring to the kind of hospitality where an immigrant person is invited to a citizen's home for dinner, though that is one kind of hospitality.
What I am referring to is the kind of hospitality that is truly engaged, where native citizens listen to and learn at the feet of immigrants they have welcomed to their countries—the kind where immigrants are asked to give feedback and evaluate services we receive, including resettlement; the kind where immigrants are at the table and asked to speak into the planning of programs and services that serve our own communities; the kind where our dignity and choices are respected and decisions are not made on our behalf.
When hospitality is not reciprocal, those belonging to the dominant culture unconsciously begin to think of immigrants as having less in every way. The truth is that immigrants may need material possessions, language classes and other services, but as image bearers of God, we have gifts, talents and skills, not just needs.
It is important to revive the biblical practice of reciprocal hospitality in order to counteract these toxic narratives.
In her book Making Room: Recovering Hospitality as a Christian Tradition, Professor Christine D. Pohl writes, "There is a kind of hospitality that keeps people needy strangers, while fostering an illusion of relationship and connection. It both disempowers and domesticates guests while it reinforces the hosts' power, control and sense of generosity. It is profoundly destructive to the people it welcomes."
Without reciprocal hospitality, we unwittingly reinforce the status quo and unequal power dynamics—this action mars the image of God in our immigrant neighbors and widens the distance between us. Hosts have something to offer to immigrants, but immigrants have nothing to offer to hosts. When hospitality is reciprocal, it encourages the hosts' humility and diminishes the impact of the disparate power dynamics in the room.
In John 14, as Jesus prepares for his death and for leaving his disciples, he says to them, "Do not let your hearts be troubled. Believe in God, believe also in me. In my Father's house there are many dwelling places. If it were not so, would I have told you that I go to prepare a place for you? And if I go and prepare a place for you, I will come again and will take you to myself, so that where I am, there you may be also."
The one who has been received, fed, and cared for in many homes will now return to his home to prepare a place for them in his own Father's house—a reciprocal hospitality. They wouldn't be just guests in the house but family, welcomed in "Mi casa es su casa" style!
You can pre-order Beyond Welcome: Centering Immigrants in Our Christian Response to Immigration here!
---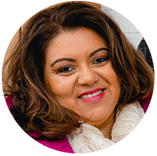 Karen Gonzalez serves as the Director of Human Services at World Relief. Shes is is the author of The God Who Sees: Immigrants, the Bible and the Journey to Belong, and Beyond Welcome: Centering Immigrants in Our Christian Response to Immigration.