As we close out Black History Month, we spoke with a member of the local church, Gashayeneh, about his experience growing up in Ethiopia and moving to the United States in his early twenties.
When Gashayeneh moved to the U.S. in 2005 from Addis Ababa in Ethiopia, Black history was a seemingly distant topic for him.
"I felt like African American history was something far away from me," he said. "I didn't have any attachment to it—it used to feel very distant."
Growing up, Gashayeneh learned about famed figures from the Civil Rights movement such as Dr. Martin Luther King Jr. in his political science classes, but his studies on the matter tended to focus on apartheid in South Africa.
"We were told a lot about apartheid in South Africa, how that apartheid looks like the same that African Americans were living in the U.S.," said Gashayeneh who is an active member of Spring of Life Evangelical Church in Memphis. "We didn't have a complete understanding of the history or the Civil Rights movements in America."
Upon moving to Arkansas after receiving a green card through the diversity lottery visa program, what he had learned in the classroom finally began coming to life around him.
"After I came to the U.S., I learned a lot," Gashayeneh said. "I had a personal interaction with African Americans, their lives, their histories, the culture and the challenges they're going through. I started getting a personal understanding of the history and knowing more."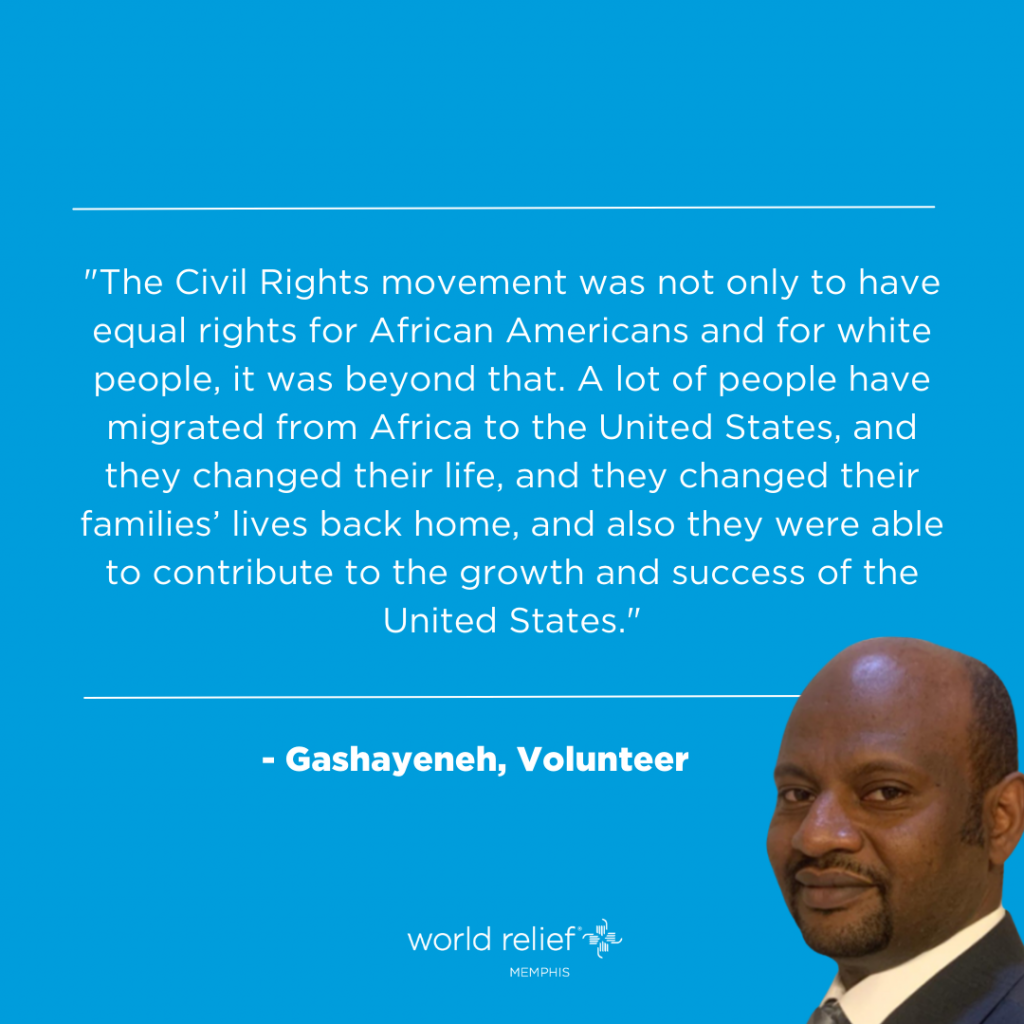 More than 15 years later, he's still learning today, even through his children, who celebrate Black History Month in school.
"I saw my children doing a lot of projects on African American history, especially in February about the people, what happened, innovations," said Gashayeneh, whose children are 6 and 8 years old. "I'm happy that they know that because they have that freedom. The freedom that they have is because of that [Civil Rights] movement. I want them to have true understanding of the history and the movement."
In fact, without the Civil Rights movement, Gashayeneh and his family wouldn't be here today. Migration through programs such as the lottery visa was not readily available for those looking to come to the U.S. from Africa prior to that movement, and since then, families such as Gashayeneh's have been given a chance at building a better life for themselves.
"The Civil Rights movement was not only to have equal rights for African Americans and for white people, it was beyond that," he explained. "A lot of people have migrated from Africa to the United States, and they changed their life, and they changed their families' lives back home, and also they were able to contribute to the growth and success of the United States."
Because of that, Gashayeneh does his best to contribute to the country he calls home now, encouraging others who have just arrived to do the same. And as a volunteer with World Relief Memphis, he's able to do just that.
"I'm so grateful, I'm very happy. I'm always grateful for this great nation, for the government, and for the people," said Gashayeneh, who has served on a Good Neighbor Team before. "A lot of people invested in me when I came to the United States. Now, it's my turn to do something good."
Gashayeneh, thank you for sharing your story with us! We are so glad to have you here as our neighbor, helping to welcome others into the community alongside us. 
If you would like to welcome our neighbors like Gashayeneh to the U.S. as well, join us as a volunteer or an intern this summer.