Last year, we introduced you to Mary, one of our World Relief Memphis volunteers. She's been actively involved in our Youth Mentoring Program, and, she's spearheading our Resiliency Program, which empowers women by teaching them the hard and soft skills necessary to find a job through sewing.  
When World Relief Memphis first launched their Resiliency program, Mary was living in rural Kentucky. Originally from Memphis, she knew the World Relief staff member in charge of the program, and, as a fan of textile arts, she wished she could get involved right away.
"I began learning textile arts, like needlepoint and embroidery, from family as a very young child," she said. "My dream was to be involved with a weaving studio or quilting bee, where I could make textile products with ladies from other cultures."
With the distance, however, she knew her dream would have to wait. Instead, she would do her best to share about the program and get others involved.
"I was texting a bunch of people in Memphis saying, 'If I was there, I would get involved. Research it, look into it, please get involved,'" she told her friends and family. "'This is a good thing.'"
A year later, Mary was back in Memphis, but the COVID-19 pandemic meant that her dreams of "chatting and laughing with other women while being surrounded by soft fabric and beautiful colors" would have to wait once again.
In the meantime, she began volunteering as a Youth Mentor, helping a recent high school graduate prepare for college. It did not involve sewing, but it did allow her to get a glimpse of the diverse community that calls Memphis home. 
"I've always been fascinated by travel and other cultures; I enjoy exciting food and getting to visit other places, and so, being able to build a relationship with people who are different from me in my own city is really exciting," she explained.
When WRM announced that they needed a volunteer to help with the Resiliency program in July then, Mary knew that it was the right time. It wasn't a quilting bee overseas as she had originally imagined, but it was close.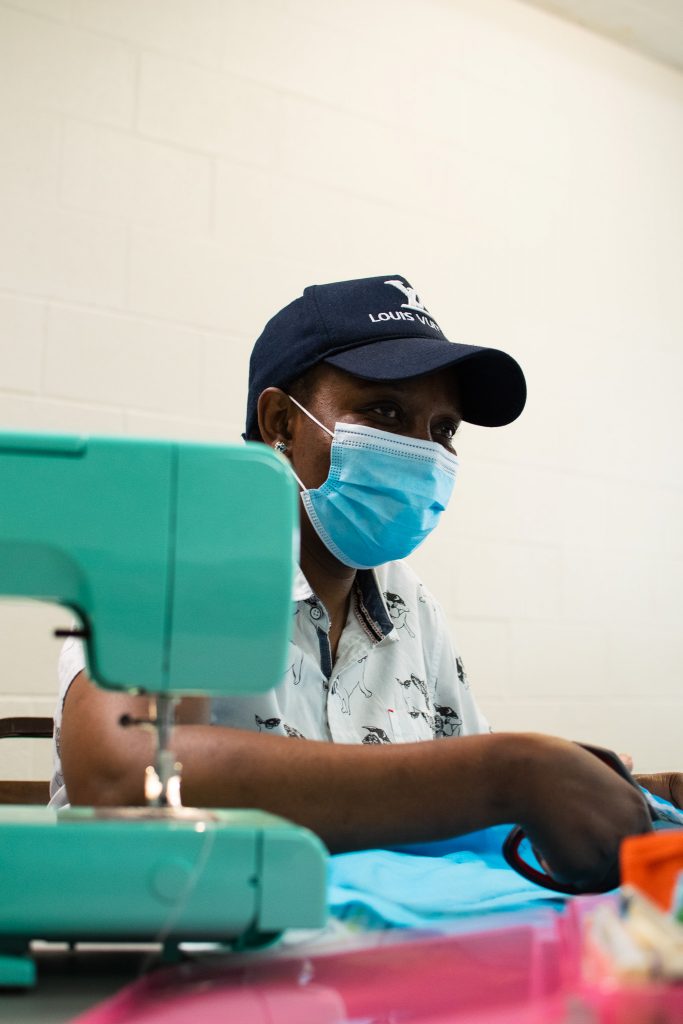 "Now, I am back in a city I left, in a country I tried to leave. I am using the skills God gave me to do what I love!" said Mary, who works full-time as well. "I am getting to be friends with ladies from many different countries! I would not have met these ladies if I had moved to one of their countries of origin."
Each Saturday, they meet to discuss their sewing projects from the week before. If a student needs help, Mary shows them the next steps, encouraging them throughout the process. At the same time, the women are able to practice their English and prepare for a future career.
"If I could encourage women, that would make it all worth it," she said. "Even if it's just like 'Wow, you did really good,' by sewing a string or 'Look at that button you sewed on by yourself. I'm really proud of you. You learned something in another language that is not your natural language. That's great!'"
Already, Mary can see the progress that her students have made in just the few short weeks they've been working together.
Mary, thank you for donating your time and talents to help our neighbors in Memphis! If you want to do the same, join us as a volunteer—whether it's youth mentoring, practicing English or helping a family. There's plenty of ways to get involved, and we would love to have you come alongside us as we seek to serve our neighbors.