At the end of April, World Relief will celebrate National Volunteer Appreciation Week, a time to recognize the impact and power of volunteers to "tackle society's greatest challenges, build stronger communities and be a force that transforms the world."
Last year, World Relief engaged 8,430 volunteers and 873 church partners in the U.S. to welcome and walk alongside their refugee and immigrant neighbors. Today, Todun Afolabi, World Relief's U.S. Volunteer Engagement Manager, shares her own journey from welcomed to welcomer.
---
The Ministry of Welcoming
When I think about God's heart for welcoming strangers, I think of Ruth and Naomi's story in the Bible.
Naomi was the mother of Mahlon, Ruth's first husband. Naomi's family had traveled to Moab because of famine in Judah. While displaced from their homeland, Mahlon met and married Ruth, a Moabite. But when Mahlon and his father died, Ruth and Naomi returned to Judah as widows. 
Naomi knew what it was like to be a stranger in a foreign land, and she was instrumental in helping Ruth resettle in Judah. She showed her how to secure food and, eventually, even connected her with her future husband, Boaz. Through Naomi's care and advice, Ruth was able to establish a new home.
Needing a Naomi
For me, welcoming newcomers is ministry — and it's personal.
When I was a stranger in a foreign land, there were many "Naomis" who spoke into my life and helped me adjust to my new home. I've learned that you can't downplay the role of God in your life, especially in how he connects people and brings them together.
In 2011, my husband and I came to the U.S. from Nigeria as newlywed graduate students. As a couple, we couldn't stay on campus, so we found a small apartment. At the time, we didn't have enough money for furniture. We were just glad to have a roof over our heads.
We soon started attending a local church, and one of the pastors asked how we were adjusting and if we needed anything. I was hesitant to acknowledge how little we had and how far from home we felt, but we couldn't hide our needs.
Later that week, I was amazed when the pastor called and asked if we were home. Within minutes, this truck drove up with chairs, a table, a dining room set — everything needed to make the apartment into a home for us.
That was the first of many ways the church surrounded us and helped us through our early years in the U.S. — and as a married couple! Our first car was donated to us by the church. They helped us cover rent expenses when money got a little too tight. When I got pregnant with our first child, they bought maternity and baby clothes and celebrated with us when our son was born.
I think God allowed me to experience the church's welcome first-hand so I could understand how important it is. They showed us the heart of Christ. Now in my position at World Relief, that same heart motivates me to help others welcome newcomers the way I was welcomed.
Becoming a Naomi
When I joined World Relief as the Chicagoland Church and Volunteer Coordinator in Dupage-Aurora in 2018, it was an opportunity to become a Naomi for others.
I remember meeting a young woman who had recently arrived in the U.S. from Rwanda, and I was telling her my story — how I came and what had happened in my life since. She told me, "If you can do it, then I can," and I said, "Yes! It's possible. It's really possible!"
It's powerful to see that lightbulb go off, to see the encouragement and the hope that comes when someone realizes that they can do this — and that they don't have to do it alone. That's why I'm so passionate about helping the welcomers know and express the heart of God for strangers.
I wanted to keep bridging the gap between churches, volunteers and newcomers not just in Chicagoland, but across the country. In 2021, I transitioned to a role with World Relief's Home Office as the U.S. Mobilization Specialist and now, I'm the U.S. Volunteer Engagement Manager.
In each of these roles, I've seen the mutual transformation that happens when churches and volunteers work together with their newcomer neighbors to welcome them — just like I was welcomed.
Welcome is for Everyone
At World Relief, we want to make room for everyone to be a part of welcoming newcomers, and I'm especially excited to invite those who have immigrant stories like me to volunteer with us. We can play an important role in being Naomis to our new neighbors, helping them adjust and adapt, just like we did.
It was a Naomi in my life who introduced me to volunteering. I started helping at a local food pantry and discovered that it was a good way to give back, but also an opportunity for me to build relationships and integrate. I realized it was a way for me, as an immigrant, to say, "This is my community now, too."
I've learned that — whether you're an immigrant, refugee, asylum seeker, a church partner or anyone else in the community — you have something to give. Even if it's an hour a week or giving someone a ride to an appointment, those things really have an impact. I know because they had an impact on me!
Volunteering is where we get to bridge the gap between the heart of Christ and the needs of our community.
I look at my experience and see God's hand in all of it — in the way I was welcomed and the way I now get to help others welcome. I'm grateful for this ministry God has given us at World Relief, and I'm grateful to have churches, volunteers, neighbors and people like you ministering together with me.
Do you want to create lasting change alongside passionate, mission-driven coworkers like Todun? World Relief is growing our team to meet the increased needs of our world, and we're looking for people like you to join us.
---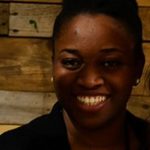 Todun Afolabi joined World Relief in 2018 and currently serves as the US Volunteer Engagement Manager. With a background in law, she is passionate about humanitarian efforts and engaging communities in their stories of change.