The Path is one way that community members partner with us in this important work of welcoming refugees through giving a monthly gift.
Read about one of our Pathmakers today and what drew her to this work.
How did you get connected with the work of welcoming refugees?
It started years ago when I was hearing so much in the news about displaced people. It felt
uncomfortable to hear that news and then turn off the TV and return to my regular life. I started to
research online about different organizations who had boots on the ground in helping people. There are lots of good organizations doing good work. I wanted to be a part of their work and decided to offer financial support. I found World Relief, which has a local office and was also located in places around the world where people desperately needed help.

Why did you decide to join the Path?
Looking at it from two different angles I decided to join World Relief because, after researching, I felt good about supporting their work. And I wanted to give monthly because it meant my giving would be consistent and I wouldn't ever forget to give.

What motivates you in welcoming refugees?
Reading through the Old Testament I was surprised by how many times God commands his people to care for the widow, orphan, and the sojourner. By welcoming refugees, I am complying with God's teaching. Refugees leave their home country out of necessity, not by choice. I think that as a Christian I am called to respond to that need.

How do you think you have changed since becoming involved in this work?
I have become much more compassionate to people who are different from me—different nationalities, experiences, and religions. It's good to be different. I was more judgmental of people who were different or thought differently from me, but now I have more compassion and understanding of people with different backgrounds. I appreciate how people can bring different cultures into my world. People who think differently help a community to stretch and grow.

Do you have any advice for someone who wants to help but doesn't know how?
Take a step in a direction and see where it leads. It's hard not to be frozen by indecision and not know what to do. After all, what can one person do in the face of so much global conflict and disaster? After taking the first step you will be able to take another. One person can't create change on their own, but change will happen when we work together.

How can you learn?
I try to keep things local. Try to learn about what is going on in your community that you can be a part of. Do some research online. Be willing to get to know people in your community who are different from you. And as you work with others who may disagree with you, always be kind and be open to other points of view. For people who are readers I recommend the book, "Inalienable" written by Matthew Soerens.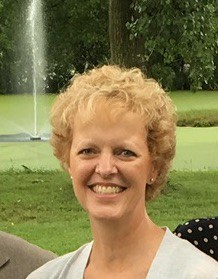 Join the movement and become a Pathmaker today!