A Model for Corporate Partnership: GForce Life Sciences
At World Relief Chicagoland, we love working with partners in a holistic way especially when we share the core value of serving people in vulnerable situations. A holistic partnership is about more than writing a check (though it is one way to make an impact).  It involves mobilizing people in your company to engage in a meaningful way that leaves a positive impact on everyone.  We would like to highlight one of our corporate partners – GForce Life Sciences.
Moving Towards Impact
Their mission statement is to make an impact one person at a time. GForce Life Sciences was introduced to World Relief by President John Webber's wife, Tricia.  Tricia served as a volunteer and former staff with World Relief.  The Webber family had a front-row seat to how challenging it is for refugees and immigrants to be dropped into the U.S. and forced to acclimate to life here immediately.  They came to believe that partnering with World Relief was the right next step for them.
In addition to English classes, World Relief assisted with finding jobs, a home, classes and more. There are so many things that we take for granted like registering for school or navigating medical appointments. These were the things that Tricia got to help the families with. She also taught in World Relief's "pre-school" while parents were taking ESL classes.

-John Webber, President and CEO of GForce Life Sciences
A Mutual Impact
In addition to the financial partnership from GForce Life Sciences, their team shows up to be part of Conversation Cafés. These cafés bring volunteers and English language learners together to practice English in a casual, yet guided setting. Every time John and his team join a Conversation Café they make an impact, bond as a team, and are blessed by their new friends. There are smiles for days.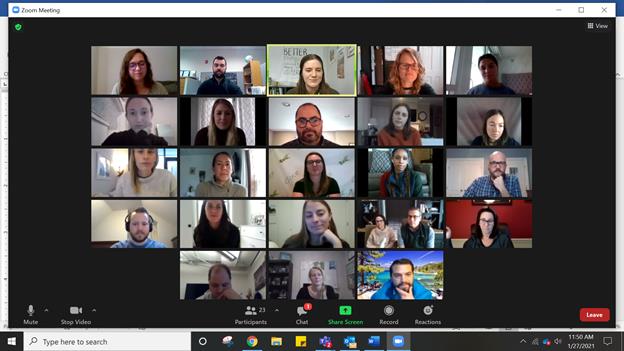 GForce wanted to support WR financially, but to really "make an impact" we also wanted to invest some of our time. It's made an impact, not just on our new neighbors from abroad, but on our team as well. They love it!

-John Webber, President and CEO of GForce Life Sciences
Exploring Your Impact
Another way that many companies partner with World Relief is through hiring refugees and other immigrants who are eager to work. World Relief has more than 30 years of experience connecting qualified, authorized, and reliable employees with leading companies in the United States. Through working with Employment Services, your company can find great employees and make a difference. We would love to work with you and your team.
When you partner with World Relief in a holistic way, you get to have a deeper impact.
Ready to Become a Corporate Partner?
Contact Carrie Woodward to begin the conversation and learn how.
---
Continue Reading:
Finally, I'm Home: Raphael's Story of 8 Years Waiting for Resettlement
I Was No Longer Safe in My Country: Yomardy's Story of Seeking Asylum