Donate Items
A tangible way to extend welcome to refugees, asylum seekers, and other migrants is to donate furniture and household goods. Your donations are so important and appreciated!
Please bring ONLY new or gently used items from the list below. Or purchase from our Amazon Wishlist and ship them to our local office.
If you can only contribute some items, please choose from our top needs here:
Alarm clocks
Toilet brushes
Laundry detergent
Small trash bag liners
Shaving cream (men's and women's)
Deodorant (men's and women's)
Kitchen trash cans
Lamps
Check out the Kindergarten-12 list for additional items needed!
NOTE: We DO NOT accept: clothes (except winter gear), toys or mattresses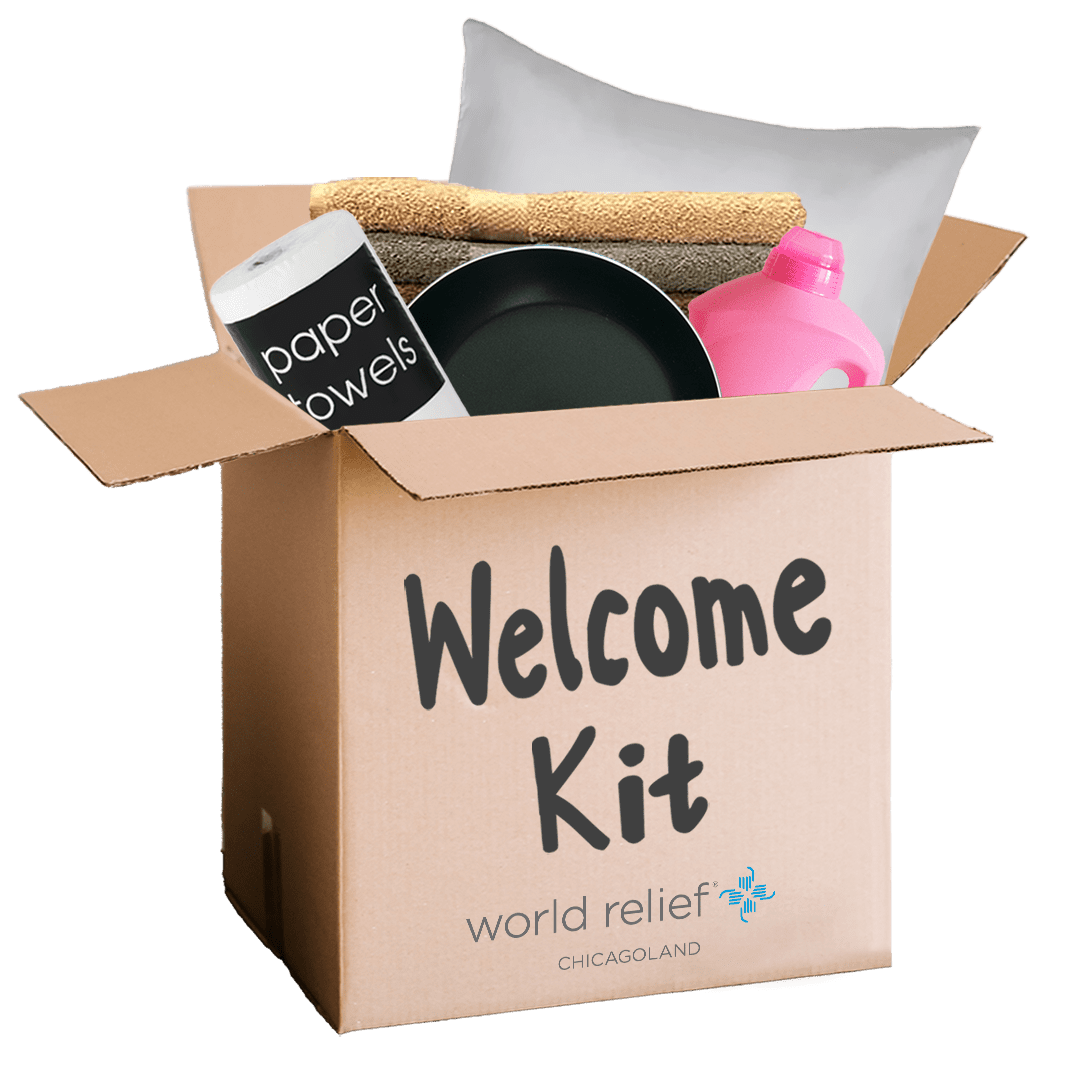 Gift cards - please send by mail to World Relief
191 S. Gary Ave., Suite 130, Carol Stream, IL 60188
Amazon, Aldi, Goodwill, Target, or Walmart - $50-$100
For groceries, medicine, and basic needs
Uber or gas stations
To help families get to urgent appointments
If you have furniture to donate, please fill out this Furniture Donation form. Our donations team will connect with you about necessary next steps.
High-Need Items
- Dressers
- Loveseats/Couches
- Arm Chairs

Accepted Furniture
- Love seats
- Arm Chairs
- Couches (no sleepers, 7.5 ft maximum length)
- Dining tables
- Coffee Tables
- Night Stands/end tables
- Dressers
- Lamps
- Kitchen Chairs
- Pack 'n Plays
We Do Not Accept:
- Sofa Sleepers
- Futons
- Recliner sofas
- Used mattresses or bed frames
- China cabinets
Partner agencies that also accept furniture include:
City locations: Chicago Furniture Bank
Suburban locations: Jubilee Furniture, Sharing Connections, Wayside Cross, and St. Vincent de Paul
Drop-Off Instructions for Donations
DuPage:
Office Address: 191 S. Gary Avenue, Carol Stream, IL 60188
For furniture, please fill out the Furniture Donation form. Our donations team will connect with you about necessary next steps.
For all other items, there is a door in the back of the building that is labeled for World Relief, so items can be dropped off inside the door on the right. The door is open Monday-Friday from 8:30am-5:00pm. If you need help unloading your donation, please contact Lauren Visser at lvisser@wr.org to schedule a specific drop-off time.
Chicago:
Currently, we are only accepting Welcome Kit donations at the Chicago location. We no longer accept furniture at this location.
Office Address: 3507 W. Lawrence Avenue, Chicago, Illinois 60625
All Chicago office drop-offs in Albany Park MUST BE ARRANGED. Please contact Lauren Visser at lvisser@wr.org to schedule a drop-off time. Clothing donations in Chicago are through our partner Family Tree Resale. Learn how here. Please say you are donating on behalf of World Relief Chicagoland, so we get shopping vouchers for our clients!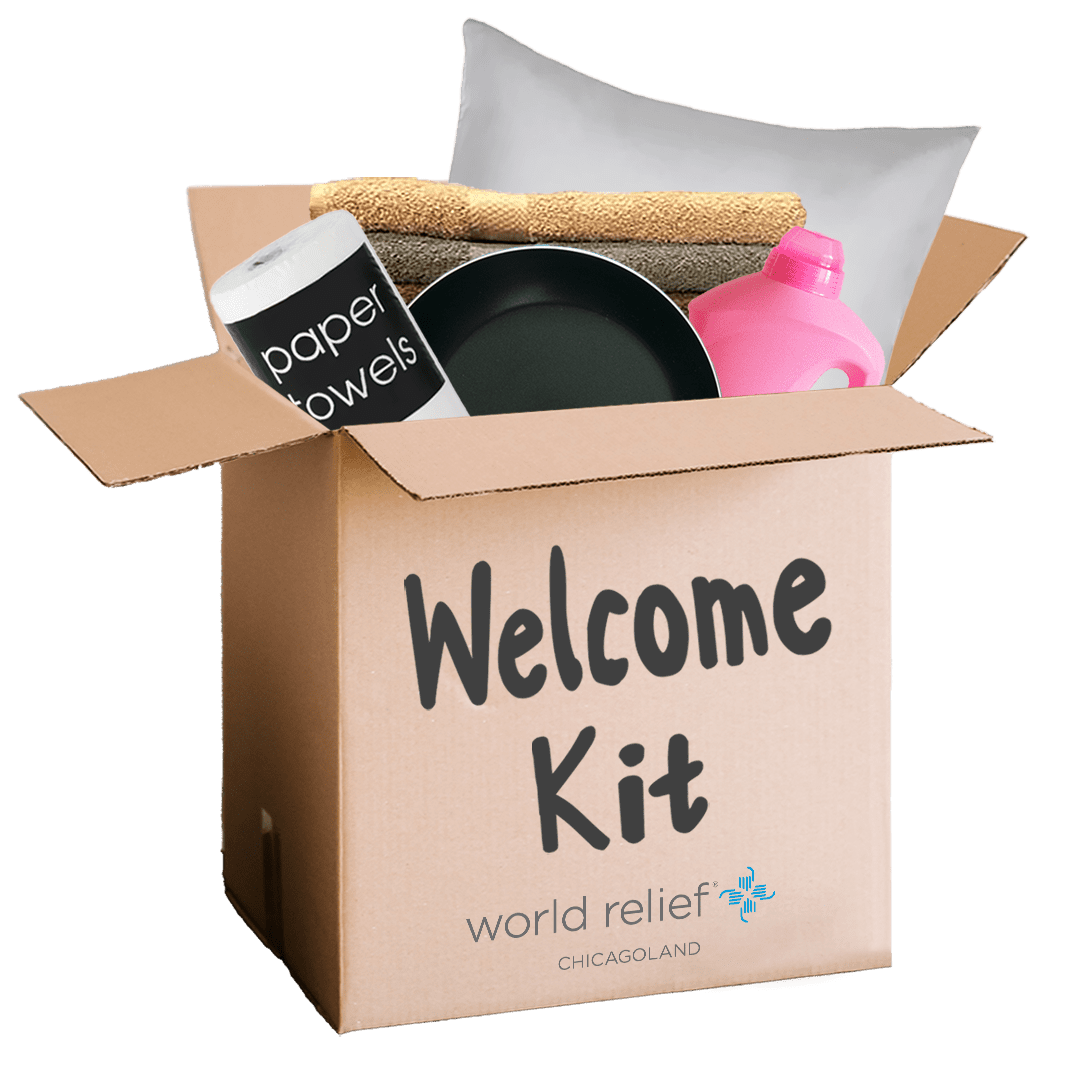 Is your family, neighborhood, church, or other small group looking for an impactful way to serve?
Full Welcome Kits are always in high demand at World Relief. You can help our newly arriving immigrant families have everything they need to get started in their new homes - so they can start rebuilding their lives.
To get started with your own collection drive, print out our complete Welcome Kit list, rally your group to collect all the needed items, and follow our drop-off instructions.
Donate Now
Interested in supporting the work of World Relief as we continue providing vital services to families through these uncertain times? Make a financial contribution.
Enter your name and email address to receive World Relief Chicagoland news and updates, including events, volunteer opportunities, donation needs, our monthly newsletter, and more.