As part of Black History Month, we've asked a few of the youth in the refugee community to tell us their experience learning about it. At World Relief, we work to honor and include all cultures and heritage, and celebrating Black history is just one way to do so. The second in a series of three, Reachaell, whom we spoke to in June as well, tells us about her own culture and how it ties into Black history.
Growing up in Africa, the life Reachaell has now was a far-away dream. As a child, she and her friends would go get water, and, amidst games of hide-and-seek, they would be playing another game as well—one where they would have to hide food under their bed to make sure no one would touch it.
When the opportunity presented itself to come to America, Reachaell was thrilled. After hearing the rumors of it in their refugee camp in Uganda, the U.S. seemed like a dream.
"We heard everything they were saying, and I was like, 'Am I dreaming? Is this real?'" said Reachaell, who came when she was 14. "When I saw the plane sitting there, I was so excited."
Despite the big change that it would bring and the family and friends that she would miss, Reachaell knew what it meant to be able to go to America. Her grandparents and uncle were already there, and, by coming to Memphis, the rest of the family would have a chance at a different life after having fled the Democratic Republic of Congo years earlier.
"[My grandparents] came to America for the same reason why we came. In Africa, there were people dying. They don't have food. They don't have homes to live in," Reachaell, now 18, explained. "To come here, it's a chance. It's an honor."
However, it does not mean that everything was always easy. When she arrived four years ago, Reachaell had never had the opportunity to go to school before, and she only spoke her native language of Swahili.
Yet in just four short months, she had already learned English thanks to a teacher who also spoke Swahili, and it opened the door for her to learn about other topics such as Black history.
"They talk about Black history in school, and it's important to learn about [it.] It's important because you really want to know what's going on, what's happening and stuff," said Reachaell, who is now a senior at Douglass High School.
As a student attending school for the first time in her life, she was suddenly introduced to subjects and people she had never before heard about: Martin Luther King. Jr, Rosa Parks, the Civil Rights Movement.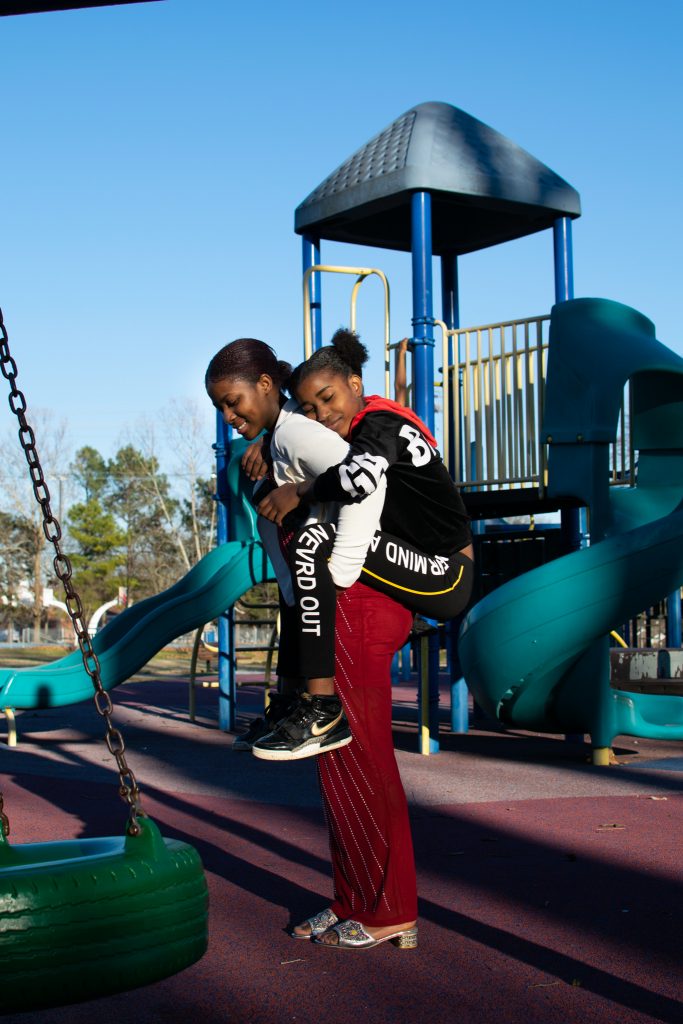 At the same time that she was learning about these iconic moments and the role models of Black history, she was also realizing the role she had to play in it too: "I'm here, so I feel like I'm a part of it."
As a result, she would one day like to see her own culture represented here. Reachaell noted that when people speak about Africa, they tend to speak only about the poverty that is there. However, there is so much more to be celebrated than that, and it can be included in Black history as well.
In fact, her own role model, Zuchu, is a singer from Tanzania. She was the first East African female artist to receive more than 100,000 subscribers in a week, and she was recently named one of BBC's 10 African music stars to watch for in 2021.
"I sing sometimes, and I would want to be like her," said Reachaell, who started singing at the age of 6. "She works really hard, and she makes good music."
This is just one small piece of culture and history that Reachaell has brought with her from Africa. Yet if there is one thing that she would take from the U.S. to her home, it would be school. The opportunity to learn, and to learn about Black history, is something she wishes everyone could experience.
"It's not that I didn't want to go to school, but my mom didn't have money to pay for it," said Reachaell. Instead, as the eldest of six children, she would stay home and care for her brothers and sisters.
"There's a lot of things to learn. The [English] language, everything. History."
Moving forward, it is no doubt that history will continue to evolve, and people everywhere will continue to learn from it. Perhaps one day, these stories will be included as well. For now, World Relief Memphis will continue to honor Black history and the diverse cultures around us not just in February but throughout the year.
Bailey Clark serves as the Communications Coordinator for World Relief Memphis. With a background in journalism and advertising, she is passionate about storytelling and its power to make a difference.