When Alphonse stepped off the plane in Memphis nearly five years ago, he thought he would be alone. He had his sister by his side, but his mother was still in the Democratic Republic of Congo along with his other siblings.
Yet to his surprise, he was greeted at the airport by his name—one that only his family had ever used. Instead of being alone, he and his sister were welcomed into Memphis by individuals who would prove to be his mentors time and time again as he navigated life in the United States for the first time.
With the help of World Relief Memphis and the community, Alphonse began to rebuild his life in the United States, after having spent most of it in refugee camps previously.
"World relief was one of the organizations that helped me make more friends with volunteers," Alphonse explained.  "They drove me around, took me out, [encouraged me to] try and move forward, and [to] start looking for jobs." 
Although it wasn't easy, Alphonse was able to start working only a month after arriving thanks to their help. Shortly after, he decided to return to school and get a degree.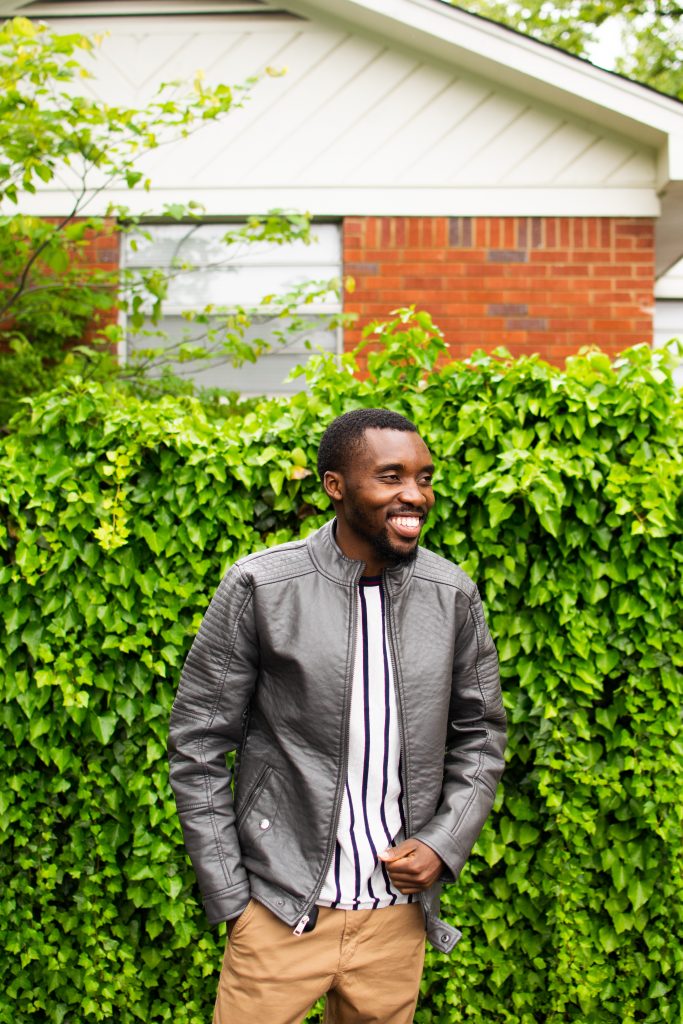 As he was applying, he learned that none of his previous studies would transfer to the American education system. He would have to start over.
Unsure of what to do in a foreign country in a language that wasn't his own, he turned to friends who had completed the process before him. They mentored him, showing him where to take English classes, where to get his GED and how to get accepted.
Thanks to the help of his mentors, Alphonse earned his high school diploma in just 11 months. He had completed grades nine through twelve in less than a year.
"Every day, I had to be there for over 10 hours. I had to quit my job and stay on campus," said Alphonse, now 24. "It was really rough because the whole year, I was not working, and I had to support myself financially too. It was hard."
Three years later, Alphonse is thriving. He will soon be completing his associate's degree in Computer Information Technology at Southwest Tennessee Community College; he works full-time; he's started his own business; and he's a leader in his community.
His success, however, wouldn't have been possible without mentors from the U.S. and the immigrant community that walked him through the process each time he had questions.
"They introduced me to their friends who have already been through the same process, who have done the same major that I want to do. They're actually working in the field so they're telling me how the experience is," said Alphonse, who plans to attend the University of Memphis in 2022. "I was like 'Wow. I think I can do it.' At the end of the day, I ended up in college, and it was still really hard."
Because of their support, Alphonse is now in a place where he feels that he can give back to others just as they have done for him. When World Relief Memphis launched their Youth Mentoring Program in the spring, he was one of the first to sign up.
"Youth mentoring is something I was passionate about because other people helped me throughout the process," he said. "Being a teenager and trying to figure out what to do in life is very challenging, especially when you just graduate from high school. You might have a lot of ideas, and if you talk to people, they can show you the right way, and it might lead you to a good path."
Just a few weeks ago, he was told that he had been matched with his WRM mentee. He had already been a mentor to his nephew and others in the community as they prepare to start university, but now he's taking it one step further by encouraging others to purse their studies just as his mentors once did to him.
"Trying to make people move outside their comfort zone [is] a little bit challenging, but it is something we want to bring to the community—that there are still good things out there," Alphonse explained. "You can feel like you're not good at anything, but it's better to try than to sit down and not do it. Once you try, it's going to give you experience on how other things look like."
Throughout the course of their relationship, Alphonse hopes to help him succeed just as others have helped him before so that he's not alone—helping him choose a major, find a job and network with his future colleagues in business. The Youth Mentoring Program may only be for a year, but Alphonse shrugs that away.
"As long as he's still going to need me, I'll be there," he said with a smile and a nod of his head. "At the end of the day, we always want to have a community where we see people growing."
Alphonse, thank you for your commitment to the community and our youth! We are excited to have you as a part of our Youth Mentoring Program.
If you believe in helping people grow like Alphonse does, fill out an application for Youth Mentoring today. We are currently enrolling mentors for the summer season, and we would love to have you join us in walking towards a new horizon where all can flourish.