How Refugee Children Reshape Resettlement for Their Families
It's easy to overlook the unique role refugee children have in the resettlement process. Yet the part they play not only impacts how quickly their family can adapt to life in the U.S. It can also determine how successfully they fully integrate.
The Challenge of Successful Resettlement
For families across the world, many would agree one of our highest priorities is raising our children. This often takes the form of providing stability – whether it's through safety, good healthcare, a solid education, or better opportunities. After all, children take precedence in our lives and for good reason: they impact us at every level. When they struggle, the family as a unit often struggles, experiencing great difficulty to move forward.
It's in this challenge many refugee families find themselves up against as they rebuild their lives in the U.S.
The Daunting Journey
Every year, violence, wars, persecution, poverty, famine, and other natural disasters drive children from their homes. According to the UNHCR, 36.5 million children were forcibly displaced in 2021 – that's more than 40% of the world's total displaced people. Not only has their normal rhythm of life been torn apart by unforeseen and tragic events. They're never given the time or resources to mentally and emotionally process what happened – or why it happened in the first place.
Unfortunately, these challenges don't stop here in the U.S. as they take on a new form during the resettlement process. Although eager to start their new life, refugee children now face a new set of barriers. But this time it's in the form of adapting to a different culture, learning a new language, and navigating an unfamiliar educational system. To top it off, they must also figure out how to cultivate new relationships.
These challenges continue into the home as children straddle two different worlds and often assume adult responsibilities. As quick learners, children commonly become the primary interpreter for their parents – whether at school, for medical care, or in situations where family members are unable to communicate. They often find themselves trying to integrate two diverse cultures and languages into their household fabric. Their role develops into bridging the gaps and helping the family to function more smoothly.
Finding an Inroad to Stability
Without question, in the event of crisis, war, or conflict, the stability of the family unit is key to building a new foundation. For families, this stability begins with the children. When they're in a safe space, parents and extended family feel more secure about starting the adjustment process.
Yet the question remains. How can these families rebuild a sense of security when their children continue to be exposed to daunting challenges?
Bridging the Gap
Children & Youth Services at World Relief plays an integral part in stabilizing and empowering refugee children and their families as they resettle in the Chicago suburbs. In the last year, people like you along with the staff in DuPage and Aurora have worked with 633 children from 268 families and 37 different countries. These countries include Ukraine, Afghanistan, Democratic Republic of Congo, Syria, Sudan, Nepal, Colombia and many more.
We are all too familiar with the global crises that have uprooted these families. It's critical to orient them as soon as possible to the nuts and bolts of parenting in America so that they can not only provide needed stability for their children. They can also move forward as a family.
Children and Youth Services Programs
Upon their arrival to the U.S., staff members work one-on-one with each unique family. A parent orientation program provides the initial support to quickly adjust during resettlement. It introduces them to life in the United States and what families can expect at each age and stage of their child's resettlement.
Resources provided by Children & Youth Services continue to serve as an essential anchor for these families. These services include:
Early childhood case management: nurtures essential play groups, connects families to local preschools, and coordinates specialized therapy
School preparation and support: Provides backpacks and school supplies, helps them navigate classes and form new friendships, and shows them how to ride the bus on their first day
Tutoring and mentoring services: ensures homework help is available through tutoring and provides After School and Summer Clubs for students in all grades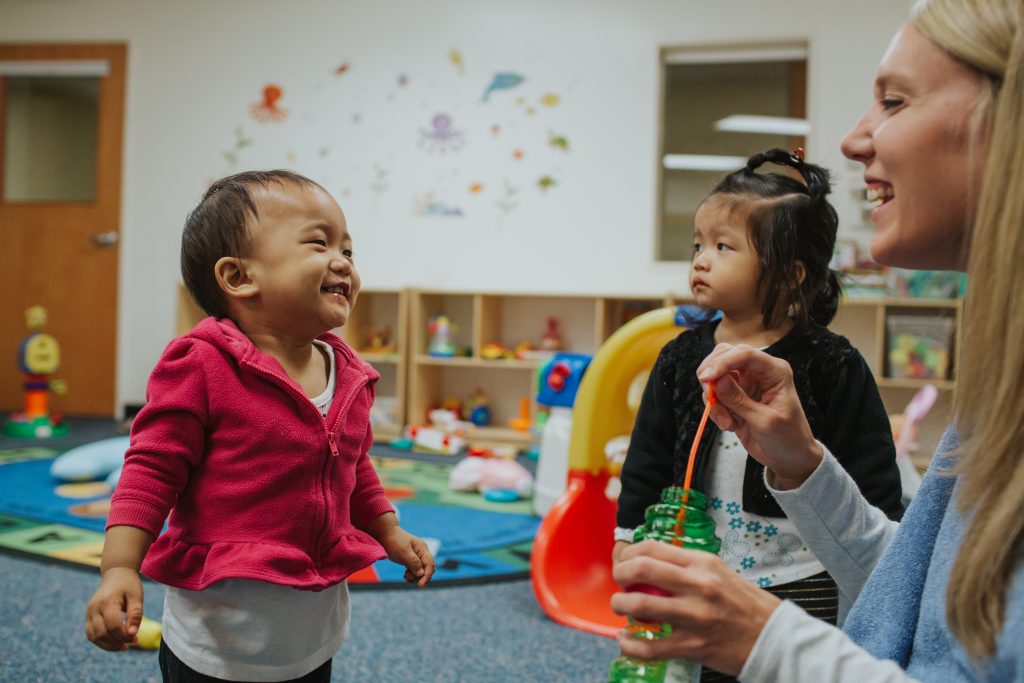 And let's not forget one of the most important parts of being a kid: having fun and making new friends. World Relief's youth programming gives refugee children the space to be a kid with other kids. They create new friendships, explore American culture, and share a universal love for games (and snacks). Most importantly, these children are given the chance to move forward – together. Their constant smiles reveal it all – they tell a joyful story of a new life beginning.
Make a Difference. Get Involved.
People like you, along with churches, staff, donors and volunteers walk this journey with refugee children and their families. Together, we advocate on their behalf and connect them to essential community resources such as food pantries, clothing, child car seats, and other social services.
We understand that familiarity with the everyday small things has a huge impact on newcomers. Together, we can tackle complex challenges like employment, learning English, becoming citizens, and restoring dignity and normalcy for our new neighbors here in Chicagoland.