On September 28, 2016, Alphonse and his sister were welcomed to the United States by World Relief Memphis staff and volunteers eager to help. Just a few months later, the number of refugees to be admitted to the United States was drastically cut.
In the span of a few months, people's hopes and dreams of rebuilding a life in the U.S., safe from harm, were dashed. Alphonse, however, was one of the lucky ones.
"I thought 'Wow' because I know most people always dream to come to the US," said Alphonse, 24. "I just realized that I'm one of the lucky ones, and I'm here."
Alphonse was born in the Democratic Republic of Congo, but, at only two months old, he went to a refugee camp in Tanzania with his father. When his father died, he returned to the DRC, but the situation had not improved, and he moved to a new camp in Malawi with his sister.
"There were still robbers coming to break down the house, still the same thing happening with people getting killed," Alphonse explained. "It was really hard, so my mom decided to tell me to move to the refugee camp in Malawi with my sister."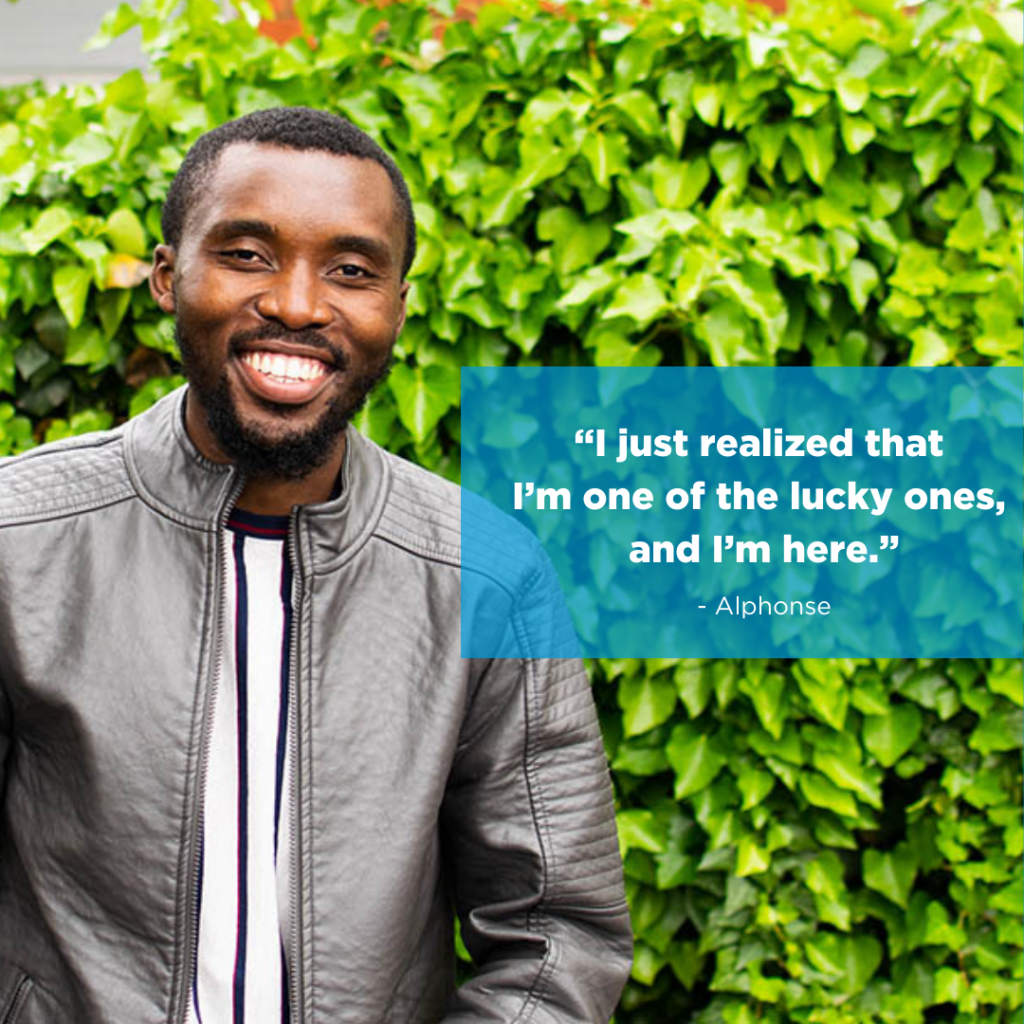 For the next thirteen years, he and his sister waited for news of their visa. As time passed, Alphonse dreamed of America—Los Angeles, New York, Chicago—but he never expected Memphis. When they were told they were moving here, the dream began to solidify into reality as he researched his new home.
From day one, Alphonse began learning how to navigate his new life. However, he was never alone as he might have imagined before. Instead, he had a family of volunteers, World Relief Memphis staff and fellow immigrants there to help him.
"World relief was one of the organizations that helped me make more friends with volunteers," Alphonse said. "They drove me around, took me out, [encouraged me to] try and move forward, and start looking for jobs. I found my first job."
With their help, Alphonse began to wade through the culture shock of a new country and language to become an entrepreneur and leader in his own community.
"When somebody leaves their stuff to come help you out, it's really showing love, because not everybody can do that," said Alphonse, referring to World Relief Memphis and his team of volunteers. "To see that passion of helping people out, why not support that? You want to see the world as a beautiful place; it is something that you want to put yourself and get into."
With that thought in mind, Alphonse is doing everything in his power to take care of his community, in particular the youth and the elderly, through his cleaning business and job readiness trainings.
"It's hard for them because most of them are old, and learning English is not easy for them," said Alphonse, who would like to run the program in partnership with World Relief Memphis. "I started having the idea that once they first arrive in the United States, showing them how to do things like 'This is where you have to put your name, your address, your phone number, etc.'"
From there, his hope is that they would then find employment within the city, or perhaps even in his own entrepreneurial endeavors. When not pursuing his degree in Computer Information Systems or working, Alphonse can be found working on his own business cleaning and disinfecting offices.
"We have other people in the community where—they have disability problems where they cant work. Some of them they just feel like they need something simple," Alphonse said. "I started thinking about coming up with something that might make them feel like they're doing something, even if it is that little. They know that they have something that gives them a little source of income to support themselves beside having assistance from the government."
As his business grows, he plans to begin hiring within his community. Yet for the moment, he is focusing on his studies despite the challenges that arrive, such as a pandemic, so that he can in turn focus on his family.
"Life is surprising me every day. It's getting more surprising every day," Alphonse said with a chuckle. "I really want to work hard. I want to change my family story. I want to see myself doing something different."
Coming from a family of doctors and nurses, Alphonse still plans on helping others and giving back to the community, but not in the way that they would expect because of his chosen career field in technology.
"I know technology is one thing back home people still struggle with, so even when I go back I can still be that person [who] bring[s] new changes in the community, in the village, in the society, where people can start knowing things," Alphonse said.
When he arrived nearly five years ago, he had never dreamed of this new possibility. At the time, his dream was simply to come to the United States. Looking back, Alphonse knows it wasn't fate or a coincidence, but rather God's perfect timing.
"I can say everything that has happened to me is God's hand upon my life," Alphonse said. "God is really doing amazing things. I can say to start a business and do school while working, it's not like I'm controlling it. God is helping me every day to keep going, pushing."
Perhaps one day soon, Alphonse will be helping other refugees realize similar dreams as they begin to arrive in the United States under the increased refugee ceiling. For now, he'll continue forging ahead to achieve his own and pave the path for others that come after him.
"People just have to keep trying because sometimes, life gives us a different picture than what we think life looks like. But at the end of the day, whatever comes your way, it's for your own sake and it's going to be better—somehow, some way," Alphonse said. "It's just good to keep trying. That's how I always do."
If you want to be a part in helping refugees and immigrants such as Alphonse rebuild their lives and achieve their dreams here in the United States, head to our ReBuild page to see just how you can do so.
To Alphonse, we are so thankful that we were able to be a part of your journey as you arrived in the U.S., and we are incredibly proud of all that you have done. We cannot wait to see what the future holds.