So far 19 Syrians have taken refuge in Memphis, and Mahmoud Al Hazaz is just one. He left his home country of Syria behind and took his family to Jordan after the government shelled his successful restaurant. But life is rarely easy for a refugee. Mahmoud has now found safety in the Bluff City for his wife and four children and is hopeful the rest of his family can join him here soon.
This isn't a story of pain, even though it could be. It's a story of hope that rises out of pain, and that's probably the most genuine kind.

Imagine owning a successful restaurant, one that is profitable and full of customers, the kind you see time and again across Memphis. Mahmoud Al Hazaz's street-level restaurant in Homs, Syria, drew big crowds, bringing him success and a good life.

But in the early days of what has turned into a crippling civil war, big crowds came to represent dissension to the Syrian government. In early 2011, when the Syrian regime came across large crowds they countered with AK47s, tanks and other weapons.

It was during this time that Mahmoud's busy restaurant was hit with a tank shell. Thankfully when diners saw troops coming, they all went inside and no one died.

Think about that for just a moment. No one died. At a restaurant. Talk about finding the good in a bad situation.

"In the beginning of the events they started with peaceful demonstrations," Mahmoud says through an interpreter. "Then the Syrian regime came with weapons. When they would see a big group of people they'd shoot at them. We had a crowd of people at the restaurant and the government hit it."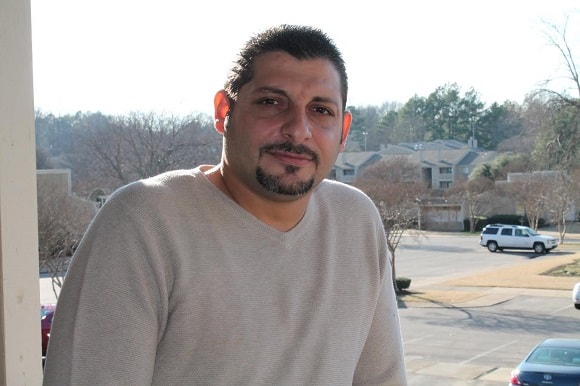 Mahmoud tells this story as he sits in the living room of the Memphis apartment he has called home since early December. There is no emotion in his eyes as he retells his story in a matter-of-fact tone. Maybe it's the passage of time – it has been more than four years, after all – or maybe the fact no one died in this attack. Either way, Mahmoud seems grateful.

There is something different about Mahmoud. By all accounts, he is an excellent chef, with the ability to make fantastic versions of traditional Syrian specialties. But on this mild and sunny January afternoon in Memphis, Mahmoud isn't talking about food. Not yet, anyway.

His restaurant was destroyed by his government. He and his business partner responded by reopening it in a taller building so it wouldn't be in the line of fire. But Mahmoud also decided it might be safer if he stayed with a friend instead of in his own home.

The fighting eventually followed. The free Syrian army and Syrian government forces had firefights around his restaurant.

It's estimated that since the Syrian civil war began in early 2011, a quarter of a million people have died. Mahmoud's father was one of them. Mahmoud didn't share how, only that a bullet did the job. No emotion, just a bullet.

Mahmoud left his successful restaurant of five years behind and took his family to Jordan. It was still pretty easy to leave Syria in November 2011. In those days a passport was enough.

It also helped that at the border crossing, no charges against Mahmoud or his brothers were found. So they were allowed to cross, ultimately settling in the capital city of Amman.

When he and his family first arrived, conditions were good. They were welcomed, and Mahmoud and his family began to resume life in a new home. But life is rarely easy for a refugee.

"In the beginning, Jordanians were welcoming," Mahmoud said. "Their treatment was good, but then as more and more came and it got crowded, the way we were treated was difficult."

Mahmoud said rents were raised, but because of his restaurant experience, this successful chef had no problem finding work, especially in the beginning. Also, living conditions weren't bad, especially compared to Syria. Mahmoud's extended family of 10 shared a four-bedroom apartment.

But then more Syrians followed and with them more difficulties. In his first year in Jordan, Mahmoud didn't need special permission to find work. Later, though, the country began requiring refugees to acquire permission papers to gain employment, which meant it cost about $700 a year just to get a job.

In Memphis, Mahmoud hopes to gain permission to work soon. His traditional Syrian food is really good, he said. It's hard not to take this man's word for it. He'd love to find a restaurant that could use his services, or maybe a restaurant owner or investors willing to take a chance on a man who's already taken a chance on life and won.

"All my experience has been with Arabic food, so that's what I'm comfortable with. But I can learn anything," he said. "I can do Western food."

In broken English, he said "KFC," with a smile.

Mahmoud has found safety in Memphis for his wife and four children. But his mother and brother, as well as his brother's wife and child, are still in Jordan. Mahmoud said the family is hopeful to hear soon they can come to the United States.

Maybe you've heard their story. Mahmoud's mother was interviewed by the website Humans of New York in early December. "Tomorrow he's leaving for a place called Memphis, Tennessee," she told the site. "I don't know what I will do without him. I hope they will let me come to Memphis too. Can you tell us anything about Memphis? Are there nice people there? I heard that it is a city of music. I love music."

Mahmoud is hopeful his family can join him here. He also has a brother still living in Syria, and two others living in Germany and Brazil, respectively.

Memphis is a different world than Syria. For one thing, Homs is a battleground.

"I didn't know anything about Memphis," Mahmoud said. "I knew California and Texas. It's very nice here. The people have been excellent. Their treatment of us has been very good. I'm not just saying this for your sake. When I talk to my family they ask, 'How is the treatment of Americans,' and I say it's wonderful."

Mahmoud said his children were afraid at first because they were around new people, and because they didn't know the language. They're adjusting, though, particularly the girls – ages 10, 8 and 5 – who are all in school. The boy is 2 1/2, and like most toddlers, his attention is on the phone in his hands instead of the American reporter in his living room.

Mahmoud said his life was wonderful in Syria, but that was before the civil war. There is no going back for him, ever.

"Syria's finished," he said with a smile. "As far as I'm concerned Syria's finished."

He did admit that he'd like to one day live in his home again, but he knows better.

"There's nothing to go back to," he said. "The old city is demolished, complete destruction. There is no going back."

Not to their house, at any rate. When they left Syria, Mahmoud and his family left a home fully furnished. Afterward, they heard everything was stolen, even the toilets, electrical fixtures, and light bulbs. It's since been destroyed, presumably by an artillery shell.

And of course, Mahmoud's story isn't unique.

More than 800,000 Syrian refugees sought asylum in Europe between April 2011 and November 2015, according to the United Nations. That's enough people to fill 12 soccer fields, standing very tightly.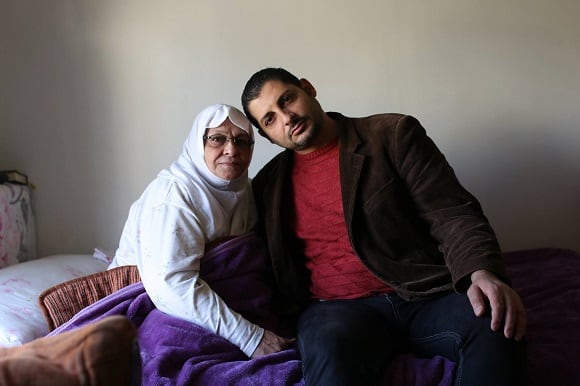 Additionally, the UN has registered more than 4 million Syrian refugees in Turkey, Lebanon, Jordan, Iraq, Egypt and North Africa, most of them living in camps close to the border. For these refugees, it would take 62 soccer fields.
 
So far 19 Syrians have taken refuge in Memphis. Nearly 55 soccer fields fit in one square mile, and Memphis is over 300 square miles in size. That's enough room for considerably more than 19 Syrians.
 
Steve Moses is the office director for World Relief Memphis, an organization that brings about 200 refugees a year to the area. He recently was in the Middle East, a region he's spent a lot of time in over the years. He gets emotional recalling a 5-year-old girl he met.
 
"She cuts herself, breaks glass in her hand, takes cold showers yet shows no emotion," he said. "Her uncle sits incapacitated and in a deep depression."
 
But the most important part of the work he does, Moses said, is to deliver the message he's been told to bring back to America, time and again.
 
"All – yes, all – of them stated they are human," he said. "Real people … they desire for dignity and respect. (They want) their personal stories to be known and not simply lumped together as a large group of people."
By Lance Wiedower in the High Ground News on Thursday, January 21, 2016. The original article can be found here.