At World Relief, we love to bring you inspiring and meaningful stories about the immigrants and refugees arriving in Chicagoland. Yet we are all part of an even bigger story – of migration, change, poverty, and global factors that impact all of us. To give you insight into this bigger story, we put together this list of four resources in varying formats – podcasts, a film documentary, a book and articles. Each one gives the audience the chance to see the bigger picture through the eyes of immigrants and refugees. We hope these stories move your heart and that you feel inspired to join the work needed to create a better future.
Podcasts
What is it? This podcast episode from This American Life returns to a story from years prior of Abdi, a Somali refugee living in Kenya, who won a visa lottery to come to the U.S. as a refugee. And before he can make it to the United States, the police start raiding his neighborhood and targeting refugees. This story picks up three weeks after Abdi finally became a U.S. citizen in Maine. Take some time to listen to his account from years before of winning a visa lottery and then facing incredible obstacles before making it to the United States.
What is it? NPR's Code Switch Podcast specialized in sharing stories about culture and race that are rooted in current events. Although the events that inspired this podcast occurred in 2018, this episode remains relevant because it also explores the bigger picture of how immigrants fit into the U.S. as a country – and the challenges many face after arrival. Through an interview with refugee and immigration law expert Hiroshi Motomura, this episode dives into topics like family-based immigration, the history of how immigrants have been treated, and how it feels to be an immigrant in the United States.
Beyond Soundbites Podcast, Episodes 17 and 18 "The Reason I'm Here" in the "Searching for the Personhood of Refugees" Series
What is it? The Beyond Soundbites podcast takes a faith-informed approach to exploring the complex refugee experience. Episodes 17 and 18 explore the story of Trang Tran, who arrived to the U.S. from Vietnam as a baby thanks to the Refugee Act of 1980. Trang invites listeners to join her as she pieces her story together and seeks to understand her own family's story. Also, many of the creators and contributors to the Beyond Soundbites podcast have long-term connections with World Relief. And they apply their own passion for welcoming immigrants and refugees to every aspect of the podcast.
Movie
What is it? Human Flow is a stunning and epic documentary film by Ai Wei Wei, an internationally renowned artist who applies his creativity to visualizing global mass displacement. Ai Wei Wei explores the tension between the enormous scale of displacement and the poignance of individual stories. And since the film was released in 2017, the global displacement crisis has only grown, which makes the film's mission to understand the experience of displaces people and promote a belief in everyone's unique value more relevant than ever. And through powerful visuals, interviews and stories, the film makes the global refugee crisis feel real in a very personal way.
Book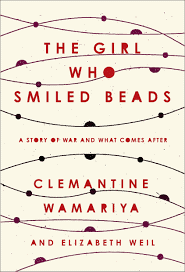 What is it? This autobiography tells the story of a young woman who is a refugee and whose family fled their home when she was only six years old. Spanning years, the book traces her family's journey through refugee camps in seven African countries until Wamariya eventually makes it to the United States as a refugee. However, the story doesn't end there…
"It's strange, how you go from being a person who is away from home to a person with no home at all. You are unwanted, by everyone."

Clemantine Wamariya and Elizabeth Weil
The Girl Who Smiled Beads describes a family's struggle to hold onto their dignity. Their fight to stay together. And the lingering trauma that lasts far past the actual violence they experienced. Even after arriving safely in the U.S., Wamariya describes wanting to challenge stereotypes and throughout the book, she pushes back. Should you see her as a poor, grateful, exotic refugee? No, she is a person of agency, feelings, and unique experience.
Article
What is it? We have all seen heart-wrenching images of refugees and immigrants suffering, as oppressed and victims of violence. And in contrast, this article profiles a photo exhibit called Another Way Home. The art show provides a different narrative. It shows people how they want to be seen. And it does so by featuring 13 immigrant, migrant, and refugee photographers, artists, and storytellers and showcasing their works of art.
What will you learn next?
We hope that these resources help you connect to the stories of refugees and immigrants: people who come from different backgrounds, places, and stories but have dreams and goals for their lives. Ultimately, this is a launchpad. There are countless stories out there of people who overcame obstacles, faced incredible challenges, and are rebuilding their lives after loss and displacement. Because of that, we hope you will think of this as a starting place. Whose story will you hear next?
Continue reading:
Abdul and Yao: Story of Impact
5 Impacts of Resettling Refugees