In 2021, we're giving you the inside scoop on the work World Relief is doing in communities around the world through a new series called, Get to Know Our Staff.
Today, we're excited to introduce you to Esther Pyram, World Relief Haiti's Integral Mission and Church Empowerment Zone Manager. Esther is a writer, a wife, a sister and a friend. Her prayerful spirit and joyful work ethic are contagious, and today she's sharing more about her role at World Relief and the transformation she's personally experienced while leading alongside others in Haiti.
---
What is your name?
My name is Esther Phtama Pyram Louissaint, a Christian believer. I am a wife, a sister, a friend and a beloved daughter.
What is your role at World Relief?
I have been with World Relief since February 2016. I joined as a field coordinator. Currently, I work as the Integral Mission and Church Empowerment Zone Manager.
What is your favorite thing about your job?
There is nothing more exciting than doing what you know you were called to do. It is a complete joy to serve, to participate in this holistic transformation we are looking for in our community. Therefore, in the past five years, I have always considered myself a servitor rather than an employee.
Can you share some stories that excite you?
I had the privilege of witnessing churches' growth and seeing them proudly standing up for the most vulnerable. I saw children going to school for the first time in communities where there was no school before and where State Institutions are absent. I have observed church leaders contributing generously and with inexplicable joy to organize community weddings regardless of religious or denominational backgrounds. I saw widows' homes restored, gardens planted, and crops at their feet to face the new season. I have seen life blooming, and hope being restored for many brothers and sisters.
Yet, the most wonderful part of it all is to witness my own transformation through this process. I have become stronger, more confident, empowered and impacted. I am working with more tact, joy, love and a constant quest for excellence in all areas of my life.
How have you grown in this role?
My relationships with God, with myself, with my family and others have been transformed beyond belief. Areas of my life which I struggled with in the past have been restored, including my finances, my ministries and my dreams.
My increased mental strength allows me to face nasty critics with steadiness and an unwavering attitude. Such critics can no longer put me down. In short, I know who I am: a loved, gifted and blessed girl, and all the assets in the world cannot compensate for such newly built confidence in myself and in Our Loving Father.
What are your hopes for the communities where you live and work?
Like World Relief, I want to see local churches empowered to serve the most vulnerable. I diligently pray, and I long to see women in our communities, and especially those in our local churches, rise to their talents, gifts and abilities so they may answer their divine call and enter their destiny.
I want to see our youth plan their future with more hope, certainty and dignity. I want to see my community rise and move forward on the road to progress, success and development. I want to see families becoming stronger by the days and despite the challenges. I long to see respectable citizens taking the lead in their communities in this new generation. In short, I want to continue witnessing blooming life and daily revival of hope for all.
What do you like to do when you're not working?
I work with a wonderful, competent, and dynamic team under the supervision of Athanase Ndayisaba (World Relief Haiti Country Director). In my spare time I read, sing, pray and write beautiful novels that one day may be published. I inspire others to stay motivated and confident.
It was a pleasure to share a little of me with you.
---
Do you want to create holistic transformation in communities around the globe? World Relief is growing our team to meet the increased needs of our world, and we're looking for people like you to join us.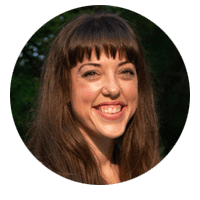 Rachel Clair serves as a Content Writer at World Relief. With a background in creative writing and children's ministry, she is passionate about helping people of all ages think creatively and love God with their hearts, souls and minds.