How it Started, How it's Growing: World Relief Sacramento's Welcome Club
In 2018, World Relief Sacramento volunteers Becca and Luke Voight began connecting with refugee youth at a local park. What started as an informal gathering has now grown into a robust program called The Welcome Club.
The Welcome Club partners with four area elementary schools to serve upwards of 100 students. Itoffers space for immigrant kids to 'just be kids'. For many of these youth, schoolwork is difficult, and their guardians cannot give the same homework support that their American classmates receive. They are often translators for their parents and caretakers for younger siblings. Even if it's just for an hour a week, The Welcome Club is where they can have fun with friends and coaches.
Like most of our U.S. programs, The Welcome Club had to make some big adjustments in 2020, moving all of its in-person programming online. I recently spent the day with WR Sacramento's Children and Youth Manager, Makayla Synak, and got a first-hand look at the magic that happens at The Welcome Club, even in its virtual form. Follow along to learn more and find out how you can create communities of welcome for immigrants in the United States.
9:00 a.m.
Coach Makayla checks her car to make sure she has everything. Her trunk is full of children's books, binders with waivers and forms, disposable face masks, hand sanitizer and craft supplies. Coffee cup in hand, World Relief blue t-shirt on, she leaves for the World Relief Sacramento office, which has been closed to clients since March of 2020.
9:30 a.m.
Makayla meets Coach Becca in the classroom at the back of the office. Becca, also masked and sporting her World Relief t-shirt, is adding printouts of song lyrics to 60 lunch bags on the floor. Every other Friday, Makayla, Becca and a small group of staff and volunteers take 60+ goodie bags to 12 apartment complexes for children and youth to unpack at their virtual Welcome Club that week.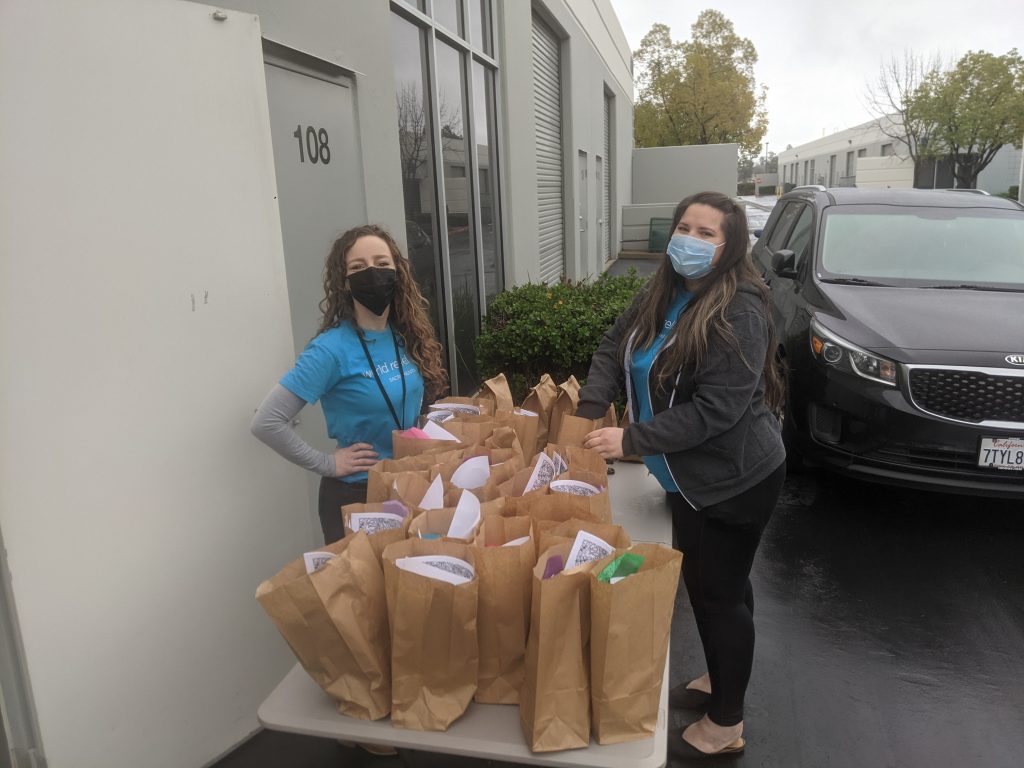 The bags are packed with goldfish crackers, contact paper and a booklet with the week's Welcome Club theme: "Asking for Help and Giving Help." Once filled, the bags are stapled shut with a note that says: DON'T OPEN UNTIL WELCOME CLUB. Becca and Makayla joke that most kids open their bags before club, but it's worth a shot!
11:00 a.m.
Makayla takes a break from prepping goodie bags and logs into a Zoom meeting with a school vice-principal. This past summer, World Relief came together with local schools to talk about solutions for immigrant students who were falling behind due to COVID-19 and not logging onto Zoom for virtual learning.
Schools made a list of students who were struggling the most. Many of these students arrived in the U.S. just before the shutdown, and have never set foot in an American classroom. Since September, Makayla has logged 100 visits to over 50 of these families, checking in, walking through their assignments and giving them a laptop if they didn't already have one.
12:00 p.m.
Makayla logs off Zoom and heads back to her car. She drives to the Las Palmas apartment complex, where many Afghan refugees live, to personally deliver 20 goodie bags. She barely sets foot in the courtyard when dozens of children and families approach and greet her excitedly. Ehsan, a seventh-grader who likes to help make deliveries, is among them.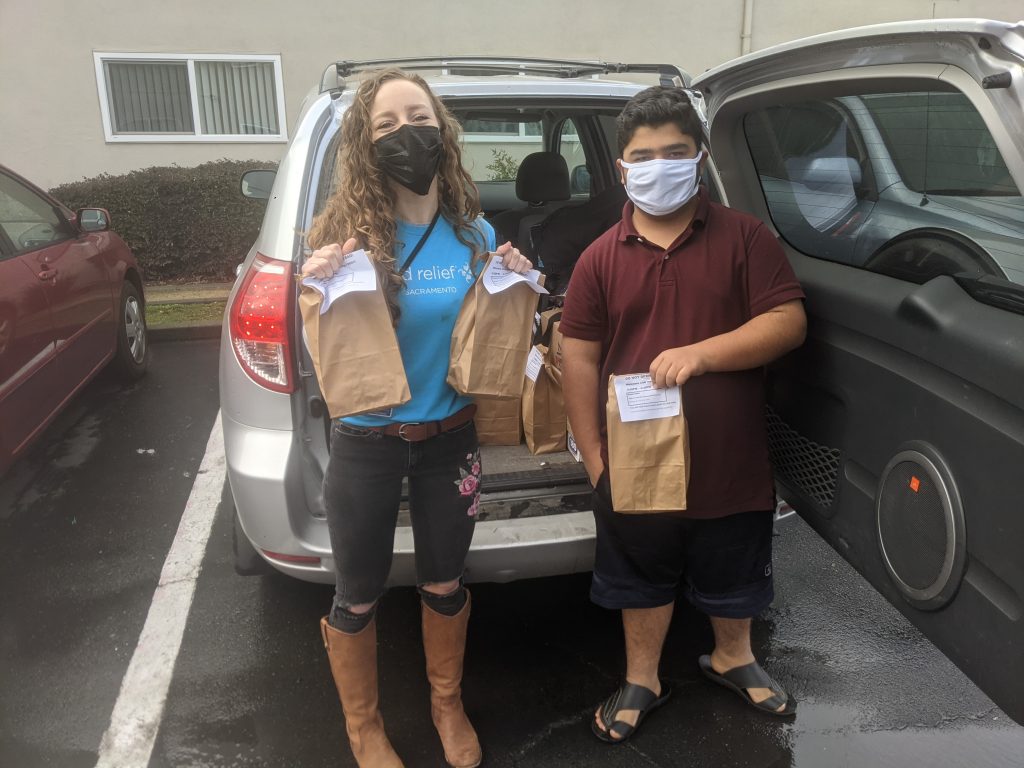 "I try to wait until he's out of class," Makayla says.
A group of children follow them from apartment to apartment. Mothers invite her in for tea. Her phone rings, and Makayla answers to help a student who is having an issue with her laptop. She stops to admire a girl's braid, asks a boy about his school assignments, and greets everyone in Dari (the national Afghan language), which she's trying to learn in her spare time.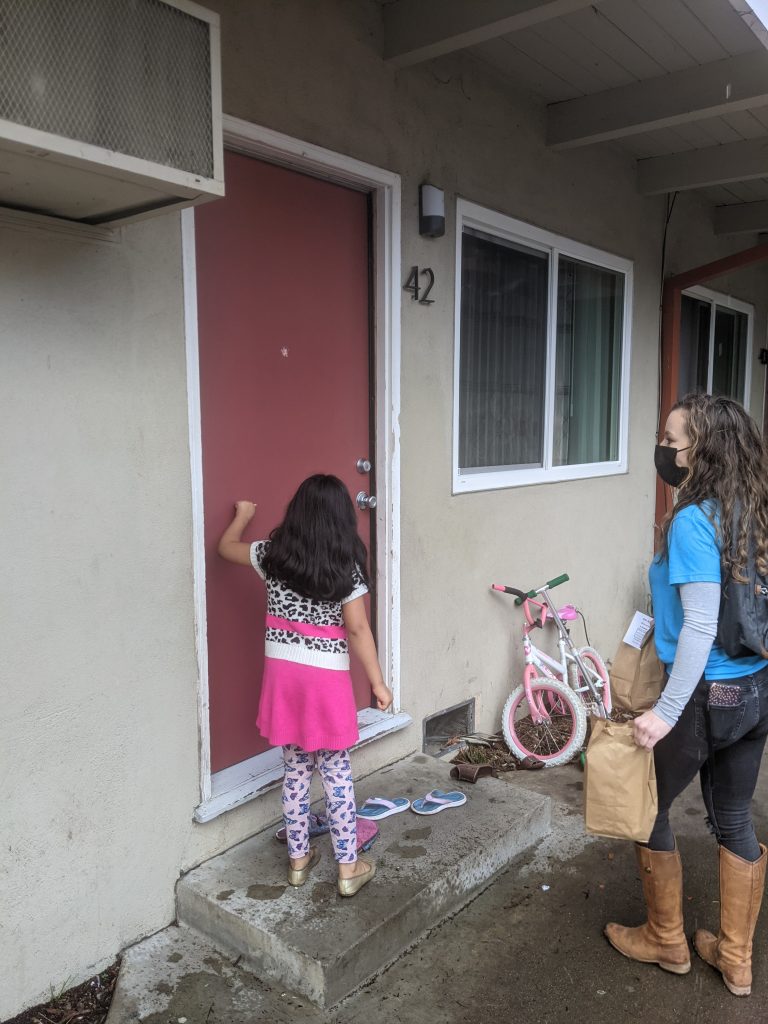 3:00 p.m.
Back at the office, Makayla and Becca log on to Welcome Club to meet with other staff and volunteers. Becca goes over the curriculum, assigning roles to each Coach. At 3:30, Makalya lets the students in from the waiting room, and soon two screens filled with 40 eager faces.
"Hi Coach Makayla! Hi Coach Becca!" The chat fills with messages of welcome and excitement.
"We are so happy you are here!" the coaches respond.
The students are always at the center of what Makayla and her team create — like the weekly Bad Banana videos that staff and students make together. Bad Banana is a character the team created to help illustrate the weekly themes.
Makayla dresses in a head-to-toe banana costume, draws on a mustache and puts on sunglasses. She is the "Bad Banana" who needs help from his Welcome Club friends. The name "Bad Banana" came from a nickname the students gave Makayla. Her name sounds like the word "kay-la" (phonetically spelled), which means banana peel in Dari, so students started calling her "Banana."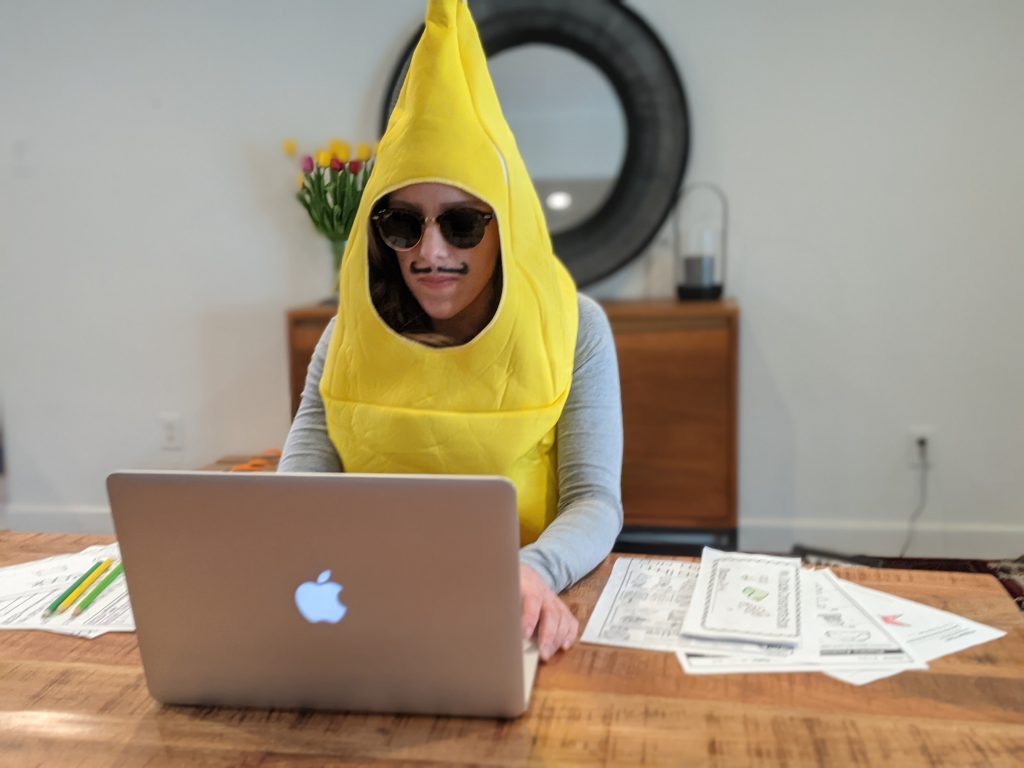 In this week's video, Banana is struggling with distance learning. It's too loud in his house and he can't concentrate to do his schoolwork, so he calls his friend Horia from Welcome Club to ask her what to do. Horia tells Banana she was having a hard time, but then she asked Coach Makayla for help, and Makayla gave her headphones. Horia offers to ask on behalf of Banana, showing him what it means to be a helper.
4:00 p.m.
After the Coaches introduce themselves, students go into their breakout rooms where they play a game, talk about examples of when they gave and received help and complete the week's craft together. During this time, Makayla moves in and out of breakout rooms.
4:30 p.m.
The students and coaches return to the main Zoom room. Makayla reminds them about tutoring on Tuesdays and Thursdays, and Becca shares the link to the latest Bad Banana video.
"Now, you have something fun to watch between now and the next Welcome Club," she says.
The chat erupts with excited messages in response. Students sign off, though a few try to remain on for the coach's debrief. Ehsan changes his name to "I'm a Coach!"
5:30 p.m.
After the staff debriefs, Makayla gathers up the remaining goodie bag items on the classroom floor. She makes a note of all the home visits she needs to schedule for the following week. She's already thinking of ideas for next week's club where they will introduce the new theme: perseverance.
Even after a full day, she is still energetic. The kids and their families make everything worth it. "Everyone who has ever succeeded at something had someone who believed in them," she says. "I want to be one of those people who believe in them."
---
There's room for you to join staff and volunteers like Makayla as they make room for immigrants and refugees in the U.S. Give today to help programs like this flourish and enable our U.S. offices to start new ones! YES! I WANT TO GIVE
To find out about local opportunities like volunteering, donating supplies, or becoming a WR Sacramento donor, find your nearest local U.S. office pages below!
---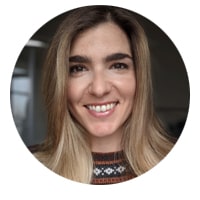 Vanassa Hamra serves as the Communications Manager for World Relief Sacramento. Her professional background is in creative writing and marketing, and she has worked in both the for profit and nonprofit sectors. She is passionate about storytelling and lives by the mantra that when you hear someone's story, they move from being a stranger to becoming your neighbor.