As we approach the end of the year and the start of the holiday season, many of us take time to reflect on the year behind us. We consider what we have to be thankful for. For some, the previous year was difficult, full of hard things and grief. That might make this holiday season feel painful or bittersweet. For others, this year has seen immense change or big life milestones.
Yes, practicing gratitude in the face of suffering and change is difficult. And yet, reflecting on what we have to be grateful for can help us be more hopeful as we seek joy and practice thankfulness.
At World Relief Chicagoland, we have seen God's faithfulness in countless ways. Even amid big challenges and sad events, there is much to be grateful for. Because of that, we asked staff to share what they are thankful for this year. And the responses were inspiring! Join us in practicing gratitude today and read our staff's testimonies below.
We believe that there are so many reasons to give thanks! Join us in counting your blessings. As a result, you might even see God's grace and goodness in your life in new ways.
What are you thankful for this year?
I am grateful for trusting relationships with the people we serve and the chance to speak Swahili with some of them. I am also thankful to have friends among my coworkers and for the vibrant neighborhood and friends in Albany Park where our Chicago office is located, an office cube to make into a hospitable space, and the opportunity to worship each morning at our 8:30 prayer time.
– Katelyn Skye Bennett, Employment Counselor
I am grateful to work on a team that is passionate about serving refugees and other immigrants in learning English so that the students can fully integrate into the community and workplace.
– Mary Cerutti, Education Director, Suburbs
This year, I am grateful for the opportunity to be part of the World Relief family. I have felt welcomed and challenged to grow in my walk with God during morning prayer and words of encouragement from coworkers. I am so thankful to form part of a Christ-centered organization that supports and empowers the immigrant and refugee community through a holistic and sustainable approach while exemplifying the love of Christ.
– Brenda De Leon, Immigration Legal Services Paralegal
Welcoming our new neighbors…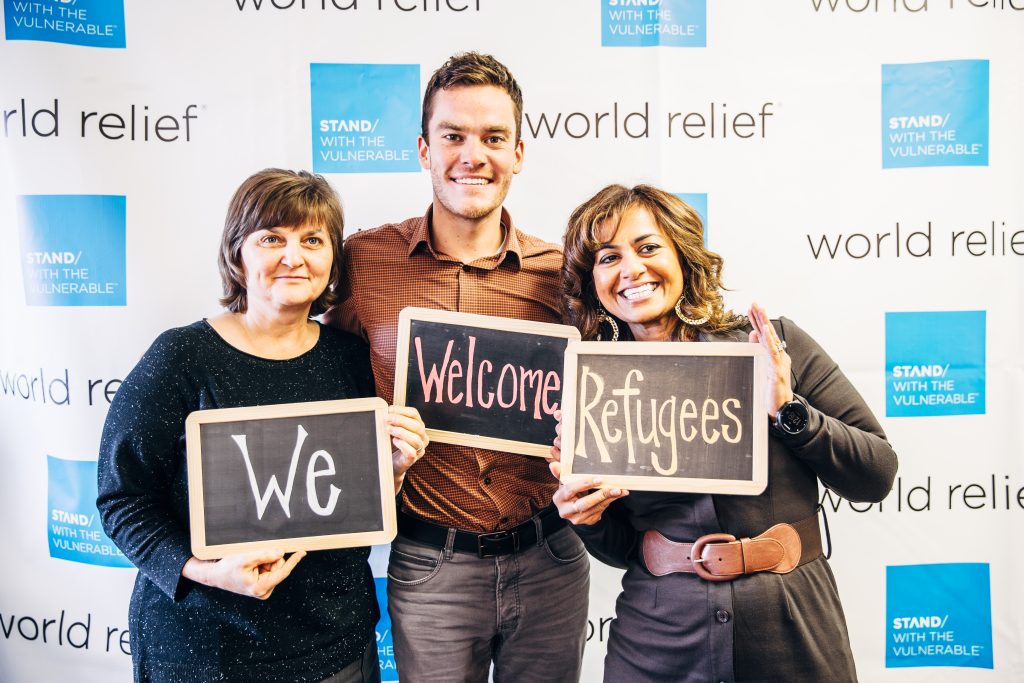 Reflecting on 2021, I'm thankful that so many churches and volunteers are standing with us as we welcome arriving families and build community with immigrants and refugees who are already living in our neighborhoods and communities.
– Sara Aardema, Church and Volunteer Engagement Director, Chicago
One thing that I am grateful for is to work in an office when I can freely mention Jesus and prayer. I am also thankful that every day, I get to go to work and make a difference in someone's life. Being the hands and feet of Jesus is priceless.
– Isoken Aiwerioba, Office Manager
I am grateful for the partnership with churches across Chicagoland, which are contributing to the reach of our God-given work in building and creating communities of love and welcome! Thank you, churches, for being the hands and feet of Jesus to strangers!
– Adrian Hendarta, Church Mobilization Coordinator
Making an impact, together…
Reflecting on 2021, I am grateful to work in a place where people make a difference and impact other people's lives in the community and all around the world. World Relief has been an answered prayer in my life, and in many people's lives. It is a blessing to be part of this work.
– Andrea Rodriguez, Immigration Legal Services Administrative Assistant
I am grateful for the foundation partners who believe in creating a brighter future and investing in their communities. That vision inspires me and reminds me that by working together, we really can create just and welcoming communities where everyone thrives.
– Carrie Woodward, Foundations Partnerships Manager
This year, I am so grateful for the incredible outpouring of love from our church partners. I am thankful for their strong interest in volunteering, generous giving, and inspiring their members to engage.
– Keith Draper, Church and Volunteer Engagement Director, DuPage & Aurora
What are YOU grateful for?
Thank you for reading what World Relief Chicagoland staff are grateful for! Now, spend some time thinking about the blessings in your life and work. What are those things that you are thankful for?
Finally, share your reflections with us! We want to hear from you! Please share what you are grateful for by tagging @WorldReliefChicagoland on Facebook or @WRChicagoland on Instagram or Twitter.