Saturday, December 8th, we hosted our first refugee youth soccer tournament—The Winter Cup 2018—at the San Juan Soccer Club Futsal facility in Rancho Cordova. Registration opened at 8:30 a.m., but by 8:00 a.m. a large queue had already formed. Players were eager to know which team they were on and to meet their coaches. Before the tournament officially began, the eight competing teams gathered to hear rules and words of welcome from organizer, Luke Voight.
Part of Sports Friends International, Luke and his wife, Becca, joined World Relief this summer to launch The Welcome Club, an after-school refugee youth program serving children in the Arden Arcade and Carmichael area. For the past several months, they have organized weekly soccer games and activities for Afghan refugee children. While Luke ran the tournament, Becca oversaw a carnival for the players and their siblings.
The teams were divided into two divisions—four under 10's teams (U10) and four under 14's (U14). After pool play finished, players and spectators broke for lunch from a halal pizza grill. Two of the four semifinal matches ended in penalty kicks. In both instances, the courts erupted into celebration. Parents snapped photos and videos, and players hoisted the goalkeeper and final scorer onto their shoulders. Ultimately, the blue team also known as the Afghan Kings won the U10 division, and the yellow team known as Team Motahid from Starting Point for Refugee Children (another local nonprofit) won the U14 division.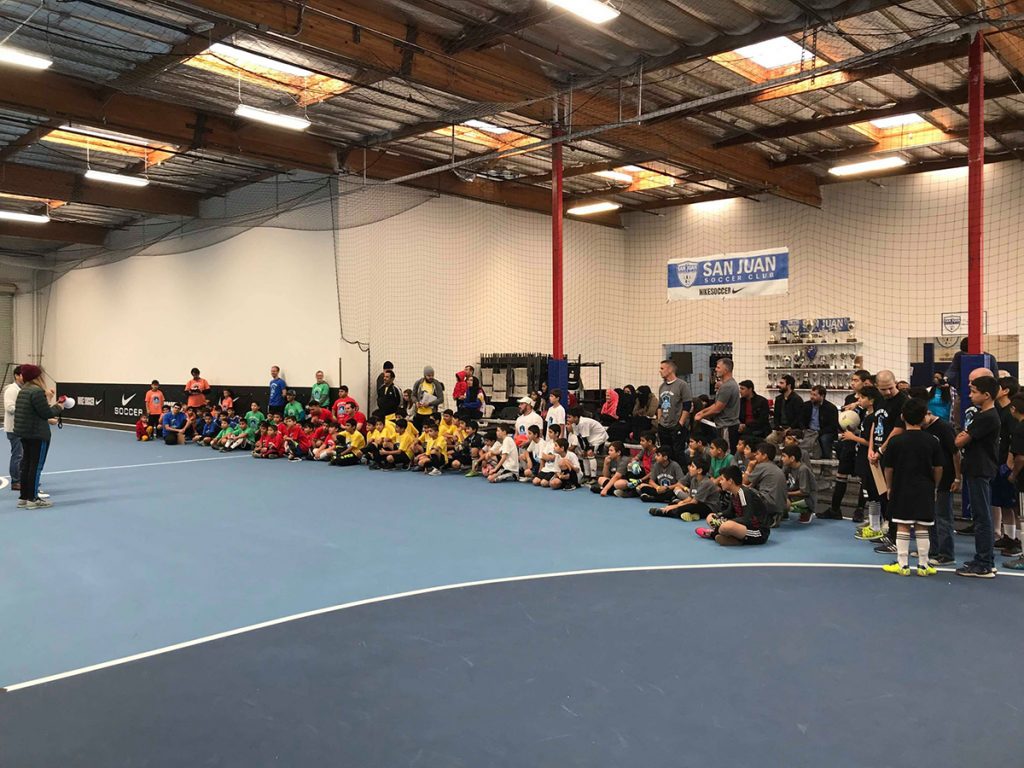 Organizing The Winter Cup was a massive community effort. San Juan Soccer Club not only donated their space but also water coolers, canopies, and even providing last minute apparel. One of their board members noticed several of the players in jeans and gave their coaches shorts for the finals, saying he didn't want the players feeling left out. River City Christian Church provided a shuttle transporting many of the tournament participants. Twenty plus volunteers donated their time coaching, reffing, setting up, or helping with the carnival. Of volunteer efforts, Luke said, "I was really impressed by our coaches and refs who made everything go so smoothly and kept the kids 'in it' even if they were on a losing team. [They] were so encouraging to the players and parents…Watching the volunteers connect deeper with the Afghan community was wonderful!" Volunteer assistant coach, Mary Ann Wyatt, observed, "I could see how much joy this event brought the children and parents involved. It was exciting to see how everything came together so perfectly." More than 75 players and their families were in attendance. Starting Point for Refugee Children brought dozens of supporters to cheer on their team. Members from San Juan school district and Starr King Elementary School's principal came to support.
Events like The Winter Cup are new for World Relief Sacramento. For most of our history, we have served families through traditional resettlement services. This past year, however, we have shifted our focus, taken a step back, and reevaluated what it means to empower the local church and community to serve the most vulnerable. We are developing Children and Youth Services that support the entire family as they move from feeling stable to fully integrated in their new city. We look forward to what 2019 holds as we deepen our commitment to coming alongside and celebrating with our refugee neighbors.