Around the Table 2022
Join this gathering of global neighbors as we celebrate 30 years of welcome with World Relief Spokane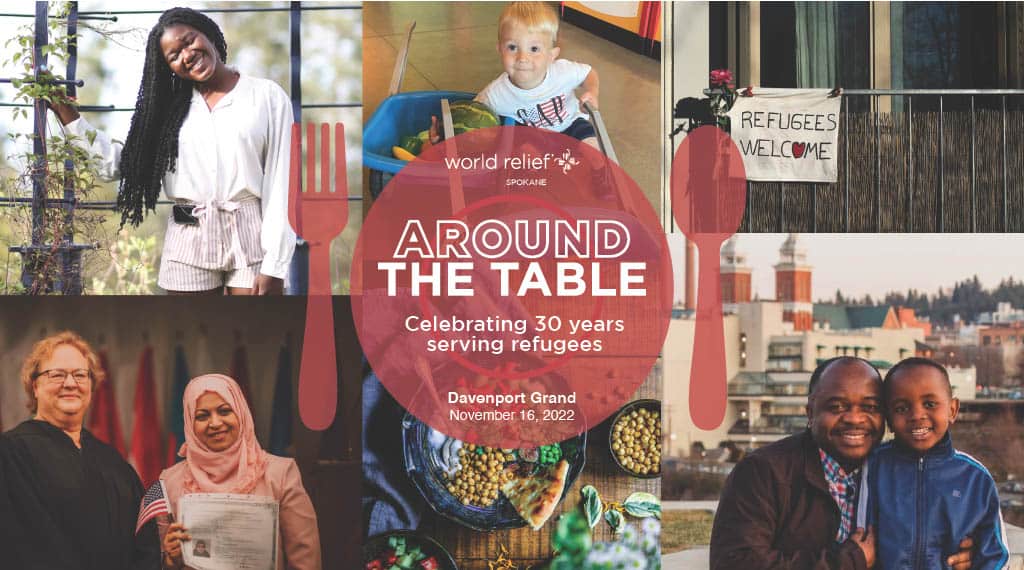 Wednesday, November 16, 2022
Davenport Grand, 333 W Spokane Falls Blvd.
Doors Open: 5:30pm
Program: 6:00pm - 8:00pm
For 30 years, World Relief Spokane has been partnering with community members like you to welcome and walk alongside immigrants and refugees as they find belonging in their new home.
In one moment, it's looked like showing up at the airport, with little notice, to welcome a new Afghan family arriving in Spokane. In other moments, it's looked like navigating school registrations, rental agreements, doctor appointments, and so much more!
These three decades have been challenging, but also brought us great joy. That's why our Around the Table - 30th Anniversary Gala will be a special one as we come together to look back on your impact and look forward to welcoming a greater influx of refugees and immigrants arriving to Spokane in the coming years.
Our goal is to raise $50,000 to walk alongside immigrants and refugees in Spokane. Will you help us?
Donate Now
Your generosity makes a transformative and lifelong impact. When you give, you'll join our family of passionate changemakers committed to changing our world.