Open Positions
We are looking for talented, compassionate, and collaborative people to partner with us as we welcome refugees and immigrants with holistic services that will help them root and flourish in our community.
Chicagoland Career Opportunities
AmeriCorps
Currently we are not accepting applications for AmeriCorps.
We partner with AmeriCorps and Literacy Volunteers of Illinois (LVI) to offer full and part-time positions in our Aurora, Carol Stream, and Chicago offices. See our open positions and how to apply below.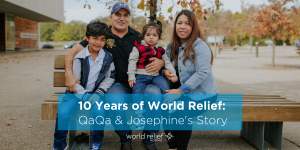 Over the ten years World Relief Memphis has been in operation, we have had the privilege of serving hundreds of refugees, asylees, and other vulnerable immigrants. Over the past couple of months, we reached out to some of the first families and individuals we welcomed, to our newest arrivals. One of the first families we…
Enter your name and email address to receive World Relief Chicagoland news and updates, including events, volunteer opportunities, donation needs, our monthly newsletter, and more.