Open Positions
We are looking for talented, compassionate, and collaborative people to partner with us as we welcome refugees and immigrants with holistic services that will help them root and flourish in our community.
Chicagoland Career Opportunities
AmeriCorps
We will begin accepting applications in June 2021. For a list of open positions, click here.
We partner with AmeriCorps and Literacy Volunteers of Illinois (LVI) to offer full and part-time positions in our Aurora, Carol Stream, and Chicago offices. See our open positions and how to apply below.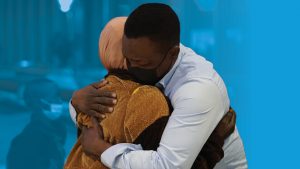 Everyday, people like Ibrahim make the painful decision to leave their homes due to persecution, conflict, violence, human rights violations and climate-related factors. Their journeys are often marked by loss, separation and worry for those left behind. For ten years, Ibrahim carried the weight of being separated from his family. This is his story of…
Enter your name and email address to receive World Relief Chicagoland news and updates, including events, volunteer opportunities, donation needs, our monthly newsletter, and more.