The volunteer tutors at World Relief have a superpower: they know how to bring out the unique gifts of each student to help them grow. Here's how one tutor used a child's passion to overcome his fears so he could flourish.
Aaron* is a 6-year-old boy who arrived with his family several years ago from an oppressive African country called Eritrea. For the past year, Aaron has been part of the Children & Youth program. He received tutoring support, participated in the summer program, and engaged in the spring student leadership team – a model set up to encourage active student participation in planning the summer program.
When Taylor*, Aaron's volunteer tutor, first met him in 2021, she found it difficult to get him to say a word. In fact, no one could get him to talk. He was extremely shy. He kept his camera off during Zoom meetings. He took a long time to answer questions. He even struggled to share his own name.
But that was about to change when Taylor discovered this young boy's passion. Aaron loved to draw.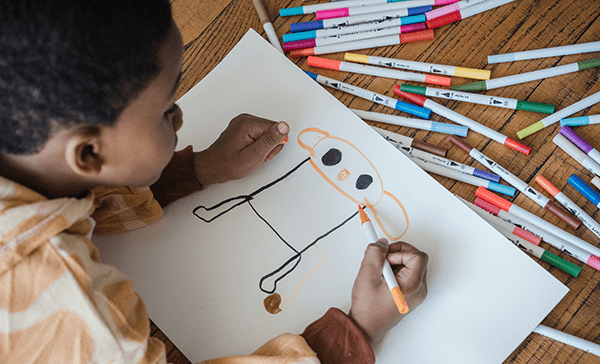 Turning Passion Into Learning
Taylor took Aaron's love for drawing and turned it into an impactful teaching tool. Tutoring time became drawing time. As Aaron formed an object on his sheet of paper, Taylor taught him the English name for that object. She then followed up with how to spell it. With this learning process, Aaron grew stronger in his English skills.
Before long, he also grew in his confidence. Aaron began to turn his camera on for Zoom calls. He shared his opinion in group discussions with other students on the leadership team. And he grew excited about what the 2022 summer program would look like.
In fact, he didn't miss a single day.
Turning Fear Into Friendship
Aaron was initially apprehensive about meeting new people when the summer program began. He didn't want to leave the safety net of his cousins who were with him. But as time progressed, so did his willingness to make new friends.
Before long he was running around, playing with other boys his age, and chatting with new friends. Rides in the van to and from the program turned into times to play and share toys with the kids that rode alongside him – and to heroically rescue a new friend's toy that fell beneath the seats.
As he grew to enjoy his interaction with the program leaders and volunteers, his friendship with them blossomed as well. After one intern had her last day at the summer program, Aaron asked his aunt to call her. He already missed her and wanted to talk with his new friend.
Your Impact as a Volunteer Tutor
Each year children just like Aaron grow in confidence and self-esteem because of the one-on-one connections they make with their volunteer tutors. Immigrant and refugee youth who otherwise may have stayed isolated and alone are supported in trying new activities, expanding their language skill, and forming new relationships. All because volunteers choose to invest in the future of these young people.
You can make a lasting difference in the life of a refugee child. Start today.
*Names changed.

Read more about the impact happening among children and youth!
Summer Camp: Fun, Fellowship and First Responders – World Relief
How Refugee Children Reshape Resettlement for Their Families – World Relief
The Refugee Journey to Home in a New Community (worldrelief.org)