by Kallie Kohl, World Relief intern
Don't walk in front of me… I may not follow.
Don't walk behind me… I may not lead.
Walk beside me… Just be my friend.
–Albert Camus
At World Relief Spokane, a delicious smell drifting through the offices hints that golden-brown rounds of fried corn dough with melted cheese are about to be served with a side of lighthearted laughter and encouraging fellowship. An onlooker might see employees disappear from behind their desks with an exclamation of "Morella's cooking arepas!"
Morella Perez-Suels, also known as "Tia Morella," is the woman to praise for this traditional tasty corncake, the Latin version of grilled cheese which has also been featured in the Disney movie, Encanto.
As the Education Services Manager, Morella wears many hats, and hospitality permeates them all. Morella started a brand new initiative for World Relief Spokane last fall – offering the deeper training and education refugees and immigrants need to flourish in their new homeland. Basic Computer Skills for Afghan women was the first class, followed by Financial Literacy for Afghan men. Citizenship classes in civics and history have been added, as well as Conversation Club, Textile Arts with an emphasis on entrepreneurship, and more to come. The Education Center also holds one-day workshops for energy assistance in connection with SNAP and other initiatives as needed.
Morella recognized that the Afghan women in her first Basic Computer class needed much more than technical skills. They needed connection with each other and with the outside world. Each week, she set out teas and treats to welcome them. She helped entertain their children so the mothers could learn. She listened and never rushed. When they needed more time, she added onto the schedule.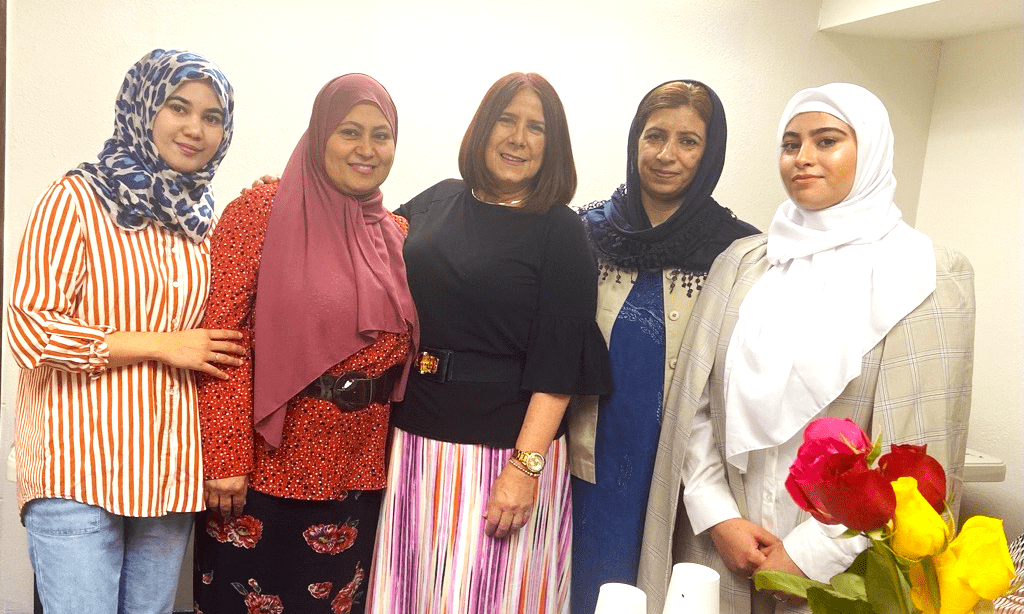 Morella was born in Caracas, the capital of Venezuela, but lived in sunny, mountainous Margarita Island in Northern Venezuela. Six years ago, she came to the U.S. due to what she describes as the "very bad political and social situation," which has caused more than seven million Venezuelans to flee their country. (Want to know more? Click here: https://worldrelief.org/blog-private-sponsorship-opens-path-for-venezuelans-heres-what-you-need-to-know/ ).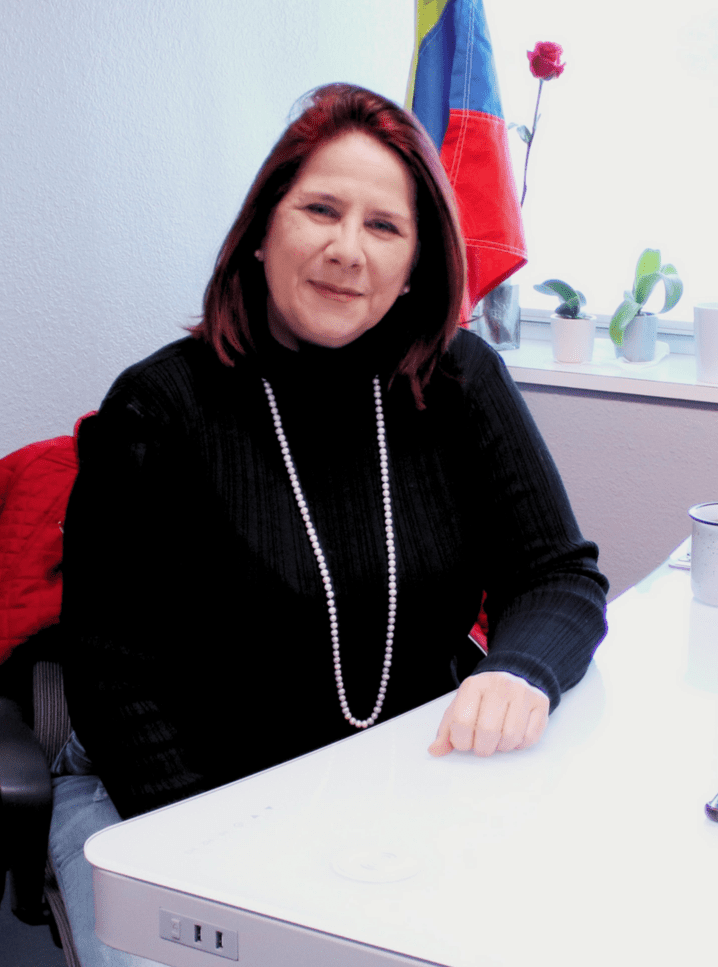 Over a year ago, Morella saw an opportunity to work at World Relief Spokane. She pondered the consequences of moving far away from family in New Jersey, ultimately placing the heavy decision into God's hands. She prayed, "God, your plans are bigger than my plans."
Now, happily for the growing community of immigrants and refugees receiving wraparound support in Spokane, she works as the Education Services Manager, equipped by her faith, her hospitality and the legacy of her family.
Morella grew up in a large family enfolded within a culture that valued openness and showed kindness by helping others. As a child she delighted in making desserts for her grandparents and loved her cooking lessons from her Colombian babysitter. She said, "The best teaching or experience we had…was how to share the love in the family." Her parents believed that getting a good, thorough education was a bigger gift than any material inheritance they could give her. Thus, Morella's family legacy was not only knowledge and wisdom, but the ability to truly love and serve others.
One day, weeks into her new job, Morella made arepas for a few coworkers. Her unwritten recipe used cornmeal, salt, and water. After that first time sharing the inexpensive, flavorful and filling gift of food with her coworkers, Morella said, "When I cook arepas, like a flight they come to the kitchen, and say 'Morella's cooking arepas!'"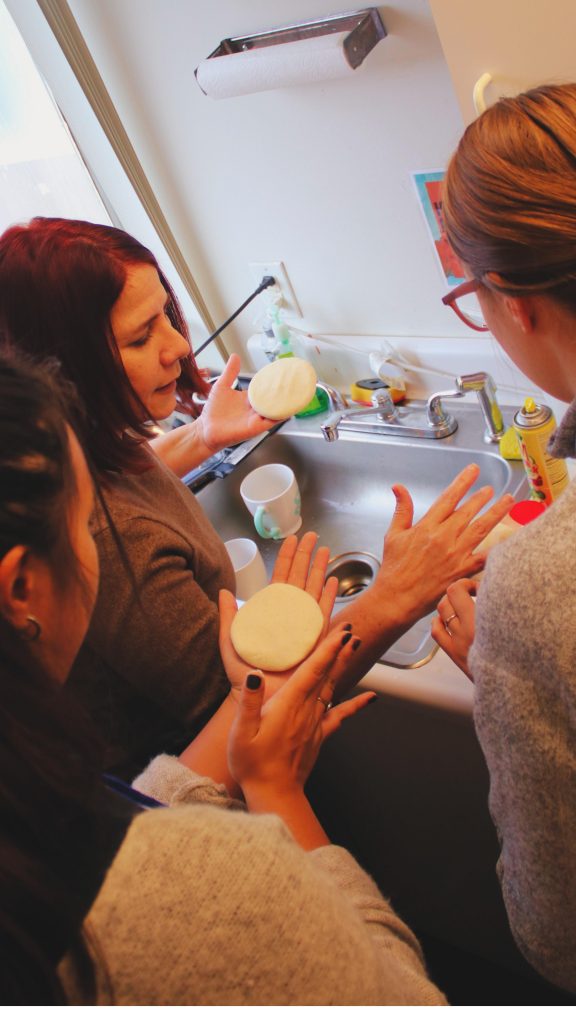 When Hannah, an Integration and Wellness specialist and Morella's unofficial adopted "sobrina," celebrated her birthday, Morella promised to teach her how to make satisfying arepas stuffed with melty cheese on one condition: Morella told her, "I'm not going to cook; I want you to learn!" True to her word, Morella showed Hannah the way to combine warm water with cornmeal using a fork, flatten the dough between moistened palms, and shape them into perfect flat rounds to be put on the griddle until they turn golden brown with spots of beautiful char. Then, using a knife, Morella created a pocket and filled them with delicious cheese. When Hannah shared about her lesson later, she said, "Morella always told us, arepas are not just filled with cheese but filled with beans, and meat; there's so many recipes about what you can put in it."
Hundreds of online arepas recipes and videos could not compare to the vibrancy and passion in Morella's voice and hands as she taught. By the end of the hands-on lesson, a few more staff and interns wandered into the kitchen to enjoy the perfect snack. With each bite, they felt the love of generations of open-handed women filling hungry bellies. In the following weeks, Hannah and her husband paid this unique birthday experience forward by making their own arepas for friends several times. Hannah said, "[Morella] shared her love, which moved us to share love with our friends!"
Later, she witnessed a need for financial help, and tailor-made another class to fit the needs of those World Relief Spokane serves. She is constantly listening to the needs of the communities.
Just like Morella's real-world cooking lesson, she is always looking to help others in a caring way, without solving their problems for them or enabling them. She is appreciated, treasured and loved by all who meet her, and her World Relief Spokane community, staff, volunteers, and clients are a blessing to her. She said, "World Relief is a gift from God. I can say I am so happy. For me, cooking for others is one more way to express love and gratitude."
We are always looking for conversation partners, sign up to volunteer.