---
"Earlier this year, one of my students wanted a couch removed. She asked if I could call the city for her to come get the couch. We just learned how to give basic information like names, address, and phone numbers," Leah Hodge said.
"So, I challenged her to make the phone call as I sat next to her. My student took care of the phone call and scheduled the pickup all by herself," she proudly shared. Her recent experience is just one of many rewarding moments teaching English to refugees and immigrants.
The program was discontinued by Blackhawk College in 2018, and Leah took it over in 2019.
"The Family Literacy Program started out as a program out of Blackhawk College. They led the program and funded it for a long time, but the funding ran out," Leah said.
The program had several homes before it fell under the umbrella of World Relief Quad Cities.
"Spring Forward Learning Center picked it up. But then again, they weren't sure how to fund it and they also lost a staff member. So, they partnered with World Relief and that's how I got started," Leah continued.
A unique way of teaching
Since then, Leah has been learning from her students as much as they've learned from her. Leah shared that she has been challenged in ways she hasn't dealt with before despite her strong background in teaching English.
"The biggest challenge is helping people learn English who never had the chance to learn how to read and write in their own native language," Leah said.
Leah said that this is a positive challenge and she's still learning a lot.
"I had to change my way of teaching," she said. "I find repetitions and celebrating successes works best with overcoming this challenge," she continued.
She acknowledged that community is one of the greatest inspirations for a person's purpose.
"There is an amazing group of volunteers who have been with the programs longer than I have. They are the ones that inspire me and motivate me to be a better teacher," Leah said emotionally.
She expressed the importance of giving opportunities to families who may not be qualified to get into regular colleges.
"In our program, it tends to be mothers with young children, and also people that maybe have health challenges and doesn't have the education qualification to get into a regular college" Leah said. "The families are hardworking and really dedicated."
As Jesus taught and did
Leah's Christian faith is another component that encourages her in her work and in the way she maintains her relationships with her students.
"I really just try to show God's love to everybody, even if it's somebody who seems a little difficult," Leah said. "I try to put Jesus's words into practice, I pray for my students, especially if I know something is going on with them, like sickness, or having a hard time with something," she continued.
The combination of her faith and the love for teaching has brought the program very far despite the challenges faced along the way. As Leah looks forward to another academic year, she also has visions and goals that she'd like to see in the near future.
Leah acknowledges the importance of connecting in a community and how that can enhance individuals regardless of their identity and education level.
"I would like Family Literacy to be accessible for more people", Leah said. "If there's something happening in the Quad Cities, I want to connect to it. If not, I want to get it started," she continued.
To learn more about the Family Literacy Program, email wrquadcities@wr.org.
---
Make a tangible impact by donating school supplies for this back-to-school season, or, make a financial gift to support our work with refugee youth:
---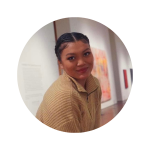 Kler Soe is the Communications Specialist at World Relief Quad Cities. She joined the team after graduating from St. Ambrose University in May of 2023 with a degree in Public Relations and Strategic Communication. As a refugee herself, she hopes to bring awareness to World Relief's work through stories.