Join the Team!
We are looking for talented, compassionate, and collaborative people to partner with us as we welcome refugees and immigrants with holistic services that will help them root and flourish in our community.
World Relief, and millions of people around the globe, need you.
For many of us, the last few years have been characterized by a deep sense of chaos, uncertainty and injustice. As suffering across the globe appears to be worsening, you've likely asked yourself, how can I respond in a meaningful way?
If you've thought about your career path in response, you've come to the right place. Today, World Relief, and millions of people around the globe, need you.
At this pivotal moment in time, World Relief is rapidly expanding and growing our team to meet the increasing needs of our world. When you join us at World Relief, you can expect:
          • A strong sense of everyday purpose and impact
          • A highly relational and collaborative environment
          • A commitment to best practices and excellence in our work
          • A faith-based working environment and faithful commitment to God's leading.
If you're one of the many people feeling like you need to do more for our broken world, here's your chance. In the midst of the chaos, there is still hope — God has a plan and you can be a part of it.
We are looking for people just like you who want to use their gifts and talents to make a real and tangible difference in our world and the lives of the suffering.
Will you apply to World Relief today?
______________
A Quick Note
World Relief employees are committed to the mission, vision and values of the organization. As an organization we follow a Statement of Faith.
In addition to our Statement of Faith and Mission, Vision, and Values, World Relief has other key tenets which candidates for employment must review and understand:
TOWARDS A FRESH EMBRACE OF OUR CHRISTIAN IDENTITY, which informs the organization's position and understanding of key issues regarding our Christian faith.
FOR THE HEALTH OF THE NATION, a publication of World Relief's parent organization, the National Association of Evangelicals, which informs World Relief's position on matters of social and civic engagement.
As part of the application process candidates for positions with World Relief will be asked to discuss this.
Chicagoland Career Opportunities
AmeriCorps
Currently we are not accepting applications for AmeriCorps.
We partner with AmeriCorps and Literacy Volunteers of Illinois (LVI) to offer full and part-time positions in our Aurora, Carol Stream, and Chicago offices. See our open positions and how to apply below.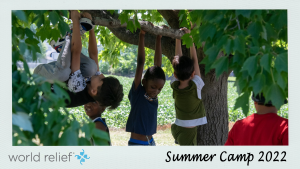 World Relief's summer camp gives its cross-cultural campers a chance to create friendships, build skills and experience an American tradition they'll never forget. Check out our scrapbook of these special moments that impacted the lives of both campers and volunteers.
Enter your name and email address to receive World Relief Chicagoland news and updates, including events, volunteer opportunities, donation needs, our monthly newsletter, and more.