By Lisa Zanoni, World Relief Relationship Manager
Editor's Note: Over the next several months, Lisa will be introducing you to some of our amazing refugee and immigrant friends. Everyone you'll meet is either a former refugee or a client who received services at World Relief. Lisa is excited to share their stories with you and hopes that you will be both inspired by their resilience and encouraged to know your partnership with World Relief Spokane has made such an impact on their lives.
"They came to our house and took my dad. We heard rumors about what happened to him, but we never really knew the truth."
When you see Jeanine for the first time, you are struck by her appearance. Tall, poised, and well-dressed, you wouldn't know by looking at her that her childhood years were filled with seemingly impossible challenges and life-altering, even hopeless circumstances.
As we talked, Jeanine's internal qualities of perseverance, resilience and determination were revealed, outshining her stunning, external beauty. Born in the Democratic Republic of Congo, Jeanine and her family were forced to flee after her father was abducted from their home and murdered. The decision to leave was a difficult one for her mother. But leave they did, and the place they called home for the next five years was a refugee camp in Rwanda.
Jeanine felt fortunate only to have to live five years in the camp. Her aunt and cousins were already living there and stayed for 12 years. Some of her cousins were born there, and "this was the only life they knew how to live."
Jeanine is passionate about education, and as she recalls the education system in the camp, her eyes are glistening with tears. "Life was difficult in the camp. There was no way to go to school. Different people wanted to do something to help these children, so that they're not sitting home all day. My mom started a little school system, and there was no place for us to learn. It was hot there and no rain. We would sit under the trees with no access to water. We had to walk miles to go get water."
Once the children reached 6th grade, they were able to study outside the camp with other Rwandese children. Upon reaching ninth grade, they were given an exam. If they were lucky and had the scores required for continuing their education, they would qualify for a scholarship to attend a school outside the camp. "But if you don't have the highest scores, there was no opportunity to go to school." Paying for education was also an option. Unfortunately, there was no way to earn a viable living inside the camp, and this ultimately meant that most of the children were not able to continue their education. UNICEF and UNHCR would provide materials for learning, but there was no money provided for scholarships.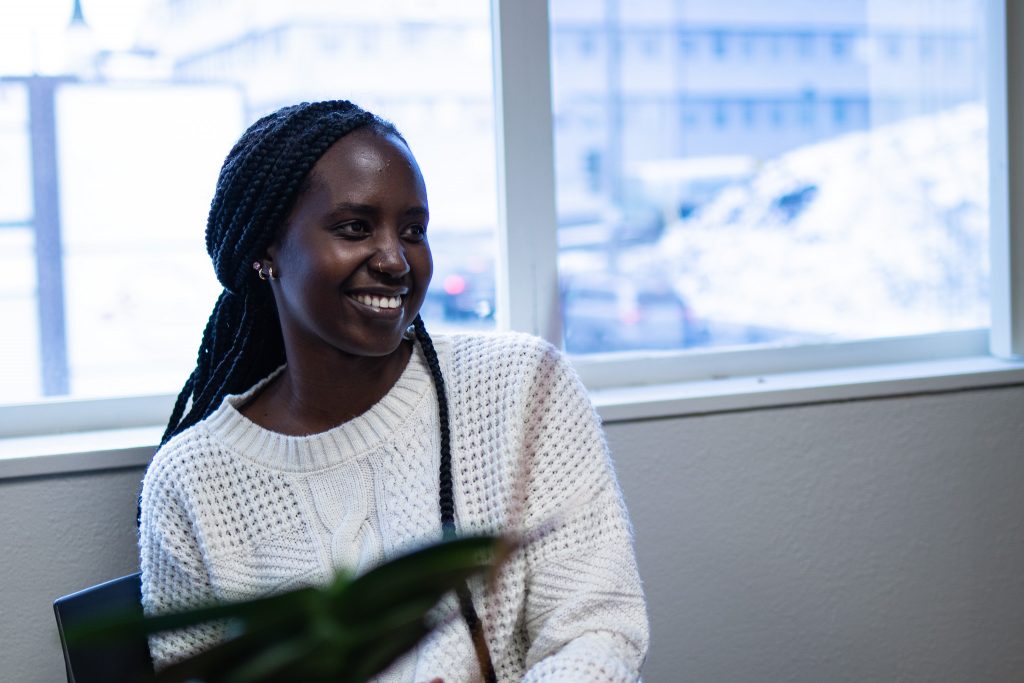 I asked Jeanine if she felt prepared to enter into the public school system when she arrived in Spokane. Bellowing with laughter, she admitted, "Oh no! I was excited!" She continued, "My whole hope was that I could actually go to school here and have something for myself."
At the beginning of their journey as refugees, Jeanine and her mother never had any hope or expectation that they would come to America. Their hope was to return home, hoping that their country would be safe enough for them to return. Personal and precious belongings were left behind but not abandoned in their hearts. They never gave up the hope that they would someday return home. Eventually, her mother, "the decision-maker," made the decision to pursue a life apart from their home in Rwanda. Wanting to provide a life of hope and opportunity for her family, she chose a new life in a new country.
Her mother, a kindergarten teacher and pioneer educator in the camp, instilled in Jeanine a love of learning. Love and respect combined with gratitude and awe for her mother, were catalysts for Jeanine to pursue her education. Not something to be debated, she reflected, "I always hoped to God that if I ever got the opportunity, I would do that. I would keep going. Even with my student loans, I am grateful. God is good. I am thankful I am here in this moment in time."
In contrast to her early years, Jeanine's successes since coming to America have been overwhelming. Not only did she and her mother become United States citizens, upon graduating from Ferris High School, Jeanine received her Bachelor's degree in Communications, and her Master's degree in Social Work, both from EWU. She has been working alongside us at World Relief Spokane for the past four years, selflessly giving back and lovingly serving refugees. She recently received a promotion and will oversee one of the US programs for World Relief's headquarters.
As our conversation came to a close, I half-jokingly asked Jeanine if we could plan on seeing "The Jeanine Kayetsi Scholarship Fund" for helping those children remaining in the camps sometime in the near future. Her answer left me feeling challenged. In a positive way. She agreed that a scholarship fund would be great, and she affirmed what we already know in our hearts. Any help would be welcomed for the children in the camps. Funding for education, hygiene products for the girls. "If something magical would happen, maybe I could do that."
I don't believe Jeanine needs magic. Jeanine is magic.