Ehblu recently graduated Spokane Police Department's reserve training. This is his story.
"My name's Ehblu. I was a refugee. I came here in 2008, to Spokane, with my family. I was eighteen years old when I got here.
"Before I came here, I was born and raised in a refugee camp. My family, they were from Burma. They ended up in a refugee camp in Thailand. Back in 1989. The name of the camp is Maw Ker. I was born in that camp in 1990, and I lived there about 10 years. We had to relocate to a different camp – the name of that camp was Ump Hiem. We moved there in 1999. We lived there for about 8 years before I moved here. When I was there, I was just a student. I didn't do anything. I just went to school and had fun with friends, that's all. Didn't do anything much.
"When I came here in 2008, they connected me with World Relief. They would help me with trying to find shelter, a house, and help me find a job. I still remember Pingala. She still works here! She helped me with finding a job. From there, way back, 12 years ago – that's how I got connected with World Relief.
"My first job was at Spokane Valley. Spokane International Pet Rescue. There's a lot of Karen people who work there now. I worked there about 6 months and got laid off. I stopped working, about a year. But when I stopped working, I went to school. I was trying to improve my English at that time.
"I went to the adult education center on Monroe Street for about 2 years. I started to work at Spokane Public Schools as a bilingual specialist in 2010. I was a part time employee for about 4 years. In 2014, I got hired as a full timer there, and in late 2015, I started college here at Spokane Community College. I just finished my AA this summer. It took me about 4 or 5 years. In 2017, I joined the US Navy Reserve program. Then, in 2021, I joined the SPD reserve, the Spokane Police Reserve program. We have training and a lot of classes, about 280 hours of classes. I just finished last September. This September, about 2 months ago. So I'm in both the Navy Reserve and the Spokane Police Reserve.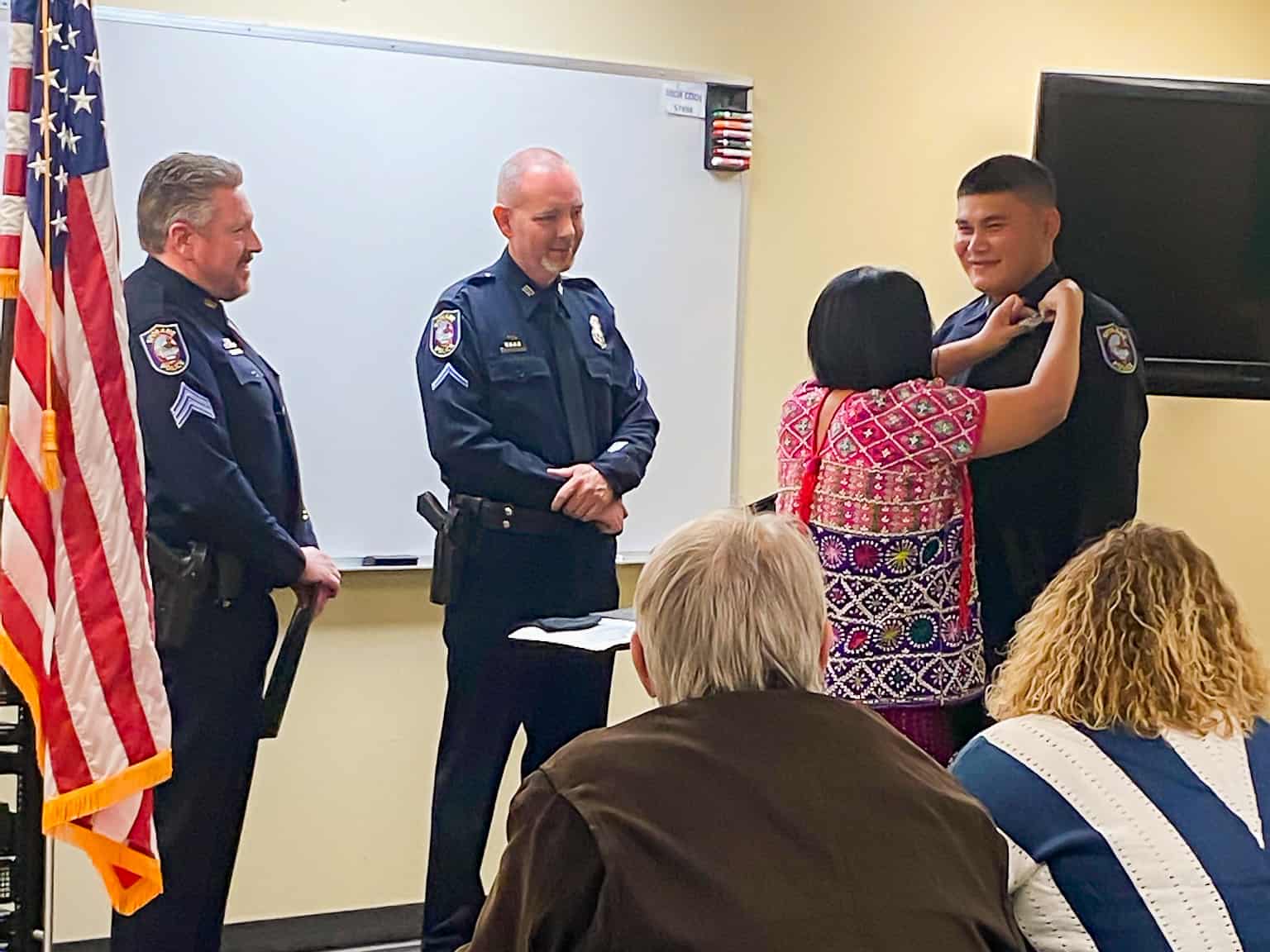 Image description: photo of Ehblu receiving his police badge from a family member at his graduation ceremony.
"The reason I joined the police officers – it's because I came straight from the refugee camp to Spokane. The people are very nice. They welcome me. The communities are great. Spokane is part of my community now. I think, for me, it's my responsibility to keep my community safe, and do something back for the community. Maybe to set the example for other refugee youth who came here, to show them that, hey, it doesn't matter where you came from. As long as you keep trying, you can do anything. That's what inspired me to do the things I'm doing now.
"To have a community, it's about neighbors that help one another. Everyone wants to be in a community that's safe. My family is in a safe community. Like a bad community, no one helps each other. In a good community, you feel safe to leave your family when you go somewhere. Your community has your back when you're away from your family.
"There's a pastor called Pastor Doug. He is the one who helped my family a lot. He helped with transportation, and with living stuff that we didn't know. He basically helped us with everything when we got here, during the first 1-2 years. There's a church – he sometimes take us to go to church. He's not just helping us with basic stuff. He also helps sometimes with the forms. When we came here, we didn't have jobs, so there's a form when people need work. He connected us with those people, so we can earn some little money. When you need him, he'll be there for you. I'm getting really busy with my work, and things are better now, but sometimes I still connect with him. There's also a woman called Susan. Most of the Karen people, we also know her. She helps us a lot with stuff. We go to see her, with a lot of mail, and some food stamps and social things. She's helping us a lot. These two help us a lot.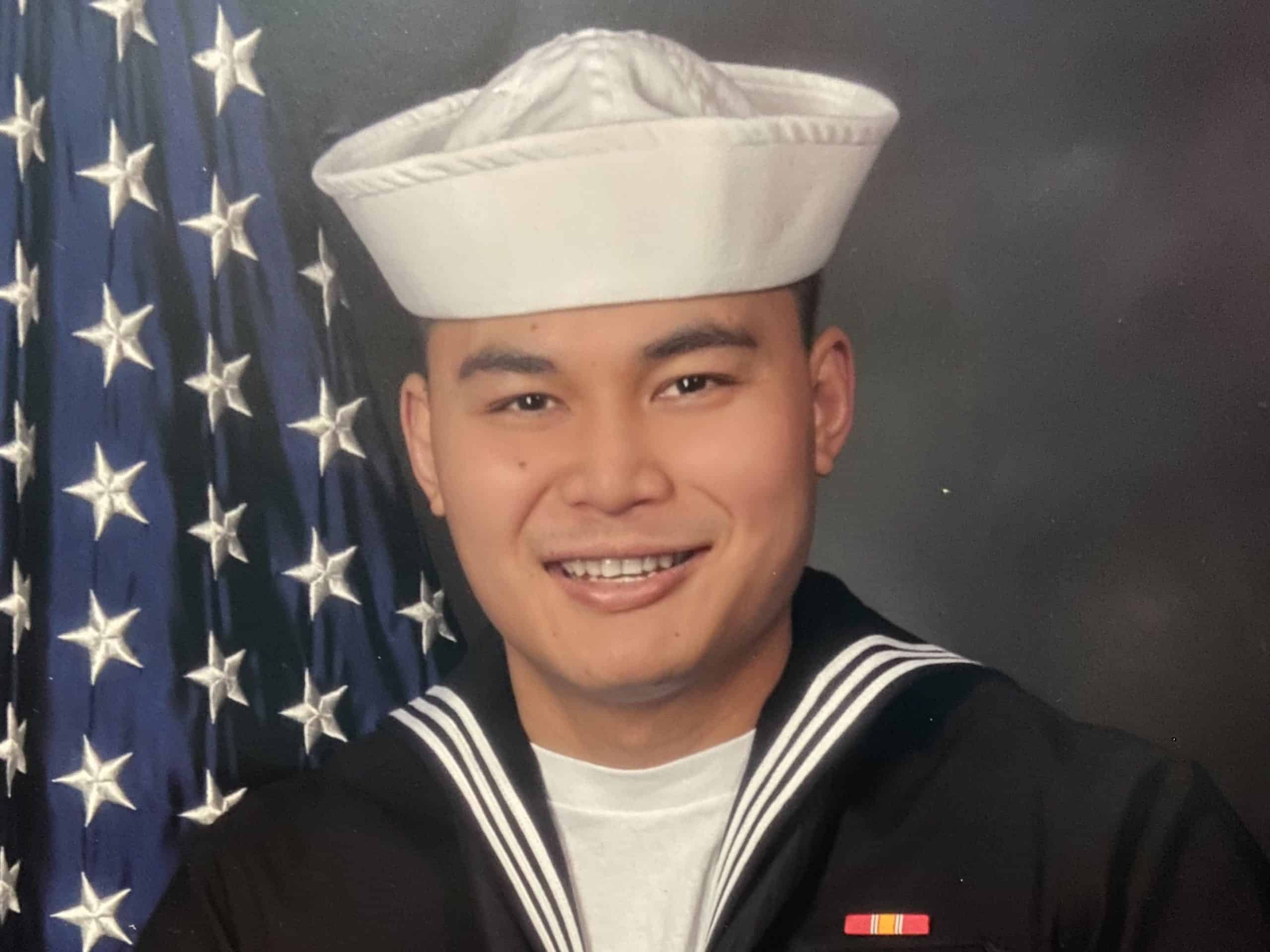 Image description: Official image of Ehblu in his Navy uniform.
"I'm still doing the Navy Reserve. I signed up for about six years. This is my fifth year now, so I have one more year. But I plan to do at least 20 years. I love what I'm doing in the Navy. Before I came here, I lived in a refugee camp. Without this country, without this government, I won't be able to make it here. Living in a refugee camp, it was very hard to make money. Even if you have money, you might not be able to come here. Because of this government, I was able to be here. I don't want to take things for granted, so I want to do something back for this country. So that's why I chose to join the Navy Reserve. I didn't have any ideas about what the Navy looks like, I had no one to talk to. But I signed up for it. And boom! It took just a little bit of time to sign up and get to boot camp and to the training camp.
"My goals keep changing. My goal is to be a social worker one day, trying to help. When I help others, I feel so happy. When I get to do something and change someone's life, when I am able to help them, it makes me feel like I want to do some more. It makes me feel more motivated to help others.
"I did apply to go to Eastern Washington University, but I haven't started yet. I still need to talk to the advisor. So I finished my AA here. My goal is to be able to start university at Eastern and to start to take some classes in the next year. Next month. I think you can do anything you want to, as long as you keep trying."
Justin Li | 12/23/21