This Christmas season, we're celebrating the accomplishments of former refugees in our community. This is the story of Mustaba and Tantuni Restaurant.
"I've been in the United States five years and 2 months. I came to the US when I was 19 years old, and I started as a student in high school. Everyone told me at that time that I can't graduate from the high school, because I only had 2 years. I started as a freshman, but after 2 years I graduated, and finished all my classes. Yeah, that was my first achievement here. It was a lot of sadness, a lot of giving up. At the same time, I thought, 'Everyone can do it, why I can't do it?' If you believe in yourself, you can do whatever you want.
"I came from Turkey. I used to live in Turkey. Most of the struggles I had there, were because I didn't know if I would come here or not. You really get frustrated there. You don't know what's your future, don't know what you're gonna do. I came here on October 6, 2016. After that, I started thinking about my life, thinking about my future.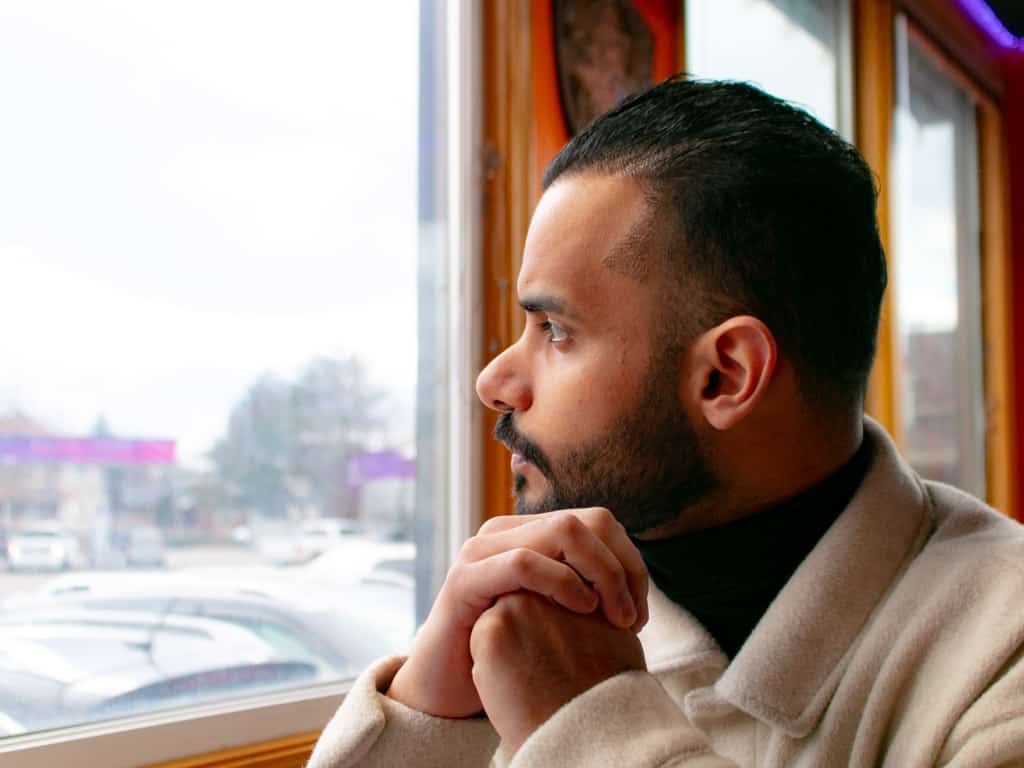 Image description: a portrait of Mustaba sitting at a table in his restaurant. He is looking out the window.
"When I first went to World Relief, they taught me about the life here, what people are thinking. I like the classes there. They teach you how to live with the other people from different cities, from different worlds. They're all thinking you're a human, and they're just thinking everyone should deserve a better life. Which is what I like about them. Whenever I went there, they would help me with a smile.
"When I got my first job here, I was working in a restaurant. I worked with Fadha. He was my manager. We used to share lots of breaks together, so we would talk. He's from the same country, so it was easy to talk about lot of stuff, especially in Arabic. So he told me about himself. Fadha's been a chef for 22 years now. He used to work with an American company to do a buffet, for American people. He was the head chef over there. Fadha told me a lot of stories, and he cooked for me as well, and I really liked his food. I was joking with him, I was like, 'if I open a restaurant, I will make you my chef.' And we were joking about it because he didn't believe that. I didn't believe it either. Fadha was my manager. And I really didn't think about it.
"I always say I have two families. One is my regular family, like my parents, my brothers. My other family is my friends. In this life, you have to find two families: a family who raises you and takes care of you, and family who will support you – that's my friends. Whatever's happened, whatever's going to happen, I will still have these two families forever. In the happy time, in the sad time. All the time, they were with me. I love both my families.
"My brother is from both families. He is my brother and my best friend as well. We don't have that rivalry between brothers. When we were kids, we were like Tom and Jerry. We were fighting all the time. My brother, he's older than me by five years. We were fighting so hard. This scar on my eyebrow, that's from him. Today, the eyebrow scar, it's like the models, it's like a style. When I was 4 and he was 9, I broke his train toy. My dad brought it from India, I think. He brought it to him. And my brother was playing with it, and I just broke it. And he was mad and hit me. Now, he is my best friend and my brother at the same time. But I like to call him best friend better.
"He found a place, and we planned to open a restaurant there in March 2020. A restaurant called Tantuni. I studied everything. If you don't know anything about the business you're going to open, you're not going to get anything. So I studied the people here, the ethnicities here. I studied the culture. I studied what people like and don't like. I was going to a lot of restaurants. When I went, I didn't want to eat. I was looking at the décor, the customer service. Sometimes, I asked people if they liked the food or not. I got ideas, and collected those ideas together. When we tried to sign the contract for the restaurant, COVID hit and cancelled everything. We're back now, after everything.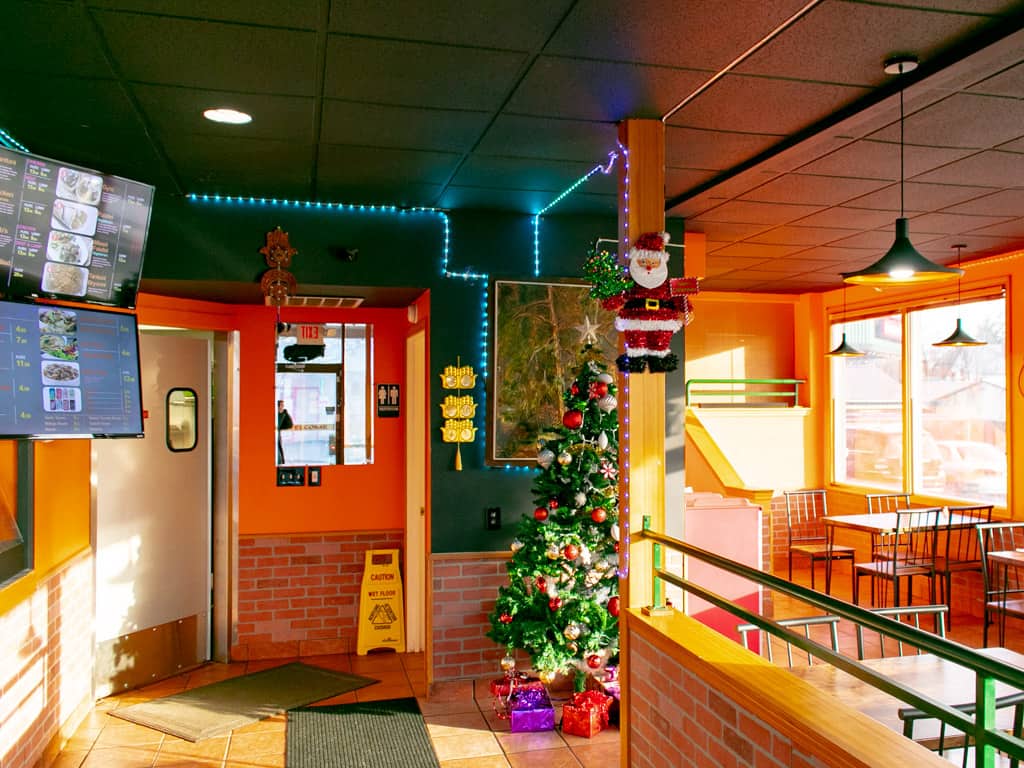 Image description: a picture of Tantuni's newly remodeled interior. There is a Christmas tree beside the serving counter.
"My brother and I used to remodel houses before we started Tantuni. From our experience remodeling, we remodeled all the restaurant all by ourselves. Everything here is by our hand. The lights, the pictures, the TVs, even the logo. It was our idea. We went to the guy who did logos and said we want something like this. We gave him the idea, and he just drew and made it for us. We brought our ideas together. The colors, my brother picked the black color and I picked the orange. Even the décor we had ideas together. We did everything together. Our friends helped a lot. Hussein, and Mohamed, and Tito. They helped us open this restaurant. I called Fadha, my old manager, and I told him, 'Hey, I'm opening a restaurant called Tantuni. Do you still want to work with me?' And he laughed, because he thought I was joking. When he met me and my brother, we agreed about everything. Fadha's our chef now. I still can't believe that.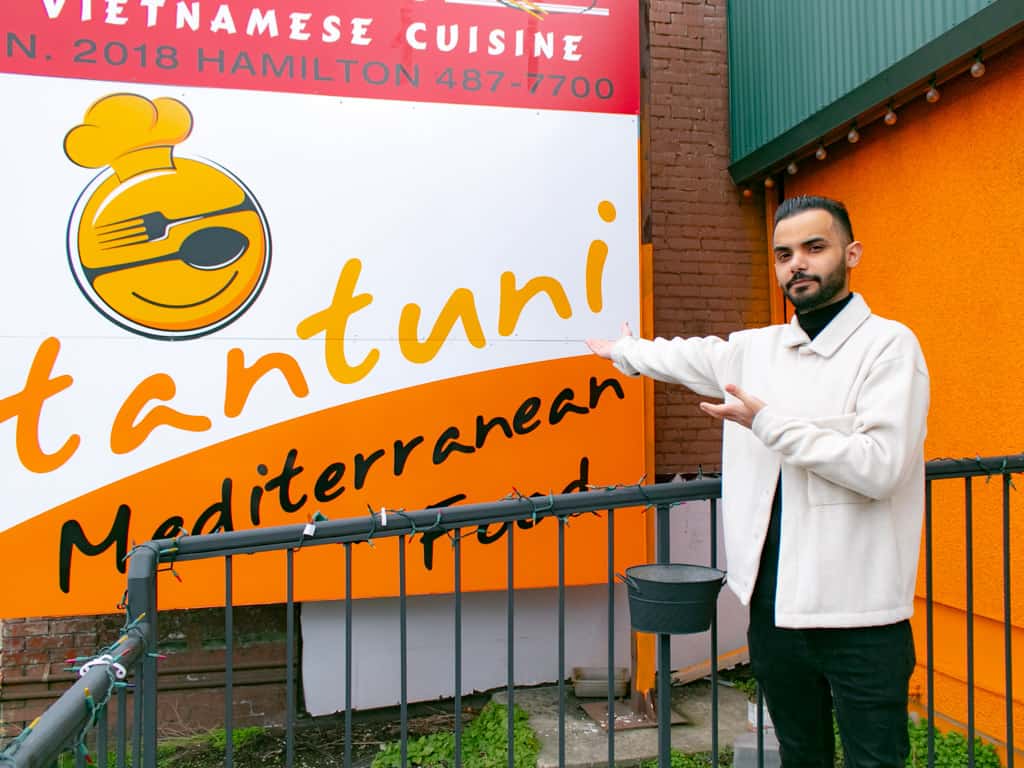 Image description: a photo of Mustaba posing with the sign for his new restaurant, Tantuni.
"It's just the beginning. I don't want to do something and leave it in the middle. I'm not stopping when people say you got success, you did a great job. It's not a great job for me until I see Tantuni as a brand, like the fast food chains. A better brand. The idea of opening this restaurant, I wanted to make it a mix between fast food and cuisine food. Cuisine is fresh food, delicious food, and cooked right away. And fast food, the order is going to take 10-15 minutes at most. I just want to show the people, it's fancy fast food. When people come here, they'll trust me about what they're eating. That's what it's all about here. I don't want to make money, I want to make customers.
"My brother's in Turkey now. He got married, and he's waiting for the consulate in Ankara so they can meet his wife and he can bring her here. He's just waiting there. I'm praying for him every day. So he can come and see what he did. He was here when we signed the contract for the restaurant. But he left 2 weeks before Tantuni opened. He can't see what we do until he sees with his own eyes. Even if I told him everything for 24 hours, it would not feel right until he sees with his eyes. Hopefully, he'll come soon. "I got a lot of ideas. I like to think differently than other people. I like to be unique in my thinking, in my ideas. I like to be positive all the time. You're only going to live one time, this life. If your mentality and mind are set up for positive thing and happiness, if you like to see people happy, you'll be happy as well. I just hope everything will be fine in 2022, and all the people will be safe and happy. That's what I wish for. But what happens in the future, let's just keep in the future. As my dad says, 'Don't think about the future, make it.' Whatever you want to do, whatever you're going to be, make it by your hand. Nobody's going to come to you and say, 'Oh, you want to be a doctor? I'll make you a doctor.' I want to finish my dream, to be an engineer. I wanted to be a petroleum engineer. But I think in the future, the petroleum will be all gone. The world will need new energy. So I believe electrical engineering will be the best path for me. No one's walking with a magic stick to make your wish a reality. If you want something, make it happen."
Justin Li | 12/20/2021