The command to "love your neighbor as yourself" first appears in the Old Testament book of Leviticus.
"You shall not take vengeance or bear a grudge against the sons of your own people, but you shall love your neighbor as yourself: I am the Lord." (Leviticus 19:18)
It is reiterated throughout Scripture. When Christ told the Jewish lawyer in the gospels to "love your neighbor as yourself," he was quoting the words every Jewish person had heard in the synagogue. But now, Jesus also answered the lawyer's follow-up question: Who is my neighbor?
Although the religious and racial divisions are what many emphasize in the Parable of the Good Samaritan, note that no race or religious distinction is assigned to the victim. He could be anyone; and he is. He is our neighbor.
Love Your Neighbor
World Relief Good Neighbor Teams walk out God's command to love your neighbor.
A Good Neighbor Team (GNT) is a group of six to ten individuals within a church who is matched with a refugee or immigrant family as they adjust to life in Spokane. The initial assignment is six months, but often as families and individuals become friends, the relationship lasts much longer. While friendship is the primary goal, teams naturally end up helping with a variety of tasks within the resettlement process: registering children for school, job search, driving to medical appointments, practicing English, navigating the bus system, grocery shopping, etc.
The hope is that the Good Neighbor Team and the family will be supported by the entire congregation, particularly through prayer. Reliance on God is critical to the success of a Good Neighbor Team, and as we have seen over and over again, the process is mutually transformative. The refugee family learns and is supported by the GNT, and the refugee family brings life and awareness to the GNT.
Opportunity Presbyterian GNT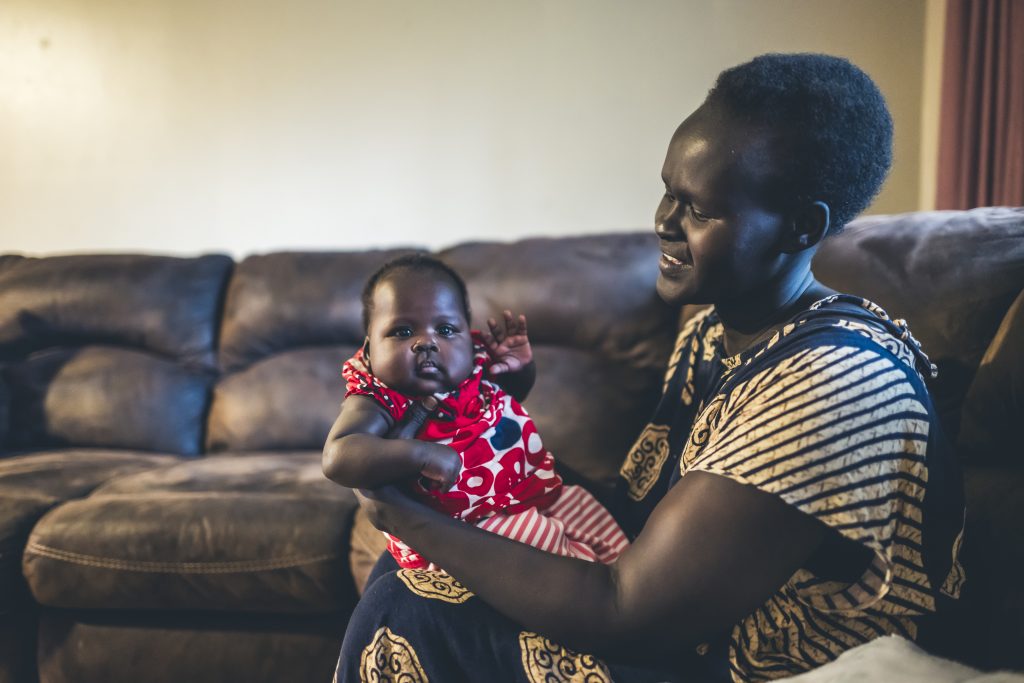 Opportunity Presbyterian Church formed a Good Neighbor Team with 12 members from their congregation, mostly women in their sixties and seventies, several of whom are former educators, and they are a powerhouse. Sue Webber, their team lead, sends regular updates about their interactions with the Julei family of nine from South Sudan. We have included excerpts from a few of those updates below. As you will see, English tutoring is a huge part of their volunteer work.
We had our last afternoon English lesson with the Julei family on Thursday as Sandy, Ritchie, Lois, Carol, JoAnn, and I lead songs with the children. It was fun to hear them sing "Brown Bear," "If You Are Happy and you Know It," and "Head, Shoulders, Knees and Toes."
We also worked on vocabulary of placement: above, under, next to, right, left, around, etc. (Put the pencil UNDER the glue stick.)
Each student also wrote a short piece about themselves and glued the picture of a body part (head) to the word on a sheet of paper. They are progressing well!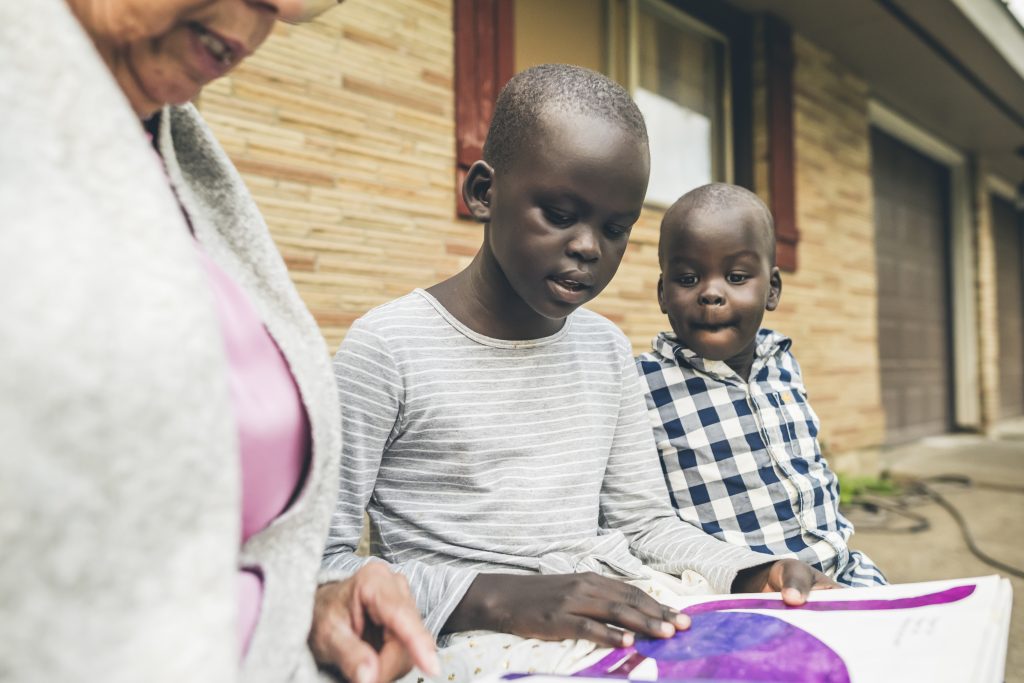 The team strives to make learning fun, using games like SPOT it and BINGO to teach numbers and words. Short essays, crafts, books, television cartoons, and songs are all methods the GNT uses to practice English with the family.
Transportation and assisting the parents in understanding the educational system is another significant role for this GNT.
All the school-age children will start school on Wednesday. Yes, that FINALLY worked out. World Relief began the paperwork and I went with Julei and kids to West Valley High and Ness Elementary to complete the registration. We were greeted with kindness and sincere helpfulness… The principal gave us a tour of the school. School supplies for elementary school are provided by the district, but each child must bring a backpack. Done. World Relief provided backpacks for each school-age child.
Julei received a letter from school that he wanted me to read. It stated that a student in the elementary school has been diagnosed with Covid and stated the things to watch for at home in case other children become ill. I asked Julei if he has a thermometer to see if the children have a fever. He does not. Perhaps World Relief can help the family get a thermometer.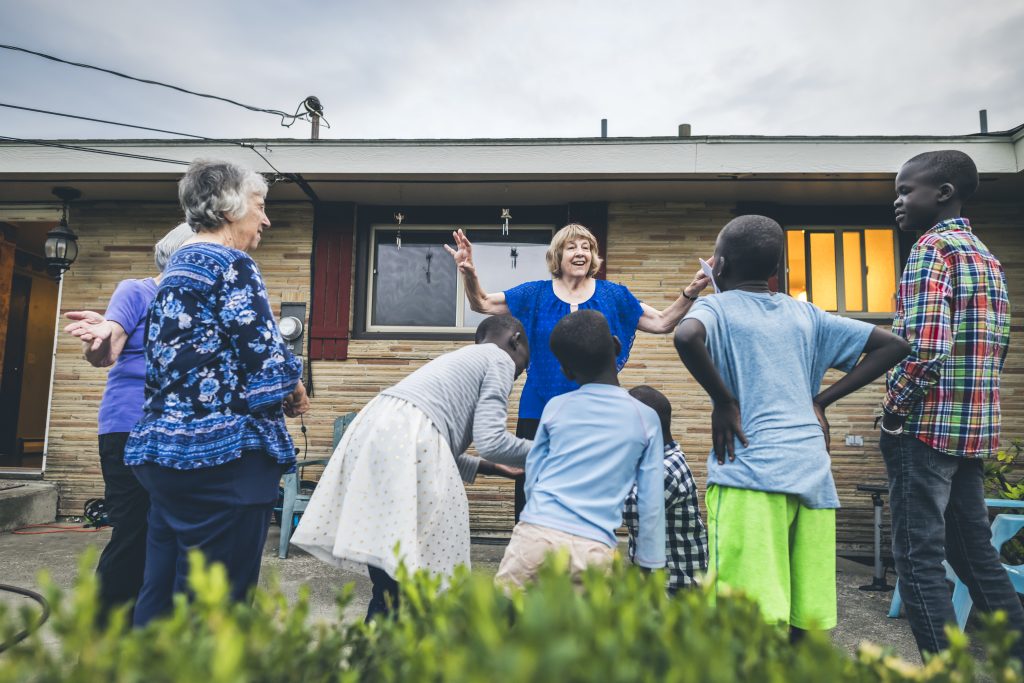 The Apostle James said, "I will show you my faith by my works" (James 2:18). The Opportunity Presbyterian GNT is showing their faith in brilliant color with the Julei family, and in the process, they are encouraged.
Julei is an inspiration! As our team at Opportunity Presbyterian Church began the journey with the Julei Beliu family, we were all nervous. The faith and confidence that Julei shows helped us relax and let us know that all will work out well. The family is a joy to work with. Turning to God for guidance, my relationship with God is stronger because of the connection with this family. Our team has bonded. Our church is stronger. The Good Neighbor Team has impacted me, our church, the family, and our community.
Julei really appreciates our tutoring and says over and over how his children benefit so much from our teaching and how he praises God for our help.
Our team has enjoyed working with this wonderful family. We think of them as family members.
Our team has bonded. Our church is stronger. The Good Neighbor Team has impacted me, our church, the family, and our community. -Sue Webber
Click To Tweet
As Paul wrote in his letter to the Thessalonians: "With such affection for you, we were determined to share with you not only the gospel of God, but our very selves as well, so dearly beloved had you become to us."
So dearly beloved you have become…
A GNT isn't about "fixing problems." It's about becoming friends, opening up to new experiences, new friends, new ideas. This may look like sharing a meal, singing children's silly songs with hand motions, or it might look like attending a concert together, going apple picking, or even playing cards on the floor of the living room.
It looks like living life together.