The camelia behind our house started blooming in late January, causing me to wonder, "Does that happen often here in Seattle?" I'm new to the city and haven't been through all four seasons yet, so I'm not sure. But seeing the blooms on that rainy Sunday morning got me to thinking about seasons.
Late winter is the season that most reminds me to look beyond what I see and think about what's just out of sight. It is a season of potential.
When I see the tips of daffodils emerging or an early-blooming camelia, I don't rejoice that spring has come because it hasn't yet. But these little reminders that the roar of spring will soon unfold captures my imagination and invites me to consider the hope and potential of what's to come in other areas of my life as well.
Something like this hopeful expectation has infected our team at World Relief. As we think about refugees who have been waiting for so long to be resettled, we have hope at the promise of an increased refugee ceiling. Like a gardener who sharpens tools and pores over seed catalogs in late winter, we are gearing up to welcome weary strangers whose long and halting journey to their new communities will likely resume in the year ahead. We pray for them as they wait. We pray and we hope.
Just on the other side of late winter comes spring — a season full of change.
There's no need for me to dive into all the change we've experienced collectively this past year. I'm sure they're springing to your mind even as you read this sentence. Instead, I'm wondering about the changes in your own life, your home, your ministry, your job, your health.
In losing the opportunity to meet together in person, I wonder if we've also lost the opportunity to share our stories with someone else as well, to turn our personal experiences into shared experiences. Do you miss that as much as I do? Or is that just an extrovert's perspective?
As I've pondered these questions and the new season we are entering, I have found these meditations on change to be very helpful in transitioning to this new year, new season, new administration and new chapter of the pandemic. All of this change has given us a lot to sort through. Yet, at the same time, so many other things are standing still.
In this season of change, we find ourselves hoping for what's on the horizon while still grieving the reality of what still is — the sickness, division, unresolved issues at our border and any number of unmet longings within our personal lives. It's a lot to hold.
I'm reminded though, on the heels of Easter Sunday, that even in our waiting and in our grief we can still have hope. No matter what our changing circumstances may hold, we can have hope because God is faithful.
I hope you'll take a few minutes to watch and listen to the meditation on hope that's shared below. As you do, I pray you'd become more aware of how God is present in the current season you are in.
We are so grateful for the support you — our partners, our advocates our volunteers — have shown us in the past season, and we look forward to partnering with you in the new season ahead.
*Find more meditations like this one here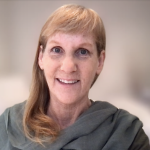 In March, 2020, Kim Hurst relocated to Seattle for her job as a Strategic Partnership Director, just in time to lock down with her husband for Covid19. Even without any face-to-face meetings quite yet, she feels privileged to be serving World Relief's partners in the beautiful Pacific Northwest.