On an early morning in April, World Relief Malawi staff gathered together in Lilongwe for a socially distanced outdoor ceremony. Staff from abroad called in virtually. There was prayer, there were speeches, there was commissioning. The purpose? To welcome Matilda Matitha as the new World Relief Malawi Country Director.
Matilda is one of three women who have been promoted to Country Director in their respective countries over the last year. I recently connected with Matilda over Zoom where we talked about gardening, our favorite places to go for walks and her passion to empower women and girls throughout Malawi.
"Looking around Malawi, you will find that there are very few women in leadership positions," Matilda said. "So when this message came to me — Matilda apply! Matilda apply! — I thought, 'I have to so that I can be a mouthpiece for women. I can be an inspiration to young girls who are struggling out there in the village.'"
I am excited to share part of our conversation with you today, and I hope you are as inspired as I was by Matilda's vision for addressing extreme poverty, child development and gender issues while also being a role model for girls in Malawi and beyond.
---
Thanks for being here today, Matilda. I'm excited to chat with you today.
Yes, thank you.
First, how long have you been working at World Relief, and what did you do before you became Country Director?
I joined World Relief in January 2017 as a project manager for the scaling up nutrition project. Before joining World Relief I worked with different international organizations coordinating and managing nutrition projects — both in emergency contexts where we distribute food to malnourished children as well as in development contexts where we roll out health education and promotional health messages. I have always enjoyed working with children in nutrition work.
What prompted you to take on the leadership role of Country Director?
First and foremost I applied to this position is because I felt God was calling me to lead this organization. To be frank, I never dreamt to be here — to be a country director. When the job was first posted, I did not apply. But then I got encouragement from a lot of people. They said, Matilda, I think you would be a good leader, you should apply. So I said, I think God wants me to do more than just be a Manager. So, it was more of answering his call.
But then I also felt it was time, because looking around Malawi, you will find that there are very few women in leadership positions. Because of social norms in Malawi, already parents prefer a boy to go to school and a girl to marry. Especially when resources are minimal, parents think that after a girl marries, the husband will also be able to take care of them. So girls are already disadvantaged at a very young stage.
Recent studies have shown that only 3% of young Malawian women have a degree. So out of that, it means that there are very few women in leadership positions. So when this message came to me — Matilda apply! Matilda apply! I thought I have to so that I can be a mouthpiece for women. I can be an inspiration to young girls who are struggling out there in the village. I can also encourage women. So I said, "Let me take the challenge!"
What are some of the goals and dreams you have for the communities we serve in Malawi?
I want to have a strong church. I would really like to strengthen our Integral Mission work so that we have a church that is able to respond to God's call. God wants the church to help people who are marginalized, people who are sick and the poor. That is the role of the church so if we can strengthen the church and help the church understand its role, then whatever we are doing we will find that a strong church is our foundation — that is my dream, to expand what we are doing.
What are one or two of the biggest challenges you hope to address in Malawi?
In Malawi, there is a lot of poverty. If we could do more sustainable economic empowerment, we would be able to get our communities out of deep poverty. If we are able to move them even just a little bit, most of the issues that we are struggling with, we can find solutions — like issues of education, health, nutrition. These issues occur because people are living entirely in poverty.
The other issue is, since I was in college, I have had a passion for the girl child. As an undergraduate, I went on a project where we were mobilizing girls to go back to school. So now I would love to incorporate gender ministry into whatever we are doing. I would also like to see more gender ministry within the staff and the churches so that issues of gender-based violence that are very rampant in Malawi would be reduced.
How are World Relief's programs addressing these challenges?
Some of our programs, like Families for Life, are already addressing these issues. If we have a strong family, most of the issues we are struggling with in terms of gender can also be resolved. Programs like FFL need to be scaled up, as do programs like child development where boys and girls are empowered and taught about what is right. Sometimes things are happening to girls because the girls don't know that what's happening to them isn't right. So, growing our child development program would be very good. In terms of economic empowerment, we can look at the Savings for Life program. We need to scale up these projects because we have seen a lot of success and heard a lot of good stories. But we need more resources to be able to scale these innovations.
What has been your favorite thing about working at World Relief so far?
The spiritual component has benefited me quite a lot as a person. When I first joined World Relief, I was a Christian. But some things I would not do as a Christian. But now being in World Relief, there is a component of spiritual formation where we share the word of God, we have prayer and fasting. That has helped me grow in my spirituality. I have been able to exercise some of the spiritual disciplines like prayer and fasting.
Another thing is in the past, I was not able to share the word of God. Every time someone would say, "Matilda share the word of God," I would shy away. But now at World Relief, we share the word of God every day. I'm able to share it with my children and my husband. Every night at eight o'clock we sit and read the Bible and share the word of God. And also in terms of giving. I do a lot of giving and charity work — things that I could not do before World Relief. I pay school fees for two girls. So these are all fruit of being a member of the World Relief staff.
What advice would you give to other women who are leading in the community development areas?
We need to raise the banner for gender equity high, and very high. We need to be advocates for others, to share our story. We now have an opportunity to influence the environment. In some institutions, they don't have policies in gender equality, while in other organizations policies are there, but they are not reinforced. As women working in development, we have a role to ensure that the working environment is enabling for women and girls who are fighting to get better, to be involved in what's happening.
We also need to do more in terms of sensitizing the community at large. The government can create an enabling environment, but services are sometimes not accessible because of social norms. We need to sensitize parents that girls are not for marriage. Girls should also be encouraged to use their God-given skills and talents.
And also… the women and girls should be empowered to fight for their goals and their dreams. Like for myself. It was not easy to get here. I had to fight for my goals and fight for my skills. Women and girls should not just give in to social pressure. Social pressure will always be there, but we need to speak out and encourage these women, and as role models, we just need to be there for them and share our stories with them so they will continue to fight and know that it is possible to win.
Sometimes when you are doing something that is opposite to what society is expecting, you are seen as abnormal. We need to continue to show both men and women that we can work together and make our country, Malawi, a better place.
Can you share one story from your work that has encouraged you?
I remember this mother who had twins. We were working to strengthen referrals between community members and health facilities, to ensure that mothers were able to go to the health center in a timely manner.
We created Care Groups and they were trained on how to screen children for childhood illnesses and when they might need a referral. Often, people in Malawi don't believe malnutrition is due to lack of food. They still think it's some taboos — like maybe it's because the husband is promiscuous. That's the belief out there and one of the things we need to address.
When I met this mother, one of her children, at 16 months, could not attain milestones such as crawling because she was underweight. The malnutrition may have been worse because there were twins, so maybe she was struggling to feed both of them. We referred them to the health facility where the child received Plumpy'Nut for a month. After that, they came back to the community and we continued counseling the mother on how to feed both of her babies. We also assisted her with livestock so that she could raise chickens and take the eggs to feed the babies. And we encouraged them to have a backyard garden so they could use the vegetables to feed the babies.
This past February, we followed up with these kids. They are four years old now, and it is very exciting to see them. When I look at that baby, it brings a lot of joy inside me. If it hadn't been for World Relief, I don't think she would have been alive. Many children in Malawi don't reach their 5th birthday, and the reasons they are dying are preventable. Our volunteers are doing a very good job identifying these women and encouraging them to go to the health facility for assistance. That's one thing I like about doing nutrition projects — when your programming is good you can immediately see results, saving the lives of children.
---
We are so grateful for Matilda and all of our Country and U.S. Office Directors. Please join us by praying for them — that God would give them wisdom as they lead and for continued strength and unity among their teams. And pray that God would bring their vision for community transformation to fruition.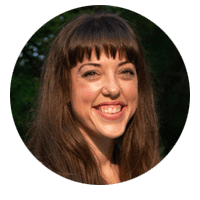 Rachel Clair serves as a Content Writer at World Relief. With a background in creative writing and children's ministry, she is passionate about helping people of all ages think creatively and love God with their hearts, souls and minds.