As we round the corner of 2020 toward the end of the year, we're bringing you more made-for-change stories from across the World Relief community.
Today, World Relief Chicagoland's Jerome Bizimana shares his story of rebuilding. He fled violence in his home country of the Congo and eventually resettled in Illinois. Jerome now works for World Relief, and his story reminds us that change rebuilds because we serve a God who is in the business of rebuilding. 
We hope Jerome's story excites and inspires you to join us as we come alongside others to rebuild.
---
Fleeing From Home
It was 1996 and the war had just broken out. The Democratic Republic of the Congo had always been my home. But this was a brutal, bloody war, and it was too dangerous to stay in the country, so my family and I fled. For the next 19 years, we lived in one Tanzanian refugee camp after another. When one camp closed, we packed up and moved to another. It wasn't perfect, but it was a life away from the war.
One night in 2012, I was attacked by criminals at my home. Luckily, nearby police officers were able to save me from harm, but my assailants escaped. Before fleeing, they told me that they would kill me. They told me that they had to "terminate my life," but never gave a reason why.
My heart was broken, and from that day forward, I lived in constant fear. I couldn't sleep, and many nights I would go to bed wondering if I would wake safely in the morning.
My eyes are wet with tears as I write this. I do not usually talk about my past. I prefer to forget the thirty-one years of my life that I lived hopelessly. But I hope that sharing my story will help others by bringing awareness to the need for refugee resettlement support.
Had it not been for the support systems in place, my family and I never would have been given the opportunity to resettle in the United States as refugees. But thanks to the United Nations refugee services, we were given that chance in 2012. We arrived in the U.S in 2015 after three years of waiting.
But relocation was only the first step.
New Challenges
Life in the U.S. was more difficult than I expected it would be prior to my arrival. My family and I had lived a rural life in Africa. This means that we had never rented a house, paid a monthly bill or applied for medical benefits.
I was so confused, and I wondered if I was destined to be homeless. I wondered how I would survive. During sleep, I dreamed of someone breaking into our new apartment and killing us. The trauma from my 2012 attack was apparently still causing me great anxiety and pain, and that pain was now amplified in this new place.
And the culture was so new, too. During the week leading up to my first Fourth of July, I mistook the sounds of fireworks going off at night for bullets. It wasn't until I was able to speak with my World Relief caseworker the following morning and hear her explanation that I was able to breathe a sigh of relief.
Building Something New
Over the next few years, with the help of the great staff at World Relief Chicagoland's Aurora office, my family and I slowly built a new life here in the U.S. At first, we survived on less than twenty dollars a week. But thanks to the case managers and employment counselors at World Relief, my family and I continued to work and learn and acquire new skills.
After a while, I started to think about ways that I could give back. I felt so fortunate, and I wanted to help others that were in my situation. In the beginning, I volunteered at World Relief by providing transportation for new refugees who needed a way to get to their appointments. But I wanted to do even more, and so I kept this request in my everyday prayers.
Then one day, a World Relief AmeriCorps Lifeskills Coordinator who had heard about my daily prayer brought to my attention a job opening at World Relief. I first doubted to apply.
"But with my broken English, do you think I will get this position?" I asked.
But he encouraged me to give it a try anyway and leave the rest to God. So I prayed, and then I applied for the job.
A few weeks later, I was offered the position. I am now a Family Support Coordinator at the World Relief Chicagoland Aurora office.
I love working at World Relief because World Relief changes lives. When I do my job, I am helping God's children. When my service brings a smile to someone's face, I am happy.
Back in Africa, I lived a life without goals. But now I have many goals. I have hopes and dreams and plans for the future! I go to bed every night feeling safe, and I wake up in the morning without fear.
I never thought I would be living the life I live. But with the support of World Relief, my life has changed. I believe their services are crucial for helping refugees and other immigrants. This helps them build a prosperous life here in the U.S. Even a one-dollar donation to World Relief means a lot. That dollar will save the lives of countless families in need.
Sometimes I wonder what my life would be like if World Relief had not come to my aid. I still do not know the answer, but I do know that supporters of World Relief's mission empower millions of families like mine. I have nothing to give that can show you how important your love and support is, but I so want to say thank you so much.
I keep each and every one of you in the World Relief family in prayers. Your hands have been helping to change our lives — the lives of vulnerable populations. Today, I pray that you join me in helping immigrants rebuild their lives in the U.S. and empower churches around the world to serve the most vulnerable.
Will you join us by giving today?
---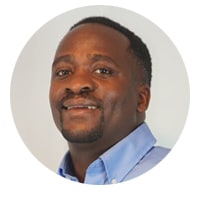 Jerome Bizimana is a Family Support Coordinator at World Relief Chicagoland. He was resettled in the U.S. in 2015 after leaving his home in the Congo. Jerome is now a dad of three children, and he loves to travel.