Immigration Legal Services
Immigration legal services around the nation are supported by World Relief's National Immigration Programs team through the provision of excellent technical legal assistance and Department of Justice Recognition and Accreditation support. The team also provides legal updates, policy advisories, and ongoing legal training to World Relief ILS offices and affiliate nonprofit immigration legal services sites who make up our Legal Support Network.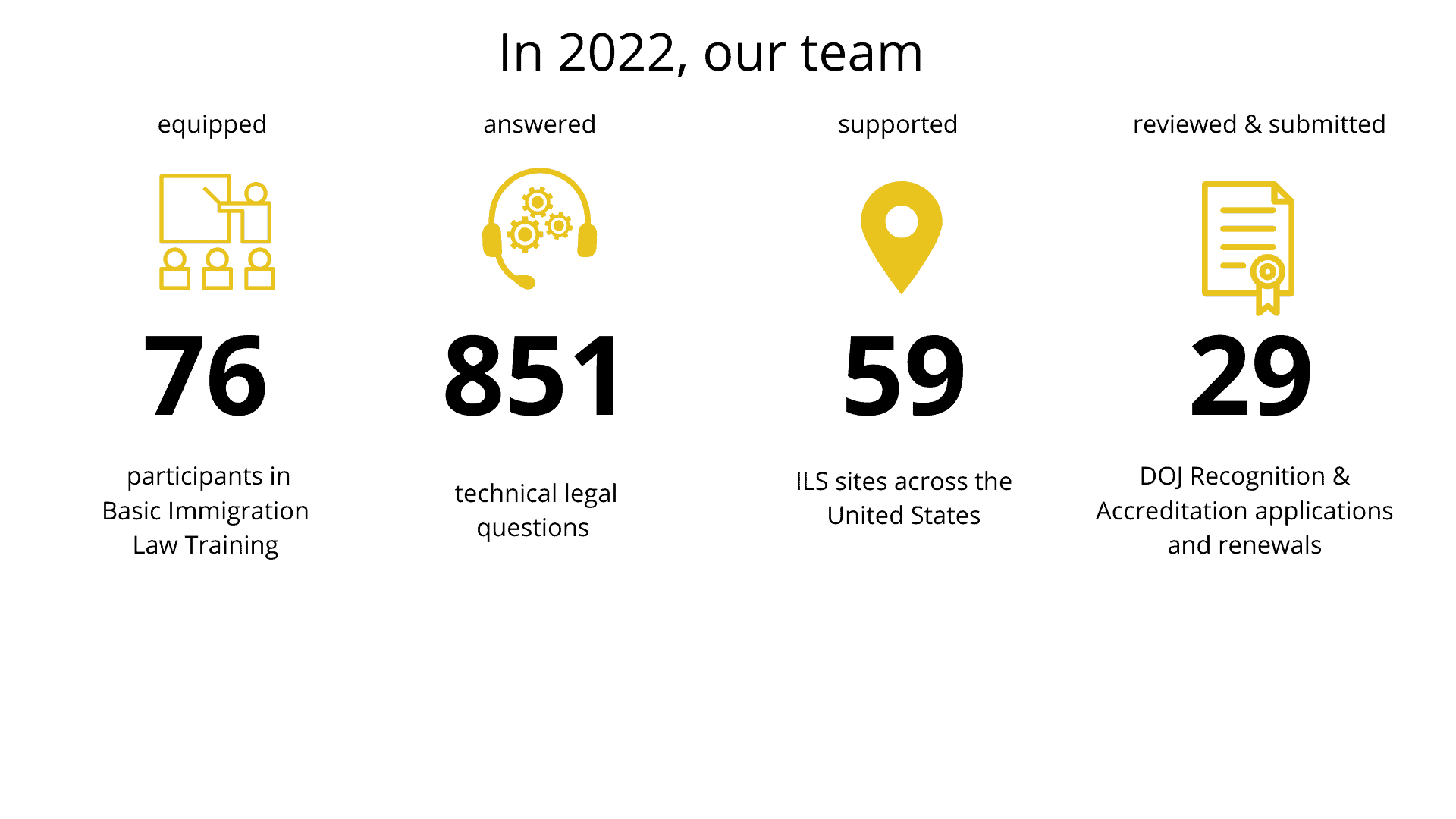 Find more information about:
Immigration Legal Services
If you are looking for legal advice or representation in your area, please contact our partner sites below. As World Relief's National Immigration Programs team, we support the immigration legal services programs at World Relief field offices around the nation and between 40-50 church-based clinic sites who make up our Legal Support Network. These ILS sites are staffed by immigration lawyers and DOJ accredited practitioners.

Legal Support Network Affiliate Sites
World Relief's National Immigration Programs Team

In order to practice immigration law, nonprofits need to have an attorney on staff or be recognized by the Department of Justice (DOJ). Full accredited representative status allows one to represent clients at U.S. Citizenship and Immigration Services (USCIS), Immigration Court, or at the DOJ without being an attorney. Partial accredited representative status limits one to representation at USCIS and does not allow that individual to represent clients at Immigration Court or the DOJ. World Relief Immigration Programs team supports immigration practitioners in three main areas: technical legal assistance, DOJ recognition and accreditation support, and legal updates and training.


We offer technical legal assistance for non-attorney nonprofits serving in immigration legal services. When practitioners have substantive legal questions regarding their cases, they can access our team of immigration lawyers who are experienced in immigration practice. We offer DOJ Recognition and Accreditation support, helping organizations apply for DOJ recognition, assisting representatives with their accreditation applications, and assisting in renewal applications. We also offer legal updates and practice advisories through our weekly newsletter. Additionally, we offer a full year of live webinars on a range of topics on immigration law, practice, and office procedures. Each year, we offer Basic Immigration Law trainings, both online and in person for individuals seeking to become immigration practitioners.